I have a confession to make. 
For all of you who follow my blog, you might know me as the resident neat freak of M2M. What I haven't shared with you yet is my closet obsession with pantry ingredients that my friends like to call 'borderline hoarding'.
Now we all have guilty pleasures, and mine happens to be a pantry that you might describe as bursting at the seams. When you love to cook as much as I do, you probably have everything from dried lentils and spice rubs to roasted almond butter and jars of hundreds and thousands. And that's not even counting the usual staples like flour, sea salt and brown sugar.
Now a kitchen like this sounds odd for someone who can't stand clutter as much as myself, but a girl should have her fun, too! I must admit, pantry organisation is a challenge, and it doesn't come easily when I'm already channeling my inner domestic goddess in the kitchen and posting food photos on Instagram.
So how does one keep an organised pantry when you're stocking food items faster than a speeding bullet?
Why organise your pantry?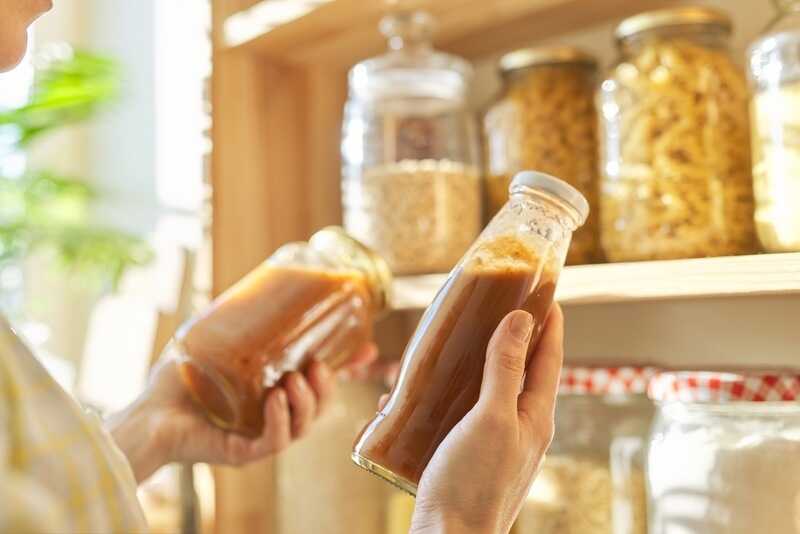 Have you ever found yourself knee-deep in your pantry searching for a particular ingredient and you're not able to find what you're looking for? It can be a frustrating experience!
Unless you're content with the thought that you'll have to navigate through the maze of sauces, spices, grains, and what-not every time you cook, the best solution is to organise your pantry.
You'll find that organising your pantry will make it much easier to keep track of everything. Working your way in the kitchen will also become more manageable. The best thing about it? You'll get to free up space in your pantry storage and save up on groceries because you're not constantly buying stuff you already have.
If you're waiting for the perfect excuse to give your pantry a makeover, there's no better time than now to get some elbow grease on and start decluttering and tidying up.
How to start organising your pantry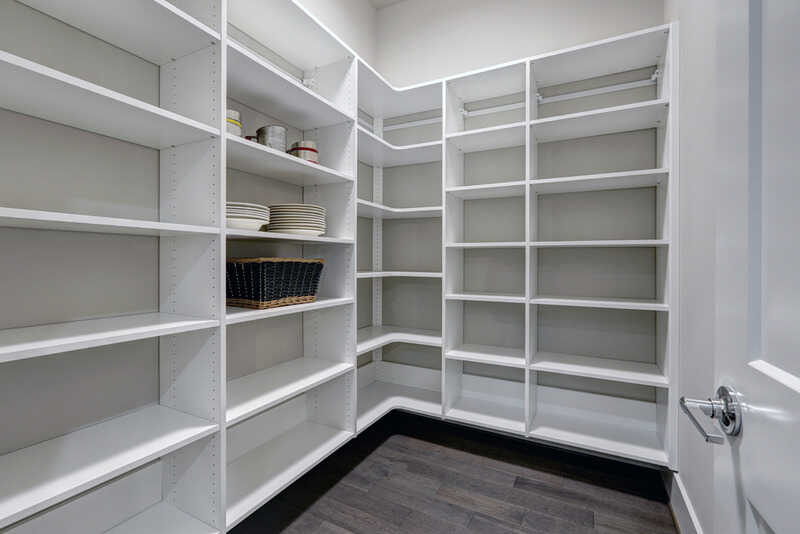 The best way to start organising your pantry is to empty it. This means you have to take out everything from your pantry cupboards and cabinets.
You want to make sure that you're able to find the ingredients you frequently use. To make more pantry space, remove expired sauces, salad dressings, baking products, and other items past their expiry date from your pantry. Then make sure to dispose of them properly. Don't return expired items to your pantry, throw them away.
What is the best way to organise a pantry?
Here are the top 10 pantry organisation ideas you can use to raise your pantry game to Instagram-worthy level.
1. Shelves, shelves, and more shelves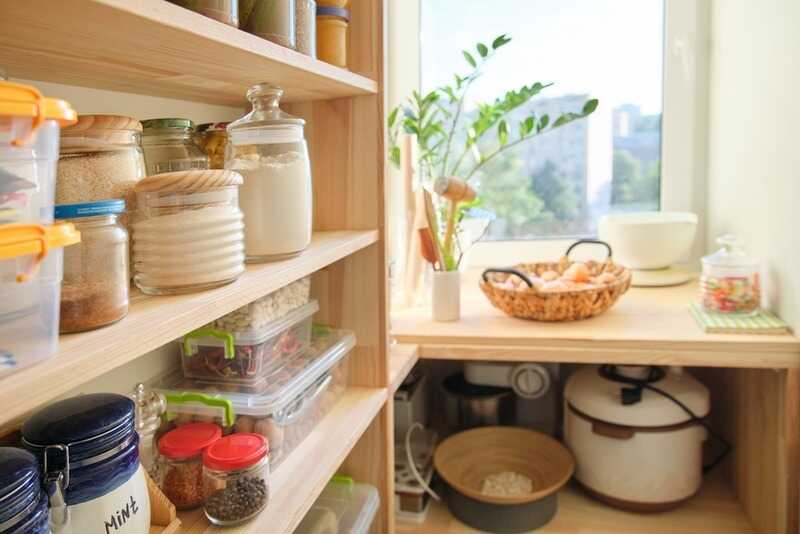 Running out of kitchen storage ideas? Pantry shelving is particularly useful when you want to group together cereal boxes, spice containers, and other packaged ingredients. You can have shorter or longer shelves placed in specific areas of your pantry for easy access. Tall, narrow shelves are good for storing floppy items like paperback cookbooks, silicon chopping boards, and fabric placemats. 
If you want to go the extra mile and make storage more efficient, use a tiered shelf to make it easier to display pantry items like powdered sugar or cocoa. Place a rubber mat on the bottom of each shelf to prevent your glass jars, plates, and dry goods from sliding when you reach for them.
2. Coordinate containers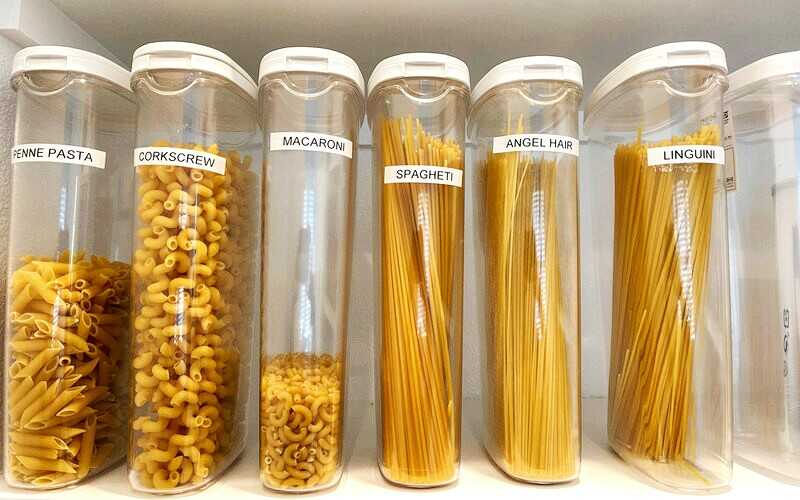 Pantry organisation containers are a must-have in your kitchen, especially when you're all about posting your latest granola recipe on Instagram. Colour-coordinated jars give your pantry an uncluttered look that's easy on the eye and make for efficient storage, too. Use glass jars for pasta, spices, beans, baking ingredients, stock cubes, Ziplocs – you name it, you can use a jar for it.
Here's a creative 5-minute design idea: for a little flair and personality, use washi tape when labelling your pantry jars. Write the name of the product on a strip of washi tape using permanent marker and stick it on your mason jars and other containers for a customised food label that's both unique and decorative.
3. Put cans in wire baskets
This pantry organisation idea made me think that I've been doing it wrong the whole time! When I started doing this trick in my pantry, I found that I didn't have to go through the hassle of moving cans awkwardly to get the ones at the back, which meant less painful head bumps for me, by the way. 
Group canned tomatoes, tuna, vegetables, and sauces together, then arrange them horizontally in durable wire baskets with the label facing you for easy identification. White, black, or stainless steel baskets are popular choices, but you can go with any colour you prefer. 
4. Wicker baskets for eco-friendly storage 
Wicker baskets are the perfect solution when you're looking for pantry storage that's chic and eco-friendly. The natural look will not go out of style anytime soon, so you can be sure your pantry is on point interior design-wise.
Wicker baskets come in different shapes, sizes, and colours. They can hold (and hide!) anything from pasta boxes, unsightly sandwich bags, and boxes of aluminium foil and cling wrap. In short, it's the perfect disguise for kitchen clutter.
You'll love that they make clean-up a breeze. Just stuff everything in there when your friends drop by and no one will notice you were actually doing your meal prep 10 minutes prior. It's just one of the best kitchen storage ideas around.
5. Plastic bins for dry ingredients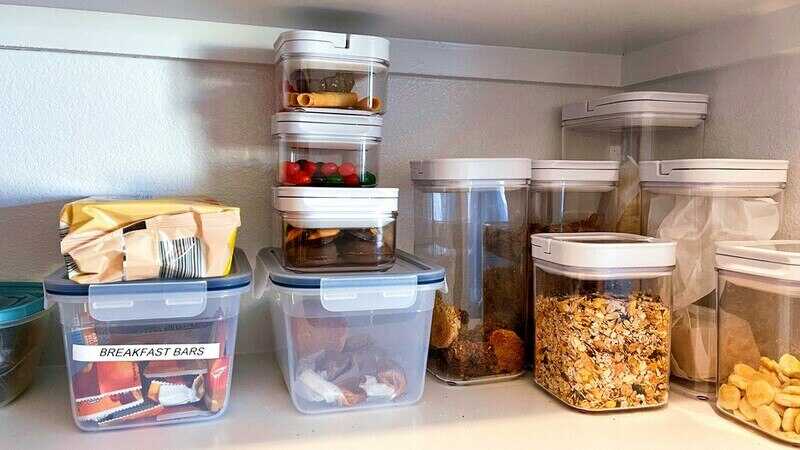 Plastic isn't the most popular product right now, but it still has its uses! Resealable plastic bins are perfect for storing dry food items like grains, nuts, rice, flour, and pasta. These ingredients get spoiled easily when moisture gets into their packaging, so you want to be careful where you store them. 
Put your boxes of cereal, bags of unopened rice or flour, and packs of mixed nuts in uniform-looking bins (properly labelled, of course) and store them at the top shelf of your pantry for future use. Make sure to use plastic bins that are easy to handle to avoid spilling the contents and causing accidents.
Here's a little hack you can use when storing dry food items in plastic crates. I usually put a small dehumidifier in each crate to remove any moisture that can contaminate the ingredients. This way, the food stays fresh and I get to keep them for a longer period of time. There is less wastage that way, and my pantry is mould-free as well.
6. Use cartons and boxes as storage for seasonal items
Boxes and cartons can also be used as bins for pantry organisation. They are lightweight, eco-friendly, and can be easily recycled. You can decorate them in a number of ways or just leave them as is if you're going for a rustic look. 
Put seasonal items in recycled boxes and cartons for easy storage. Place them at the top shelf of your pantry cabinet until you need to use them again. These boxes are big enough to hold bulky items like huge Christmas candles, oddly shaped Halloween decor, and chunky centrepieces that would otherwise become clutter in the kitchen or on the dining table.
7. Lazy susan 
The lazy susan is probably one of the best and most underrated pantry organisation ideas ever. This circular revolving pantry organiser can be used anywhere in your home. It's so versatile that you'd wonder why no one's talking about it.
There are countless ways to enjoy having one in your kitchen, and it will keep the clutter in your pantry at bay, too. Lazy susans come in different sizes, depending on what you'll put on them. They're perfect for displaying frequently used seasonings like small jars of salt and pepper, sauce bottles, and dressings as well as oils and vinegars for everyday use. Place the lazy susan at eye-level so that you'll be able to find the ingredient you need easily.
8. Pull-out drawers for more storage space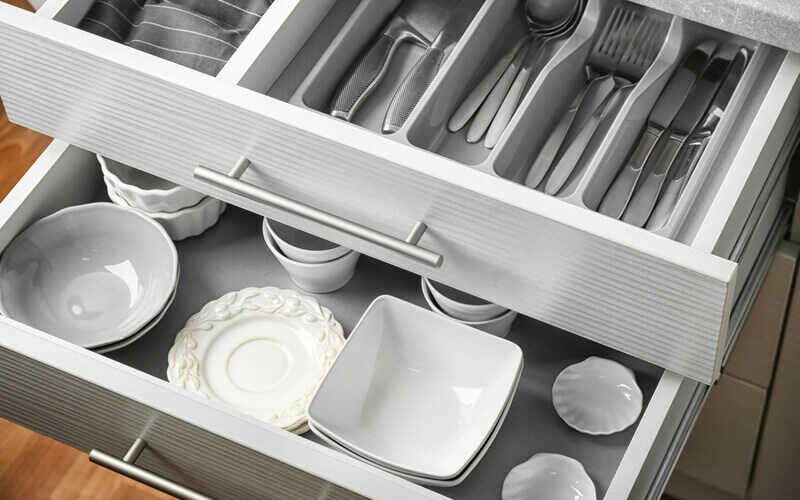 Pull-out drawers go a long way as far as great pantry storage ideas go. They're your go-to when you need to keep utensils, table napkins, soda bottles, cartons of broth, and other frequently used items within reach. You'll find that not only are pull-out drawers helpful in displaying your go-to kitchen items, but they're also amazing space savers when you're lacking in storage space.
9. Use your pantry doors
Your pantry door is an under-utilised space in your kitchen that you can transform into a spice rack, a hanging area for your ladles, or even a chalkboard for reminders. 
The front area of your pantry door can be used as a wall to keep track of reminders, recipes, and menu for the week, or for hanging a well-loved artwork. You can use the inside part of the door for displaying your small spice bottles or jars of hundreds and thousands. Simply attach a spice rack on the inside of your door, drill it into place, and you're all set.
10. Make your own chip-clip rack 
This pantry organisation idea is one that both kids and kids at heart will enjoy! Drill a long wooden rod onto one side of your pantry cabinet and attach wooden clothespins about 12 cm apart along the length of the rod. Classify your chips according to flavour and clip the bags using clothespins for easy access. If you need extra help, you can even ask the kids to clip their own bag of chips onto the chip rack. 
What to do when pantry organisation seems impossible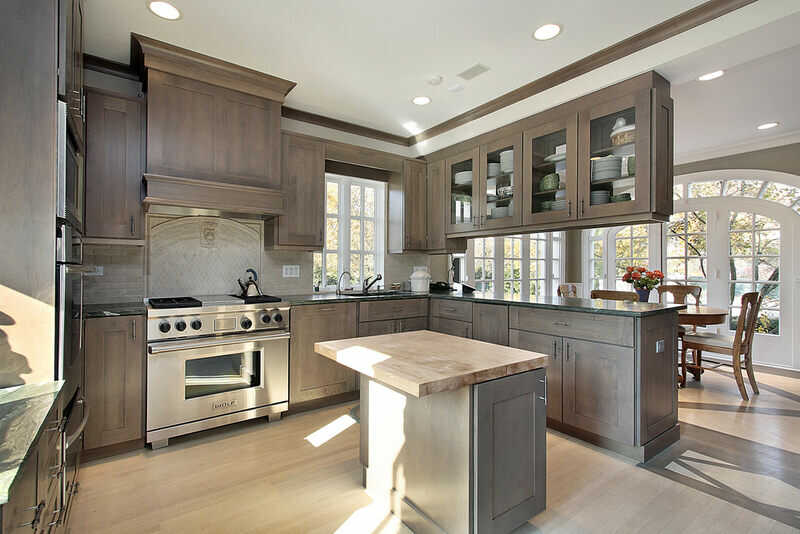 The next time you find yourself in a bind trying to organise your pantry, phoning a house cleaning service may be the best solution. Your local house cleaners will be more than happy to help you achieve an organised and professionally cleaned kitchen. Getting professional cleaners will give you more time to enjoy cooking and will lessen the hassle of having to deal with the clean up.