The #1 House Cleaning Service In Australia
Why Thousands Trust Us As Their House Cleaners
WE DELIVER WOW
Our cleaners deliver WOW results in your home and our Customer Service team backs it up with the best customer service in Australia. This is fundamental to our identity. We're here to chat 8am – 5pm Monday to Friday.
HAPPY CLEANERS = HAPPY CUSTOMERS
We have very high expectations for our cleaning partners and get feedback from you on every clean they do. Unlike others in the industry, we also believe it's non-negotiable to make their lives easier and pay them fairly. You can feel good about hiring a Maid2Match cleaner.
73 POINT CLEANING SYSTEM
Delivering a single 5 star experience is not difficult. Consistently and regularly delivering the same 5 star experience across thousand's of home is. We have a 73 point cleaning system for our regular homes to ensure we are always hitting the mark.
WHO ARE MAID2MATCH?
Want to know who's behind the brand? Wondering how we deliver the results we do? Check out this video we've put together below!
WHAT OUR CUSTOMERS ARE SAYING
"I have been using home cleaning services regularly for about 20 years. I started using Maid2Match 2 months ago, and they are the most professional and organised company I have dealt with. They listened to my requirements and promptly sent me a great cleaning lady who gets in and happily does the job. What a find!"
"Great value – a worthwhile investment. Our cleaning team (Team Venus) are very friendly and also considerate of our cats. Easy payment system, great communication, user friendly website. Wonderful company."
Maid2Match is proud to be a registered NDIS provider for house cleaning across multiple states. To find out more visit our NDIS Cleaning page or to book online click the Book Your NDIS Service button.
BOOK YOUR SERVICE TODAY!
Percy is Maid2Match's biggest fan! He loves that he can book his domestic clean in just 60 seconds and not have to worry, knowing his dog house is being cleaned by insured and vetted cleaners. Try out Maid2Match and see if you agree!
The Local Cleaning Agency You Can Turn To For Professional Help
Do You Have a Dirty House? Work With A Domestic Cleaning Service You Can Trust
If you're a busy professional in town, you probably need a break – and the LAST thing you want to worry about is cleaning up a mess at home.
Work is tiring, the traffic is always bad, and the kids won't sit still. Maid2Match can help you with your housekeeping needs. Tidying up can get pushed to the end of your to-do list and it doesn't always get the attention it deserves. Maybe you have even thought about hiring someone to help you.
But where do you start finding the right cleaner?
Not many of us are ready to trust strangers in our home, which is why finding a trustworthy and reputable source is so important.
There are so many companies offering these services, it is hard to know who is legitimate.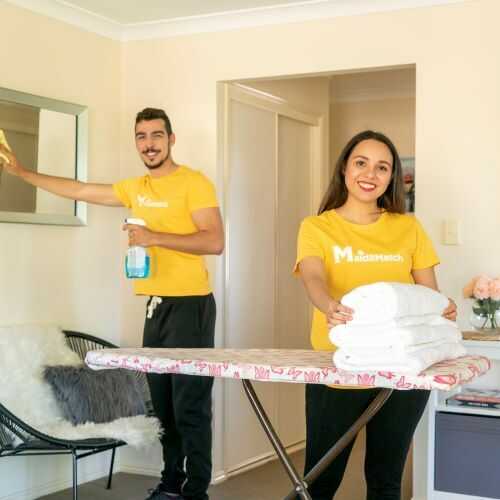 How can you find a trustworthy and reliable maid?
Many people resort to personal recommendations to find the right cleaner, but there is a limit to how useful this method is.
You may get sent a different maid than the person making the recommendation, or you may not even know someone who uses a cleaner in the first place.
That is why some companies have created a way for you to book trustworthy and reliable cleaners that have been vetted and approved in advance – all from the comfort of your own home.
In our house cleaning services we include the following household tasks:
bathroom
kitchen
bedroom and living areas
Vacuum floors
You need a local company who can offer speed and convenience, with contractors who are fully insured and have gone through a stringent vetting process.
Why Hire A House Cleaner For Your Home?
Here are some of the benefits you can expect from home cleaning services:
A Sparkling Home
Undoubtedly, the first and most important benefit of using a maid service is having a clean home including sparkling toilets, bathroom and kitchen. Cleaning professionals can ensure your home is always neat and tidy.
Cleanliness includes all those hard to reach places you always mean to get around to, but never quite have the time for e.g. your oven and the washing of your shower tiles.
No Cleaning Means More Free Time
Without the constant chore of cleaning, you are guaranteed to have a lot of extra time at your disposal to spend on the things that really matter. You can spend more time with your family, or go out with your friends guilt-free.
No Effort Required
Have you been searching for "house cleaning near me" or "cleaner near me" online? Your search can stop with Maid2Match. A good booking process makes it effortless and is usually online. Any quality provider will have this option.
The beauty of using an online booking and quote system is it makes getting a maid a painless process. With the option to secure a maid in a matter of minutes, you can stop thinking about cleaning and start focussing on more important things.
A lot of people are resistant to the idea of using domestic help because they think it will be too costly. Just think about how much of your own time will be saved, and suddenly using a cleaner starts to look really affordable.
Even with affordable cleaning prices, many people are still wary about allowing a stranger into their home to clean. This becomes a non-issue if the personnel with a company are screened, insured, and comply with all workforce and safety regulations.
By using a professional house cleaning agency, you eliminate those unnecessary risks.
LOCAL & INSURED
Percy has convinced us that we should trust the quality of our highly trained and vetted cleaners. Because of this, in the very rare case you aren't 100% happy with the clean – we will send your team (or a replacement team) back out to fix it! Why not try out the Maid2Match service and get a quote now!
Daisy G.
Maid2Match provided a team to clean our home from top to tail. Bookings were easy. customer service center was responsive. The team confirmed the details before arrival. They had all their own equipment and arrived on time to do the most thorough job in our home EVER. They also assisted with laundering and folding that most other cleaners would never touch. They work hard and we highly recommend them.
Elizabeth P.
After reading all the reviews online, Maid2match were an easy choice. And they certainly didn't disappoint! Thanks Karen and team.
Eric V.
In 2016 my partner and I were fed up with our old company. While their rates were fair, they did not clean on a regular fortnightly basis. We were constantly complaining about the lack of upkeep of the bathrooms and kitchen. The old company was always changing the schedule. We gave Maid2Match a shot and that was one of the best decisions we made in terms of help around the house. Maid2Match actually cleans to a checklist and the one time I did have an issue I emailed on a Saturday morning and had a response from the Manager back within the hour. Super impressed and couldn't recommend Maid2Match enough
How to Find the Right Provider For Your Home
When choosing a cleaning company to come to your home, there are a few crucial things you should look for.
Providing a good experience for customers is not difficult, yet so many companies fail to deliver.
That's why the cleaning service Maid2Match is committed to providing a first class experience for you. Look below to see what you can expect when using this service.
Instant Quotes
Once you decide you need some help cleaning your house, getting a quote is as easy as filling in an online form. All you need to provide is basic information about the size of your home.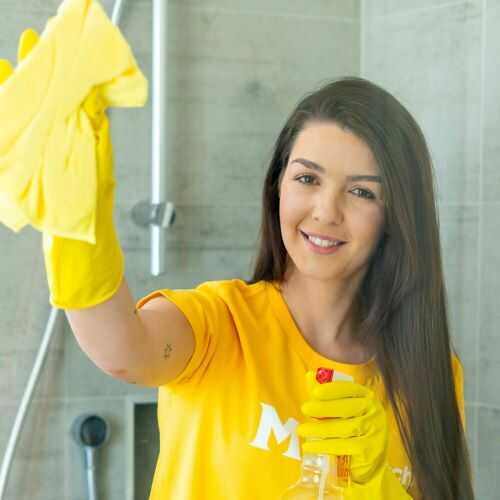 It takes only 60 seconds, so you can use your valuable time for more important things. Just hear what one of our valued customers has to say their home once we had worked our magic:
"Top service! Wonderful staff, and the instant online booking is super convenient. I strongly recommend Maid2Match to anyone requiring smooth, hassle-free house cleaning services." – Jeremy
Fully Insured
Every individual that works with us is fully insured, both for injury and accidental damage that could happen. So many cleaners are uninsured and you risk being liable if they are injured or cause damage while at your house.
Maid2Match has removed that worry so you can expect a carefree experience.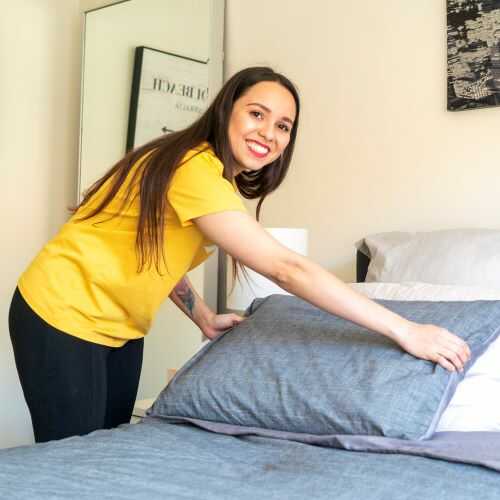 No Contracts
With Maid2Match, you will not be locked into long-term contracts. You may go on a surprise trip, or your financial situation could change.
Even when you want to schedule regular visits, you still don't need to sign an agreement. You can cancel whenever you want, which allows you freedom and control over your schedule.
If you are ever unsure you can read more about the cleaning industry regulations from the respective state government or contact the Australian Competition and Consumer Commission (ACCC).
Reliable
Maid2Match workers always strive to arrive within the scheduled arrival window. Should we ever be delayed we will contact you ASAP to advise of the situation.
"The team is always on time and leaves my place super clean. I will continue to have them come back regularly!" – Henry
Flexible
Not everyone's situation is the same and you may have special requirements for your service:
"Awesome, very personalised service with great attention to detail. We've had problems with another cleaning service and maid2match provided nothing but ease throughout the whole process. I cannot recommend them enough, great local business." – Peter
If you have a preference for things such as green cleaning, or anything else that may differ from the norm, we are more than happy to work with you – just let us know!
Discounts
For customers who schedule regular cleans, we offer an even steeper discount on our already low rates. This is great for anyone who can forecast their needs, or who has a clearly set routine.
Money Back Guarantee
The most important feature of using us is the money back guarantee policy. We stand by the quality of our work!
If for any reason you aren't happy, we will arrange to have the issue fixed, or refund your money.
Try the Maid2Match difference and get a great deal on your next clean.
© 2021 Maid2Match Pty Ltd. All rights reserved.