No one knows quite what to do with the awkward space under the stairs. It's an awkward space, to be sure – not enough for a room, but still big enough to use. It might seem unusual to have stair storage space, but it's actually pretty handy. It's less wasted space in your home, too!
Need stairs storage ideas? We've got plenty! Use the space under your stairs as storage for different things – shoes, coats, bags, toy storage, even kitchen items. Or turn it into wine storage or a study nook if you have the room. You can build in a breakfast bar or pantry storage, or a little napping nook for your furry friend. Maybe even use the space as a home office!
You don't need to be an interior designer to get creative with your under stairs storage. There are plenty of uses for that extra space. Here are some stair storage ideas to turn your stair space into something useful.
1. Shoe space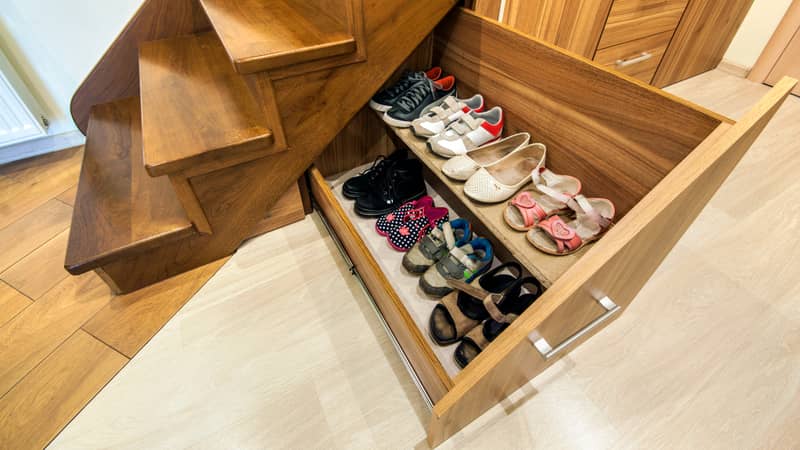 If you're in need of shoe storage ideas, this is a good hack: building the storage into your stairs space! Whether it's cubbies or cabinets, the space under your stairs is the perfect solution for storing shoes. You can also limit the storage to just the shoes you'll be using per season, just to keep things a little tidier.
2. Stealthy storage
Don't wanna ruin your interior design with clutter? Here's a stairs storage idea: hidden drawers or cabinets. You can design the exterior to match your home decor; that way, it blends into the rest of your house. Then you can put away anything you don't want your guests seeing (don't worry – we won't tell!).
3. Book it
For a more bookish stair storage idea, convert the space under the stairs into book storage! Whether it be floating shelves or a built-in cabinet, your staircase is the perfect place to make a novel storage space. Then different book storage ideas will create different aesthetics – choose a method that matches your home best.
4. Play place
If you have enough room, turn the space under the stairs into some toy storage! You can even go above and beyond, and build it into a small space all for your kids. Place play mats or cushions so it becomes a place where they can play or nap.
5. Cosy nook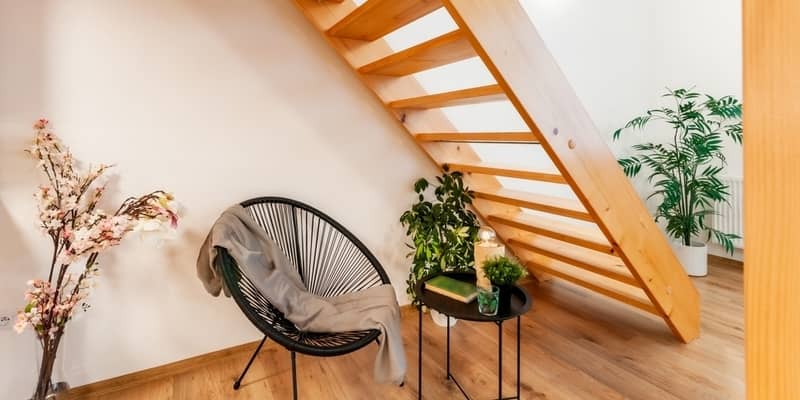 If you've got enough room, skip the under stairs storage and turn that space into a little nook! It can be anything – a study nook, a rest area, a little reading space. Make it cosy by adding a beanbag, or even build a cushioned bench for extra comfort.
6. Wine time
If you're lucky enough to have a wine collection, here's a great idea: use the space under your stairs to create a temperature-controlled wine cellar. The small, contained space makes an ideal spot for storing wines and other liquors, especially if it's near the kitchen or dining room.
7. Kitchen helper
Free up space in your kitchen area by turning the space under the stairs into pantry storage. Use it to hold dry goods – things like canned food, rice sacks, and other items. Just make sure your stairs aren't too far from the kitchen. You don't want to cross the whole house just for a can of food!
8. Powder up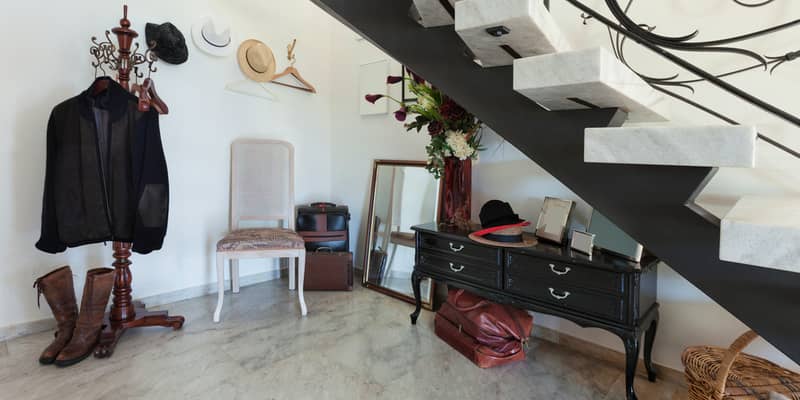 Make clever use of the space under your stairs and turn it into a powder room for guests! It won't need to fit much more than a toilet and a sink, plus a mirror on the wall. (And maybe display a painting, to liven things up.)
9. Linen stash
If you've run out of wardrobe space to store linens, here's an option – stair storage! Build a set of drawers into your stair space to conveniently store linens. This has the added advantage of keeping them out of sight, and making use of otherwise wasted space.
10. Pet room
Dogs and cats love snuggling up in cosy places, so the space under the stairs is perfect. Hollow out some extra space and place a pet bed – plus toys – for your furry friend to catch a nap. The one downside is that there's no space for you, too!
The disadvantage, though, is that you'll have one more space to keep clean of fur and dirt. Don't forget to tidy up your pet's nook, too (or just ask a house cleaning service to take care of it for you)!
11. Ordered and organised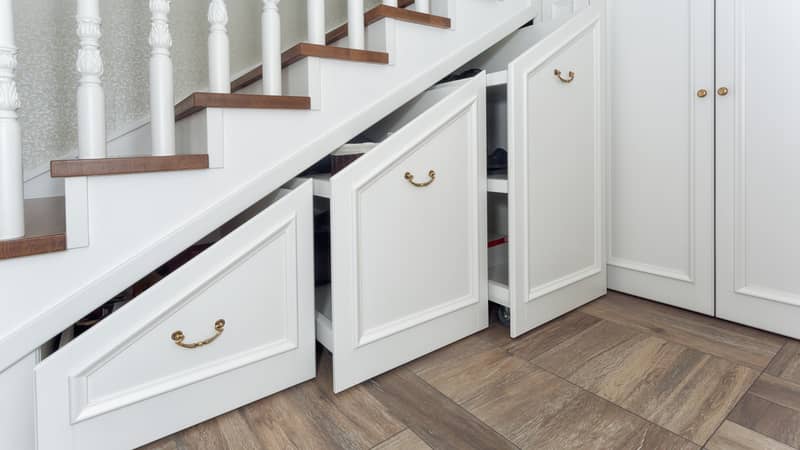 Install cubbies, hooks, racks or rods – all things you can use as storage for hats, coats, handbags, sports equipment… Essentially, use the area under your stairs as extra storage space! This is especially convenient if your stairs are near your entrance hall. That way, you can just grab and go.
12. Breakfast bar
Give your home a hotel feel by building a breakfast bar under your staircase! Install some shelves to store teas, coffees, sugar, and other accoutrements. Then have a small counter for an electric kettle – or even a microwave if there's enough room. This frees up space in your kitchen cabinets for other things.
13. Step it up
Here's a neat idea – use your staircase steps as drawers. Stair drawers are a great way to give yourself some extra space for storage without messing up your home decor. Just make sure to close the drawers after use. You don't want anyone accidentally tripping after all!
14. Work from home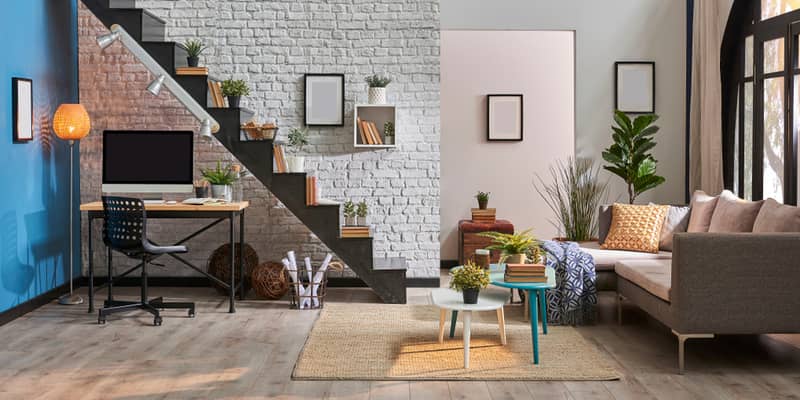 If you have more space, the area under your staircase is the perfect place for a little home office. You can install shelving and a desk, plus any cabinets underneath. This only works if your chair won't get in anyone's way – otherwise you'll have a hard time passing by.
15. Laundry niche
Want to design a European laundry, but don't know where to put it? Under the stairs could be the perfect spot! A European laundry is usually placed in bathrooms or kitchens, but the space under the stairs is equally convenient. You'll just have to be extra careful of mould or mildew if your staircase is made of wood – washing machines can make a space pretty humid.
Under stairs storage is a nifty hack for keeping your home tidy with some extra space you didn't think you could use. It also makes sure there's no wasted space in your house – even your stair space can become storage with just a little creativity. But don't forget to clean that area too!