It's kind of hard to imagine designing a laundry room or space — after all, that's just where you put your washing machine, right? You just need somewhere to put your machine — or two, if you have a washer and dryer — and enough room to maneuver. It doesn't even have to look nice, since that's just where you wash your clothes (and hunt for that one missing left sock).
But there are benefits to styling your laundry room — primarily in terms of efficiency. With the amount of time we spend on laundry (over 9000 loads in your lifetime!), it's well worth putting in the effort to spruce up the space. Or if you don't have a dedicated laundry room, then you can fix things up so your washer and dryer aren't getting in the way of everything else. You can also renovate your existing laundry space to make it easier to use.
And in that case, you may want to consider a European laundry!
What Are European Laundries?
No, it's not having a washer and dryer from the continent. A European laundry is essentially a 'laundry in a cupboard' — a laundry 'room' tucked into a cupboard or closet. These are best for apartments to maximise space, houses that need a little extra room, or a household that wants its washing machine nearby to multitask their chores.
European laundries are often placed in the kitchen, bathroom, or other multi-purpose rooms. You can have your European laundry hidden behind bifold or pocket doors, but it's also possible to simply have it out in the open for easier access.
Advantages and Disadvantages Of A European Laundry
To minimise space and maximise efficiency, European laundries often feature the washer and dryer stacked on top of each other. This makes transferring clothes from your washer to your dryer much easier. You can also add a pull-out bench for folding, or an ironing board for… well, ironing!
Alternatively, you can place the washer and dryer side-by-side under the bench top, leaving you with free bench space to fold clothes and stash cleaning equipment. Or if you just have a washing machine, consider placing it on a (reinforced!) shelf in a cupboard to raise it to a more comfortable level, and using the space underneath as storage.
The added benefit of the tucked-away design is that the doors help dull the noise of your machine. You can even invest in soundproof doors. (Keep a timer for when your laundry stops, though — the last thing you want to do is leave it inside!)
The disadvantage of a European laundry is that it allows only one type of washer — a front load washing machine. After all, you can't stack a top loader, given that it opens up top. The 'laundry in a cupboard' setup also creates a closed, humid environment for mould or mildew to grow, so make sure you check your space often, and clean your front load washing machine regularly. Or get a professional cleaning service to do that for you!
How To Design A European Laundry
Your main considerations when designing a European laundry will be:
Location

Setup

Machine Layout

Door design

Lighting

Ventilation

Other laundry functions
The key feature is designing a laundry space that's hidden, but still functional and accessible, and that will help you save space. It doesn't necessarily have to blend in, but it does have to look neat!
Location
If you have a designated laundry room, then you've already solved this issue. Otherwise, think about where you want to build your European laundry. Do you want it in the kitchen so you can multitask your chores? Or in the bathroom so you don't need to bring your laundry halfway across the house? Or perhaps in a small room that you don't have use for? Figure out where having your European laundry space would be most convenient, then get renovating!
(And of course, locate it near your pipe lines. Not only is it more efficient, but you'll also save on plumbing costs.)
Setup
There are two main ways to design a European laundry, all with the aim of saving space. One way is to build it into a wall cavity — a cut-out space in your wall. This works best if you already have spaces like this available in a convenient location, unless you're willing to renovate that much.
The other way is to set your laundry space up inside a closet or similar enclosed space. Your structure will then define your setup — see the next section!
Washing machine layout
Depending on how much space you have available, you can have two configurations for your washer and dryer. If the space is narrow, then you're better off stacking your appliances. If it's wide, low, or underneath a bench top, then place them side-by-side (and elevated if possible, for easier access).
If you only have a washer — or if you have a washer-dryer combo machine — you can work with any sort of space, and use the rest as storage.
Another thing to consider is your ironing board, if you want to include one! You can build it into the wall as a pull-out (like a Murphy bed), or store a standalone one alongside your machines.
Door design
There are several ways to style the door to your European laundry, if you want to enclose the space. Sliding, cavity, bifold, or pocket doors — choose which option fits best into your setup. If your appliances are set into a wall cavity, consider a sliding or pocket door that fits into the wall. Cabinets and closets will be better off with bifold or swing doors, since they lack a cavity to slide your door into. 
Lighting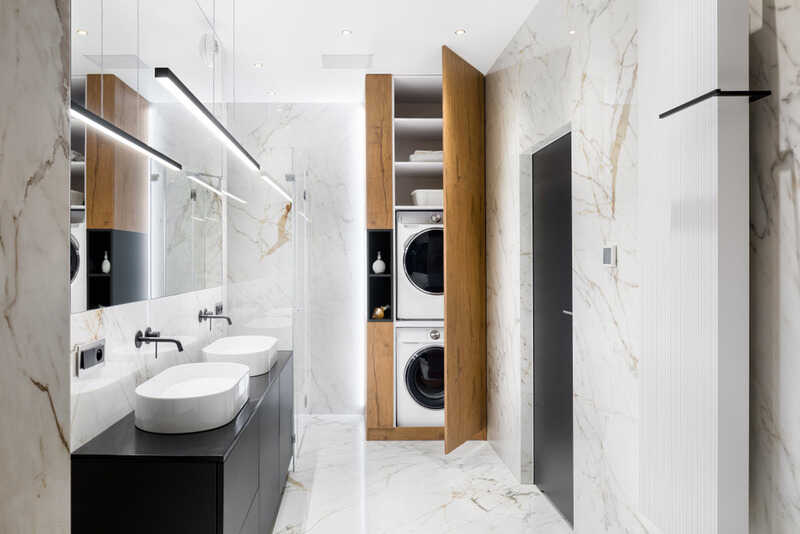 Task lighting is ideal for European laundries so you can better see your appliances (and find that last stray sock). It also helps you maintain the cleanliness of the cavity or closet since you can spot problem areas. And you'll want that lighting for when you're doing the laundry itself — the last thing anyone wants is to accidentally use bleach instead of fabric softener.
One other option for lighting is to have an automatic on-off switch that'll flick off the light whenever you close the door. It's a neat feature that saves you a little effort, and a little money if you're the type to forget switching off the lights.
Ventilation
Your laundry will need external ventilation to prevent odours and mould from building up! If it's against an exterior wall, you can cut out a small window or ventilator fan to facilitate this. Otherwise, you'll need to build a vent and ductwork to get your closet some fresh air.
Other laundry functions
There are other things to consider besides your washing appliances! There's folding and ironing, and storage for your cleaning products. So besides planning space for your washer and dryer, think about storage space on top of or around your machines. The size and layout will depend on what you'll be keeping — is it just detergents and bleaches, or will you store your linens there too? You can add shelves or cabinets, or even a separate closet section for all this, depending on your setup.
Laundry is a significant if mundane part of our lives, so it's important to have an efficient and streamlined setup to make the task easier all around. If you're considering building a European laundry, there are a lot of advantages — for your home layout, your laundry efficiency, and your back.