While you enjoy showing off your shoe collection whenever you're out, you need somewhere to store all your shoes at home. And no, leaving them lying around the hallway doesn't count!
There are plenty of shoe storage ideas depending on how much floor space you have available. Got a walk-in closet? A revolving shoe organiser or shoe shelves can work great. If you have ample space, get a shoe rack or use square cubbies. Limited space? Hang them up, buy a shoe tree, or get creative with shelves and corners. DIY with crates, PVC pipes, even ladders and planks. But before that, the easiest way to manage your shoe collection is to declutter – remember, you only have two feet!
Looking at a shoe mess? Here are some shoe storage ideas to keep your house organised. Just remember to put your shoes back into storage when you change!
Don't Forget To Declutter
Before you even get to the shoe storage solutions, step one is to declutter! Be honest, do you really need twelve pairs of casual shoes? All those winter boots? Several pairs of high heels? If you have too many pairs for your two feet, start by sorting through your shoe rack first. You can donate pairs you no longer wear, or throw out the ones that are too worn out. The fewer pairs of shoes you have, the less you'll need to organise – and the less space your shoes will take up, too.
Shoe Storage Solutions
1. Entryway shoe storage
One easy way to keep shoes organised is to keep a shoe rack or shoe cabinet by the entryway. Use this to hold your main shoe 'rotation' – the shoes you use most frequently. This will minimise your shoe clutter, and save shelf space in your other shoe storage solution. If you want to upcycle, old stepladders and pallets are great storage options.
It'll also make it easier for you to get ready since your footwear is already right by the door. Try not to have more than four pairs though; any more and you'll end up with another shoe mess.
This will also work to store your family's footwear. Place a shoe rack, shoe shelves, or any other container and presto! The perfect solution for storing footwear. Each person can store one to two pairs of shoes that they frequently use – just make sure everyone remembers to store their shoes away when they get home.
2. Shoe shelf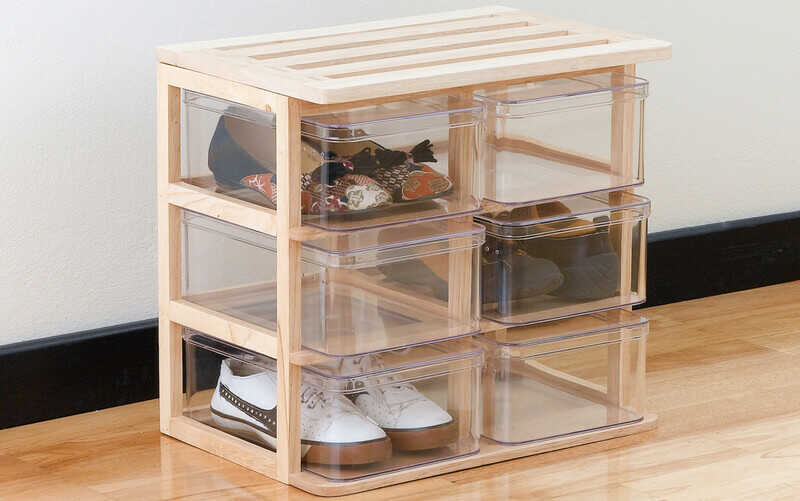 The simplest way to store your footwear is to get a shoe rack or shoe shelf! They come in different sizes, so you can select one (or three) based on how many pairs of shoes you own. Arrange your footwear on the shoe shelves in whatever way feels best: by type, by colour, by frequency of use, it's up to you!
If you want to get creative, you can use hard plastic shoe boxes or even wooden crates as a DIY shoe rack instead. Using wooden crates adds a rustic look, and you can buy them in different sizes to fit different shoe styles. Individual boxes are stackable and create a neat, uniform look – and if you get transparent ones, you'll know exactly what pair to pick out whenever you need it.
If you have very little space, you can build a shelf to store your shoes vertically! Just make sure you can reach the top shelf both for shoe access and for cleaning. (Pro tip: Save on time and effort – get professional cleaners to take care of that part for you. They can tidy up your shoes, too!)
3. Cute cubbies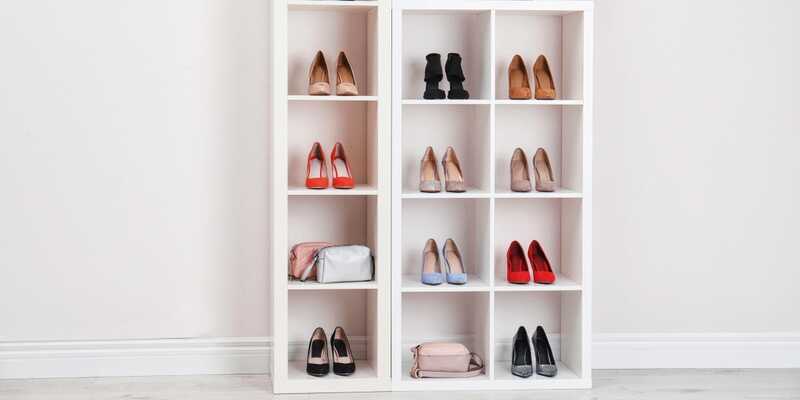 Consolidate your collection into cubbies (ha!) for a cute aesthetic. These are better for flat shoes, thongs, sandals, and low-heeled shoes – not so much for tall boots. The cubbies will function the same as a shoe rack to hold all your shoes. They also stack, so you can use any vertical space to store your shoes. Having open cubbies also makes for easy access!
Cubbies are also great for storing kids' shoes in their room since you can designate a cubby per kid, or per type of shoe. It's a great way to teach them to keep their own things organised, too.
If you wanna get creative with your cubbies, PVC pipes are an innovative way to store shoes! You can paint or paper them over to create aesthetic home decor (and to show off on Instagram, too).
4. Creative corners
Not enough space for a whole shoe rack? Make use of corners in dead spaces to take care of your 'shoe situation'. Use a corner by the stairs, along a door frame, in the entryway, or any other small spaces that can fit a wall shelf! You can even place a vertical wall shelf or pedestal shoe rack in a corner between a closet and a wall. Never say you don't have enough room for shoe storage options – you just need to get imaginative.
5. Hang it up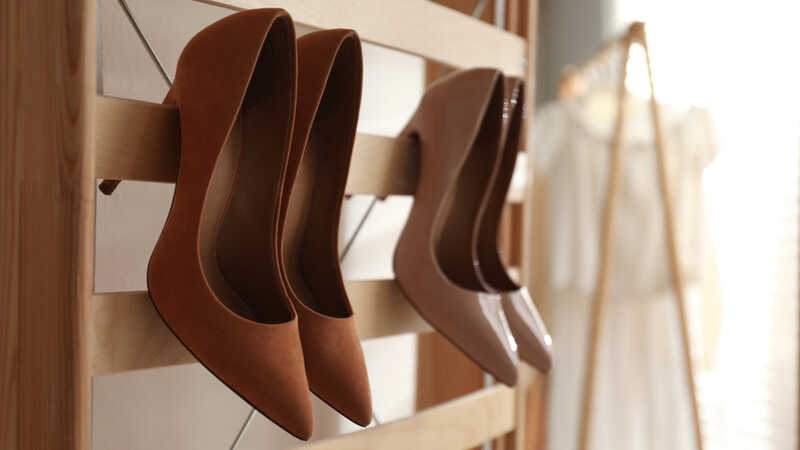 If you can spare the closet space, store your shoes on a door hanger or rack. Over-the-door hangers are affordable and great for storing flats and thongs. Meanwhile, wall racks can store shoes alongside bags on the inside of your closet door. Just make sure to keep your shoes clean (especially white shoes) so they don't dirty your clothes, too.
6. Spinny shoes
This can be either anything from a spinning shoe tree to a revolving shoe shelf. (Fancy!)  These come in tiers, so they can save some space, too. These are great since they hang your shoes vertically, which helps keep their shape. If you want to upcycle, use an old coat rack – it works the same way.
7. Space saving solutions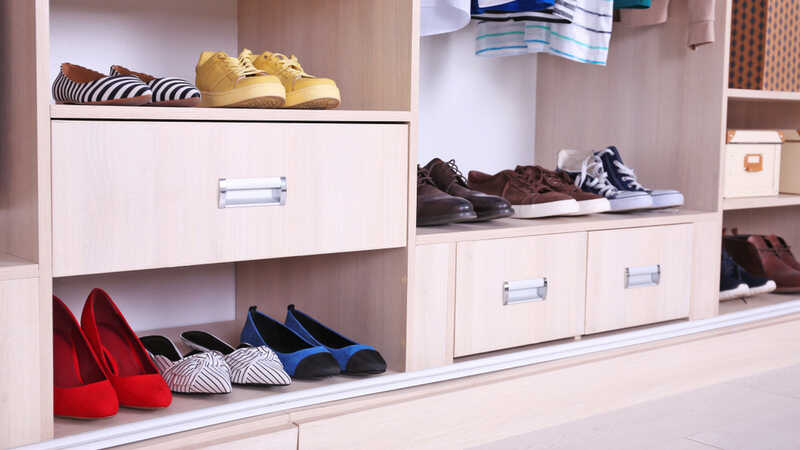 Get a shoe organiser that fits in the small spaces underneath things, like your coffee table or even your bed! You can also use the floor of your closet as storage space. This shoe storage solution works best for those who have limited pairs of shoes, though – if you've got a whole collection, you'd be better off with a shoe cabinet.
8. Multi-functional shoe storage
A hallway bench can act as seating and a shoe rack. A shoe cabinet can store both shoes and bags, plus the top can act as your hallway table. A coat rack with top-to-bottom hangers can hold your jackets up top and your shoes down below. A utility cart or bar cart can hold a multitude of things, and can fit into your closet or your hallway.
One great DIY hack is to use two ladders and secure them with two planks going across. The steps and the planks can hold shoes, while you can add a pole or dowel across the top to hang coats and jackets. The ladder can even function as a place to hang your bags and belts.
There's any number of shoe storage ideas for any number of shoes, so pick which one works best for you and work with it. The important thing is your shoes are organised… and you leave room for the next new pair, too!