You know what they say: a good hat can complete an outfit. Whether it's baseball caps, cowboy hats, or classy fedoras, a well-rounded hat collection adds a personal touch to your wardrobe. Just like bags, shoes, and makeup, a hat helps express the personality of the one wearing it. And since they shade you from the sun, they're practical, too!
Hat storage ideas are important both for organisation and for your hats themselves! If you don't use a hat rack or similar storage, your hats could lose their shape – or you could lose your hats in the clutter of your house. There are many ideas for storing hats: hat racks, cubbies, hanging rods, drawers. You can even display hats in a creative way so they double as a room accent.
(And if your home is cluttered, you'll need to tidy up more than your hats! Don't forget to organise your books, store your shoes, and other items too – or take a break and have a house cleaning service do the tidying up for you.)
As a hat lover, hat rack ideas and other storage are essential. If you need a hat storage idea for your collection, here are a few!
Cap Clutter
If you want to start organising your hat collection, step one is simple – declutter! You only have one head, so you should only have so many hats. Keep collectibles and anything special, but if a hat has seen better days, it may be better off being recycled or tossed out. You'll also free up space to get one or two new ones!
Hat Storage Ideas
1. Rack it up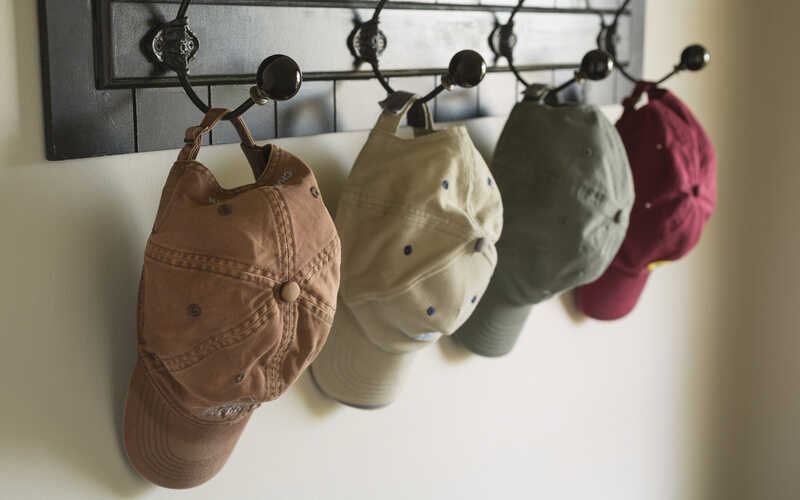 The simplest of ideas are sometimes the best. A hat rack makes for easy access, and can be stored behind a door or in any corner. Get a rack with enough hanging hooks for your collection. Or have multiple racks around your home – one hat rack in the entryway for frequently-used hats, and another in your bedroom for the special hats you don't use as much.
2. Hang loose
Install a towel rod or similar on a wall, then use small hooks so you can hang your hats on them! To save space, dangle rope or macramé from a rod, and use wooden clips to fasten your hats in place. This way, you can store more hats on one rod – and have an aesthetic piece for your room at the same time.
3. Repurposed hat hanger
If you've only got a few baseball caps and other hats in your collection, you can get a kitchen hanging rack! It's perfect for hanging hats, and if you get one with shelves, you can use those for extra storage.
4. Go vertical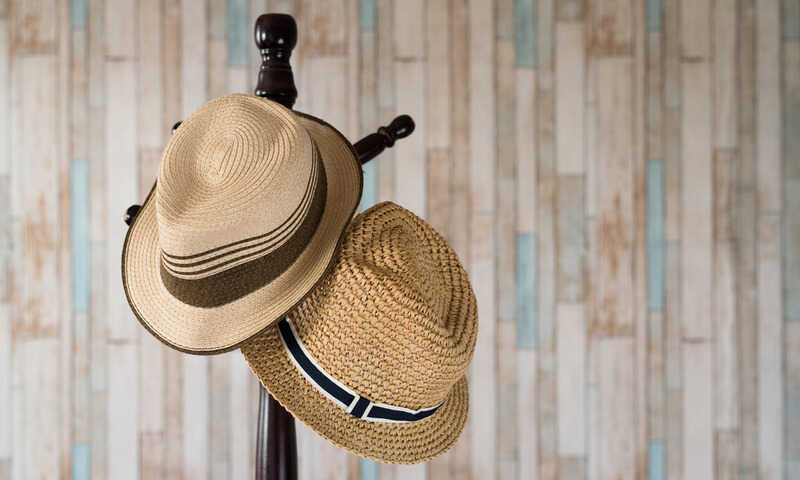 Got limited space? Vertical storage is the way to go. Get a vertical storage shelf from your local furniture shop, or repurpose a tall coat/bag rack into a hat rack. You can also make use of your closet door and get some hanging storage to save space.
5. DIY with wood
Recycling a wooden pallet or a wood board makes for a great hat storage idea. You can attach small pegs or hooks to hang your hats from, and get creative with how the wood is arranged. A simple board may look good, but how about arranging small wood boards so your hats cascade down? Repurpose an old shutter and other board-shaped pieces of wood. Or get creative with the pegs and use baseballs, industrial pipes, old faucets, large screws – anything goes!
6. Wall decor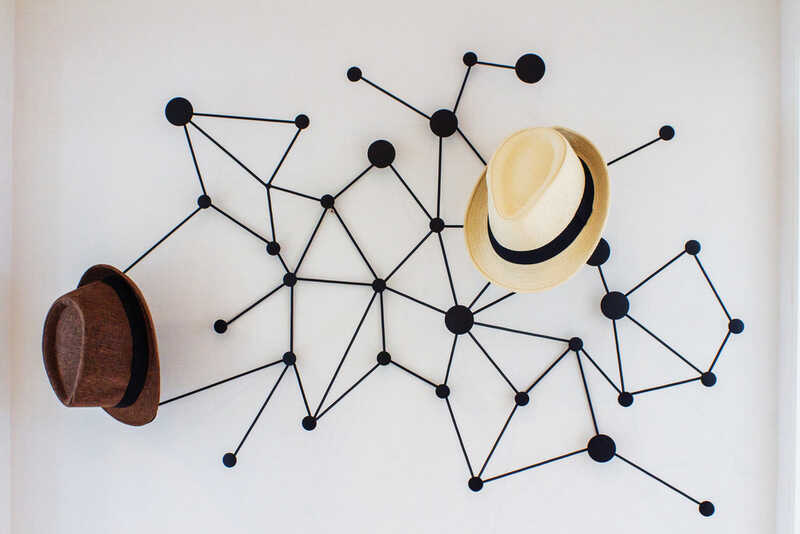 Get a wall-mounted hat rack that doubles as an aesthetic piece, and use it as both hat storage and room decor. Arrange your hats in a stylish way and create an accent piece for your walls. Hats that are both accessories and aesthetic? Yes please!
7. Pegged up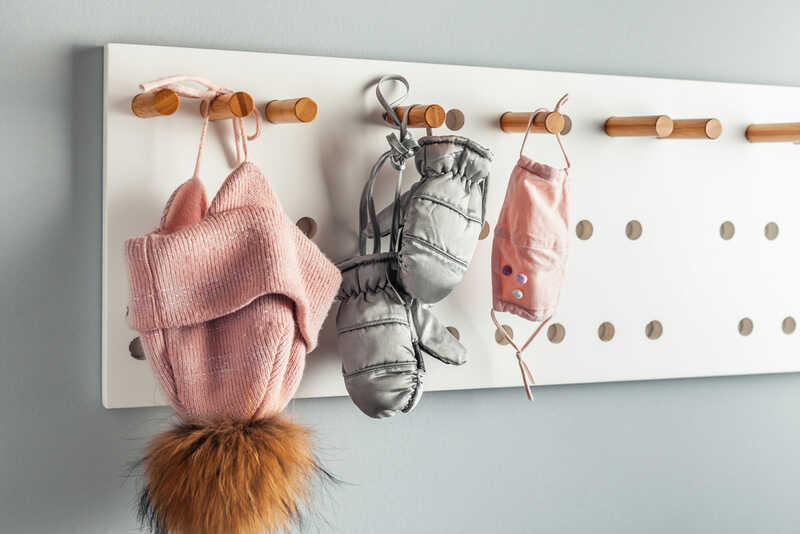 Place a pegboard in your entrance hall and use it for storing more than just hats! You can also hang bags and jackets, and add shelves for your other small items. Display hats alongside tiny plants and other interior décor. It'll make a great statement for any guests entering your home – and a great place for them to put their hats, too.
8. Stay wired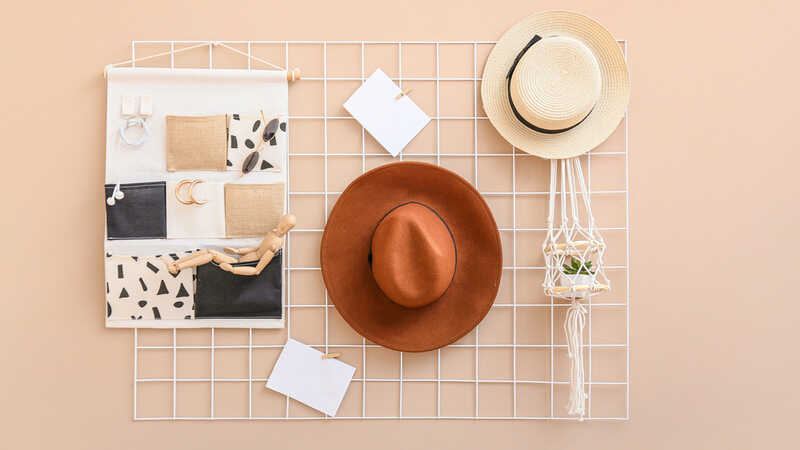 For a more industrial look, use a wire rack and metal pins for hat storage. You can go with one big square hat rack, or pick several in more unique shapes. Heart-shaped, circular, cascading, there's plenty to choose from. You can even get one customised to add a personal touch.
9. Mirror, mirror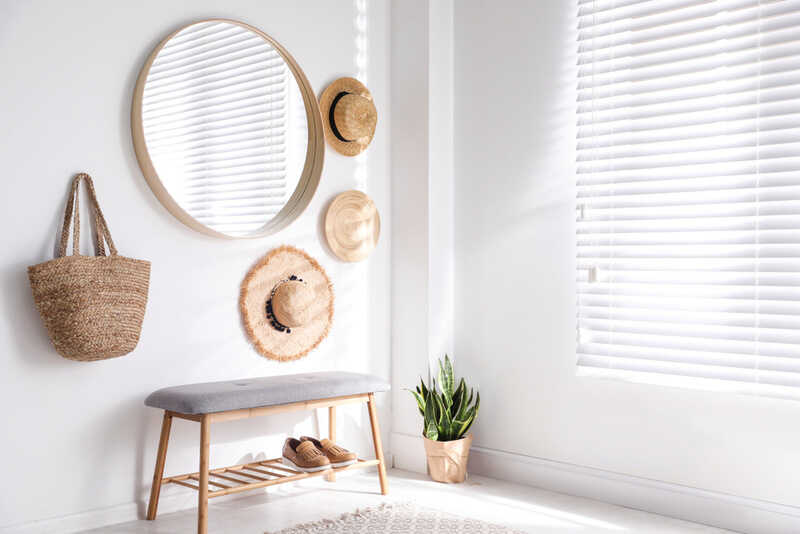 Build a hat rack around a standing mirror for clever hat storage – no need to walk to the bathroom to see what your hat looks like with your outfit. You can also mount the mirror on your closet door, and arrange pegs and hooks around it as hat storage.
10. Stand up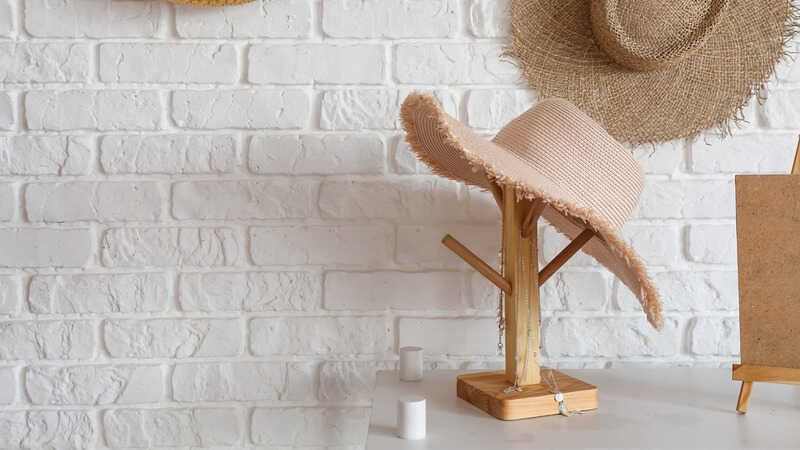 Get hat stands, or even wig stands, to display the best of your hat collection. You can also use them to display necklaces and scarves alongside your headwear – and won't that make a statement piece.
If you love hats, there are plenty of hat storage ideas for you to use in organising your collection. Choose which is most versatile for you and go from there – just don't forget to actually put your hats back in storage when you're back home!