Handbags, purses, clutches – they all add a spark to your outfit. They're a statement piece, and say a lot about your personality. Whether you're using casual totes, designer clutches, or everyday bags, handbags affect the impression you make on people. And how you store bags at home says a lot about you, too!
How to store handbags? You'll need to think of two things – how to sort them and how to store them! You can categorise your bags by colour, size, or type (or a combination of the three). After that, figure out how to store them. Think about how much space you have available and work from there. Can you use wall hooks or shower rings to hang bags? How about magazine holders for purse storage? Or do you have the space for shelves and trays, whether inside your wardrobe or in a separate storage unit?
(For that matter – is your room clean in general? If it's not, here's your cue to tidy up, or get an expert house cleaning service to tidy up for you.)
If you need handbag storage ideas, you've come to the right place. Here's how to organise handbags – both inside your closet and out.
Purse purge
Unless you're carrying six at a time, there's really no need to have so many handbags. If you're struggling to store bags, it may be time to say goodbye and thank you to a few. Go through your bag collection and see which ones you may no longer use. They may be better off in another home or being upcycled.
Sorting through your bags also makes it easier to reorganise and rearrange them later. You can categorise them depending on which purse storage ideas you'll be using. And don't forget to check the pockets – you never know what you could find. (Cha-ching!)
Ways To Organise Bags
There are multiple ways to organise big and small bags, but here are some of the simplest! When sorting through your bags, categorise them in three ways – colour, size, or type.
1. Pop of colour
Achieve aesthetic handbag storage by sorting them by colour! Imagine having a gradient of colour on your shelf or in your cubby – doesn't that sound so pretty? Having bags organised by hue also makes it easier to match your outfit for the day. How's that for a dress-up hack?
2. Size matters
Sort your handbags by size so you can fit them into the same storage containers! If you're using shelves or cubbies, the height of each section can vary depending on how big the bags are. Larger handbags can be hung separately, or flattened and stacked on one shelf.
3. Typed out
Arrange handbags by type so you have an easier time picking out a bag for your day! You can categorise them into groups like 'fancy events' or 'going out to the shops'. This way, you know exactly where to look for a handbag for every occasion.
Handbag Storage Ideas
1. Hook holder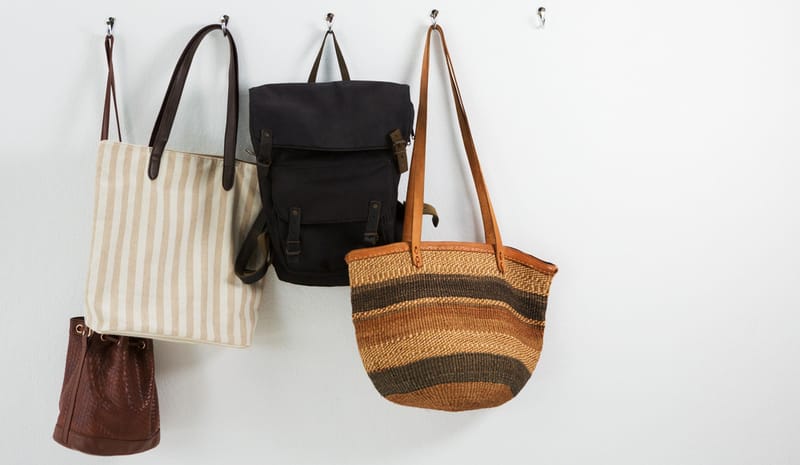 This one's simple, but sometimes simple is best. Install hooks in your room or on your closet doors to hang bags. This works best if you have a smaller bag collection, since you have limited closet space.
You can also install hooks in your hallway to hang your favourite handbags, or the ones you use most often. Then you can simply grab a bag on the go, whether you're popping out for a quick lunch or heading off for errands.
2. 'Zine storage
Here's a fun hack – use magazine holders as purse organisers. Store thin purses and other slim handbags in magazine holders or file folders. It's the perfect solution if you only have a small space available, like the top of a dresser table. Get magazine holders that match your room's aesthetic – or DIY a few to add some personality to your purse storage.
You can also use acrylic trays to store smaller bags. This is the perfect solution for storing clutches since they're all lined up neatly in a row.
3. Ring master
Repurpose shower rings and use them to hang your handbags! You can hang several bags on one ring so long as they're in various sizes, or simply have one large handbag per ring for easy access.
4. Go vertical
There are several ways to hang your bags vertically, but a special bag organiser is the most efficient. Get one that fits the inside of your closet door to help save space and store things efficiently. Or repurpose wire baskets by positioning them vertically down your closet door. Just make sure they're all within reach!
5. Shelf life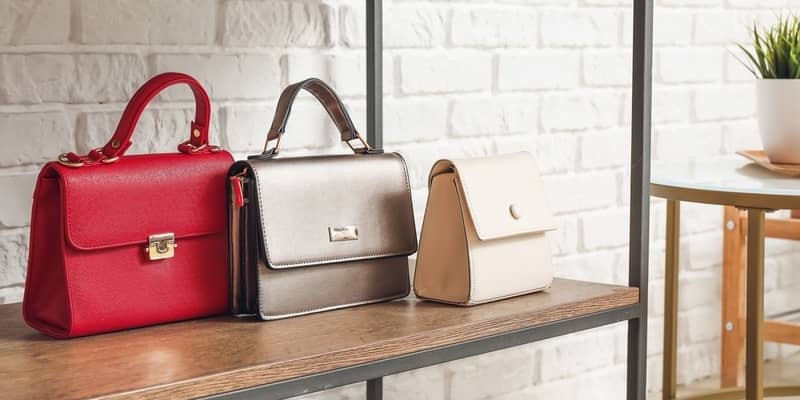 There are two ways to go about this — use some of your closet space, or have a separate shelf for storing bags. The closet shelf route helps save space (although you'll need to think of wardrobe storage ideas for that, too). Meanwhile, having a separate shelf (or a repurposed bookcase) helps you keep all your accessories organised. It does mean that you'll need to keep your purses in dust bags, so they don't get dirty, though!
As for organising the shelves themselves, use shelf dividers to partition off your shelves and further systematise your handbag storage. Each section will then hold a different type of bag. These are also great for keeping your bags upright and visible!
6. Cute cubbies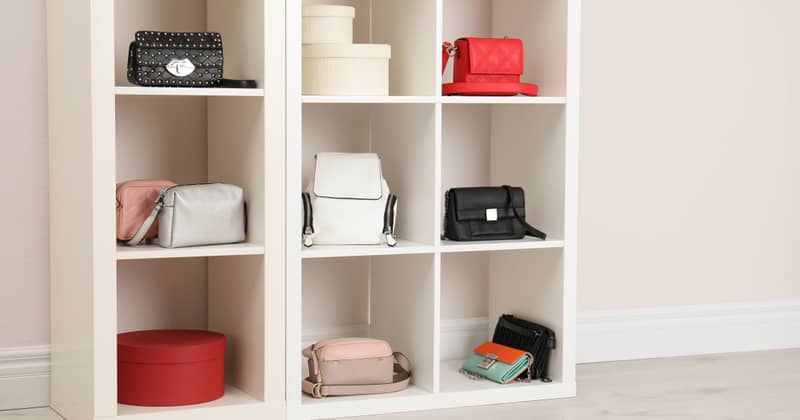 This is similar to having a separate shelf for storing bags, except each bag gets its own cubby! This is especially good for keeping your bags upright, which helps them retain their shape – and means you can quickly find just the right bag for your outfit.
7. Rack it up
Standing racks aren't just for coat or hat storage hacks! For handbags that have straps, standing racks are great storage options. Just place the rack anywhere you have extra space, and give yourself easy access to your handbags.
8. Closet containment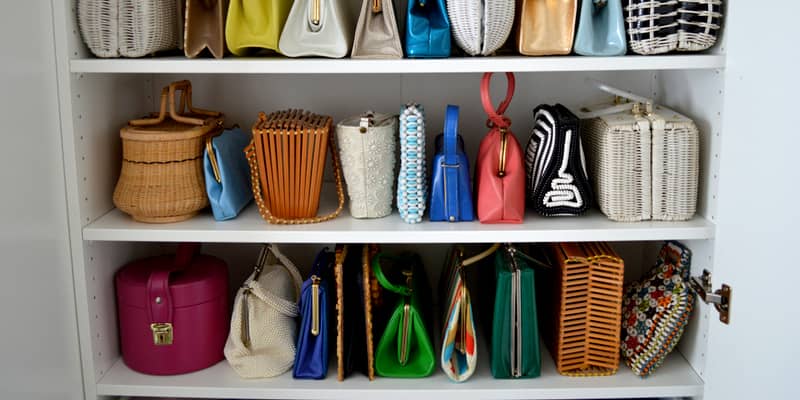 If you've got a walk-in robe and own multiple bags, keep them all organised by storing them in your wardrobe! You can place multiple bags in bins or drawers, or install shelves for purse storage. Then use shelf dividers or other transparent containers to keep your handbags upright.
Whichever you choose from these handbag storage ideas, don't forget to keep your handbags organised and well-maintained, too! Put them back in their correct storage, and make sure they're clean and tidy. You can have the best designer bags, but they won't make much of a statement if they don't look good, too!