Have you ever noticed how long it takes to clean a home, condo, or apartment? Maybe you're not aware of how hazardous housecleaning can really be. Safety can be a point of concern for some seniors when it comes to cleaning a house or an apartment. In fact, depending on your lifestyle, cleaning your home can be a daily task that takes minutes or becomes an all-day event.
If you're a senior who finds yourself spending more of your retirement time cleaning or worried about cleaning and not enjoying your golden years, keep reading. There are certain cleaning tips that can help to keep you safe and help you improve your time commitments for daily chores.
Plans Alleviate Safety Concerns and Save Time
The first tip to save time on house cleaning is to make time to develop a plan. If you're looking at a mess or a long list of chores, it can become overwhelming. By developing a plan for your cleaning efforts, you will alleviate some of the pressure and anxiety that often accompanies staring down a kitchen full of dishes and in need of mopping. Try to write down the largest tasks first. If you start with the big stuff, you will not have to sweat the small items.
You also want to consider your capabilities. If you're a senior who has fallen in the past, there is no shame in asking for help on projects that require a lot of stretching to reach items or surfaces, like dusting the top of a refrigerator. Don't extend yourself beyond your own physical limits.
Multi-Tasking Gives You A Jumpstart On Overwhelming Tasks
We suggest writing down a plan to help you identify tasks that can be multitasked. For example, if you have laundry to do and dishes that can go in a dishwasher, start these items immediately. Looking at piles of dishes and laundry can be overwhelming. Once you start these two items, the house will reflect progress being made. And while the clothes are being washed (and the dishes too), you can work on other areas of your home.
You may even want to consider outsourcing routine tasks if you know you have certain medical appointments or health obligations coming up. This helps take some of the pressure off of you without completely severing your independence. For example, laundry can be time consuming. And, if you have arthritis, the folding can be harsh on your hands. If you know you're going to be busy with family obligations or maybe back and forth to different doctors for appointments, find someone to help you with the laundry tasks or a reliable dry cleaner who can take the task off of your hands.
Don't Move Heavy Items; Seek Alternative Tools
Many seniors face the issue of wanting to clean their homes but are more prone to accidents and falls because of age, vertigo, and sometimes even the side effects of certain medications. Don't try to move heavy furniture to dust or vacuum. This can cause serious injuries.
There are many tools and extensions on the market that can help you reach hard those difficult spots within your home, often of which are behind or between heavy furniture. When you're writing down your cleaning plan, make sure you spend some time researching the best tools and supplies needed to clean or vacuum under or around furniture. You can do this by either running an online search or speaking with a sales associate at your local store.
Excessive bending, lifting, or carrying heavy items is responsible for the most in-home accidents among seniors. Don't be a statistic, enlist help or find tools that will make your efforts easier and safer.
For extra tips on how to life safely, you might like this guide from NHS on safe lifting practices.
White Vinegar Saves Money and Trips to the Store for Supplies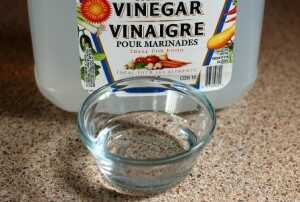 Expensive cleaning supplies seem to be a point of concern for many seniors. Accidental ingestion and bleach poisoning accidents are high among seniors too. An easy way to avoid high priced and often toxic clean products is to work with natural, organic solutions.
White vinegar is your friend and it saves money. People tend to shy away from using vinegar as a cleaning agent because of the smell. When mixed properly, the smell is hardly noticeable. You can always add a drop of your favorite essential oil scent too.
White vinegar is budget friendly, non-toxic, and it works as good, if not better than most of the chemically produced solutions found at the store. Remember, you always want to use a mix of a 60/40 water and white vinegar solution when cleaning.
If you are interested, watch this 6 minute youtube video from the ever popular Clean My Space on how save time and money by cleaning with vinegar.
White Vinegar Is A Multi-Purpose Cleanser
White vinegar can be used to mop different types of floor surfaces, including hardwood. We like to use white vinegar to clean tough toilet bowl stains. For this, simply pour two cups of your vinegar solution into the toilet and let it sit for a half of an hour. Make sure you close the lid of the toilet so no pets drink the solution. Again, it's not toxic but pets shouldn't drink vinegar because it can upset their stomachs.
Bonus tip: Tossing a half of a cup of the solution into a load of white laundry also helps to boost the brightness of clothes!
Dusting with A Paint Brush Saves Time on Small Items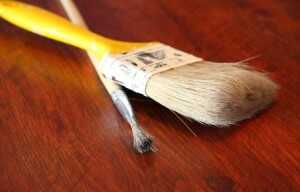 Sometimes dusting the smaller items in your house is easier with a paintbrush rather than the traditional duster.
Dusting always seems to be a problem when it comes to dusting. Even when the job is done, it doesn't seem like all of the dust is truly gone. There is always more of it. If you have small knickknacks or window areas that need a good dusting, try using a large and clean paintbrush. Simply rub a dryer sheet (yes, a dryer sheet!) onto the paint. This helps to attract dust to the paintbrush. Next, run the paint brush over the area in need of dusting. This helps to prevent using harsh dusting chemicals on surfaces and the dryer sheet attracts dust and leaves a little bit of an oily deposit on surfaces which prevents future dust build up.
Dusting with A Pillow Case Saves Time on Fans
If you do need to dust ceiling fan blades, look for pillowcases. Most seniors find cleaning the blades of ceiling fans hard and time consuming. However, the more dust that collects on the blade means your home can become the host for respiratory-related health issues.
Old pillowcases should be carefully placed over one of the ceiling fan blades. If you need help putting the pillowcases on, shy away from this option and look for a dusting extension to reach the blades. There are many different types of these products online. Remember, safety first! If you are pretty steady on your feet, then putting the pillowcase onto the shut off fan blades will work. Once on, slowly pull off the pillowcase. This works great and saves time because you dust both sides of the blade at once. As an added bonus, the dust stays within the pillowcase and you can shake it outside or over a trashcan later.
That's It, You're Done!
Cleaning can be inexpensive, easy, and less time consuming when you make a plan and utilize the products you probably already have within your home! If you are considering private home cleaning in Brisbane it is worth dropping us a line at Maid2Match. Plus, you'll be more likely to avoid health-related issues that seniors often have when cleaning their homes.