As more and more of us transition into eco-friendly and nature-based lifestyles, there's one aspect we should consider: are our cleaning products greywater safe?
Individual environmental responsibility isn't just about reducing plastic use and limiting animal-based foods. 
We also need to think about our water consumption and how we can recycle water or use safer products that get rinsed down the drain.
If you're looking for greywater-safe products in Australia, you've come to the right place! Here's our round-up of cleaning products, from all-purpose cleaner to liquid soaps. (Personal care products are another conversation to have!)
All purpose cleaner | Bathroom cleaner | Dishwasher detergent | Dishwasher tablets | Laundry washing powder | Laundry detergent | Liquid soap | Bar soap 
What is Greywater?
Greywater or grey water is the waste water that comes from all sorts of places in your home: showers, baths, washing machines, laundry tubs, dishwashers, and sinks.
It does not include water from your toilets – that's blackwater, which contains raw sewage and other contaminants.
Fun fact: the average person uses almost 100 litres of grey water in a day! Approximately 2/3 of all water consumed in a household is grey water.
What Does "Greywater Safe" Mean?
If a product is labelled "greywater safe," that means it does not contain chemicals and substances that will contaminate a grey water system or storage.
You can then use the grey water for gardening or for your toilet. This not only saves you on water costs but is beneficial to Mother Nature!
These are different from septic-safe products, which will not disrupt the bacterial ecosystem in a septic system. There's a lot of overlap, though – most products safe for greywater are also safe for septic systems!
What Cleaners are Greywater Safe?
From liquid detergents to bathroom cleaners, here's a painstakingly put-together list of greywater-safe cleaning products. 
They'll leave your laundry, dishes, and home surfaces squeaky clean without hurting the plants or ocean life.
As with all cleaning products, though, do a test wash first before full use!
TIP: If you have a regular cleaner come to your home, check if they use greywater safe products – or provide your own!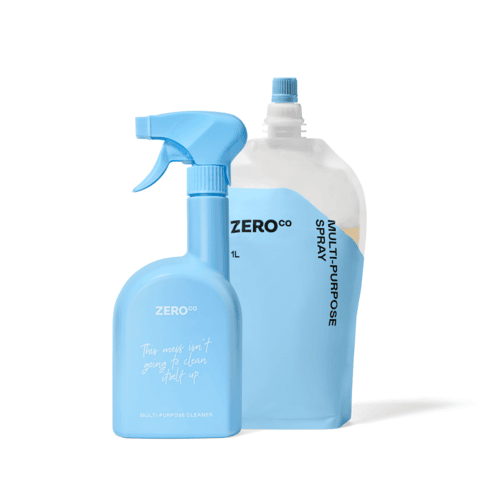 Plant-Based and Vegan | Palm Oil Free
One product to clean them all, one product to wipe 'em. Zero Co's high-performance Multi-Purpose Cleaner tackles dirt, oils, and grease on most household surfaces.
This Aussie brand harnesses the natural cleaning properties of plants and plant-based surfactants (such as caprylyl glucoside) for easy grease and stain cleaning.
Your home will smell great, too, thanks to the product's verbena and lemongrass fragrance.
The combo comes with one 1.0L reusable refill pouch and one 0.5L forever spray bottle. You can subscribe to save money and have refills delivered regularly!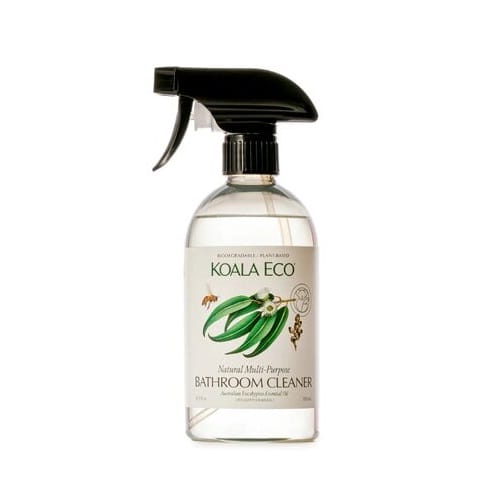 Eucalyptus-Based and Non-Toxic | No Synthetic Fragrance
The scent of eucalyptus after the rain paired with a clean bathroom: that's what Koala Eco offers. 
Their Multi-Purpose Bathroom Cleaner cuts through soap scum and dirt while also deodorising the room.
Its eco-friendly and plant-based formula has antibacterial properties thanks to essential oils and sugar-based alcohol. As a plus, the bathroom cleaner is also antifungal and antiseptic!
Greywater-safe dishwasher detergent: Euclove Dish Soap
No Ammonia or Parabens | Planet-Friendly and Affordable
Deal with dirty dishes thanks to the Euclove Dish Soap in Tangerine & Tulsi! 
Euclove's detergents use natural ingredients such as coconut oil and tangerine essential oil which are powerful on dirt but gentle on skin.
This Australian-made dishwasher liquid is vegan and cruelty-free, while featuring antiseptic and antibacterial properties. 
And the eco-friendly nature goes beyond the ingredients: Euclove's manufacturing facility runs on solar power in the daytime!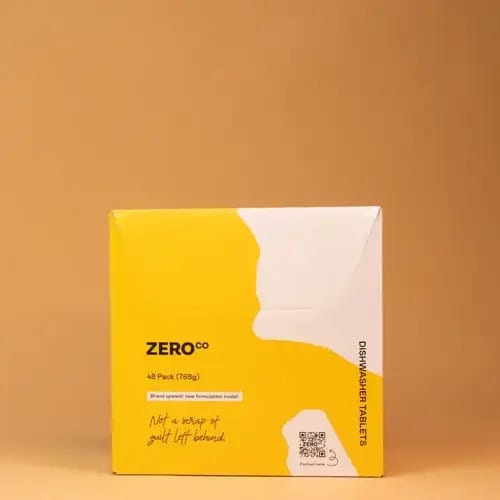 Plant-Based and Vegan | No Phosphates or Phthalate
If you prefer a nifty tablet to toss into your dishwasher, try Zero Co's Dishwasher Tablets! 
This new addition to Zero Co's product range uses trisodium citrate dihydrate (salt of citric acid) and bicarb soda to clean your plates.
These tablets can tackle everything from cutlery to pots and pans. Moreover, the formulation is biodegradable and fragrance-free!
Each cardboard package contains 48 tablets wrapped in water-soluble skins.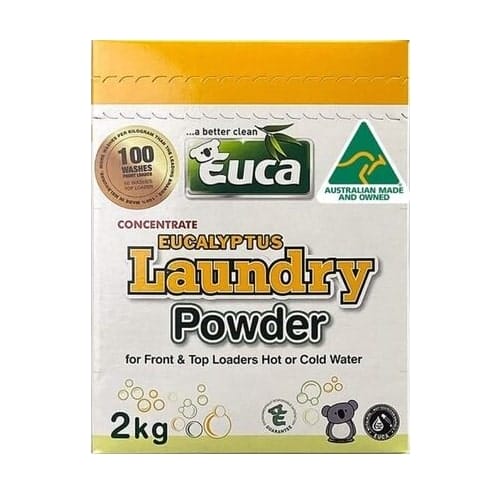 Low-Phosphate and Eco-Friendly | Hypoallergenic
For those who prefer laundry powders, Euca's Eucalyptus Concentrate Laundry Powder is a great choice. It's 100% soluble, so it's safe for your septic and grey water system.
The product is based on eucalyptus oils alongside low concentrations of sodium compounds. It does not contain any parabens or palm oil, and it's vegan as well! 
Best of all, its concentrated formula means you use less powder per load.
Get clean clothes and linens without the guilt – no matter what kind of washer you own.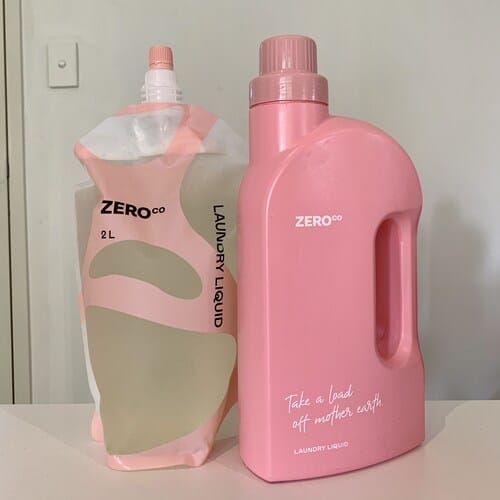 Plant-Based and Vegan | Uses Recycled Ocean Plastic
Here's a product made in Australia for Australians! Zero Co's "ridonkulously effective" Laundry Liquid Combo contains two 2.0L refill pouches and one 2.0L forever bottle.
The powerful, planet-friendly laundry detergent has a lemon myrtle and Australian grey gum scent. Active ingredients include citric acid and sodium carbonate. This way, you'll have clean and fresh clothes and you'll be helping the environment!
TIP: Pair it up with Zero Co's Stain Remover for a one-two laundry cleaning punch!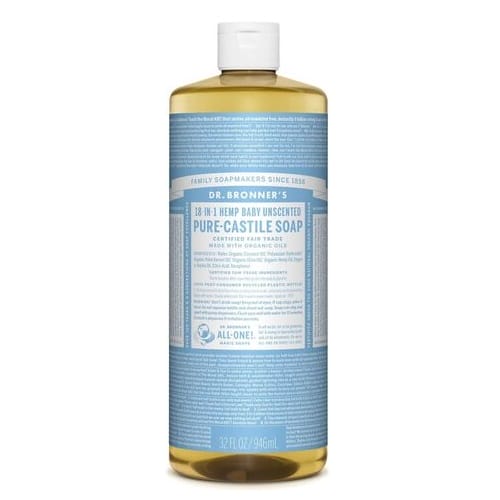 Fair Trade Ingredients | 18 Different Applications
This original formula version of Dr. Bronner's Pure Castile Liquid Soap tackles everything from dishes to laundry detergent. You can even use it on your hair and body!
Some of the main ingredients are coconut oil and jojoba oil, formed into a natural soap.
It fits perfectly into a vegan or cruelty-free lifestyle, since it's versatile and comes in a post-consumer recycled bottle.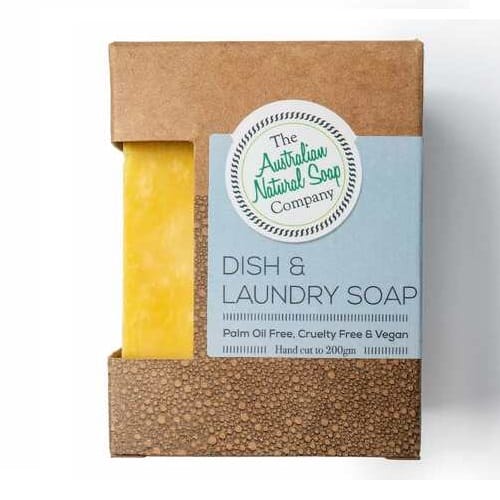 Orangutan-Friendly and Palm Oil Free | Multipurpose
If you want to ditch bottles and liquid detergents entirely, try this Dish & Laundry Soap Block! 
You can grate it into your dishwasher or boil it into a gel for use in your kitchen, laundry room, and bathroom.
This 200g hand-cut bar is made of saponified oils – but not palm oil! (So you're making orangutans happy.) 
It's ethically produced, cruelty-free, and vegan. And of course, no sulphates or parabens!
What Not to Put in a Greywater System
There are several ingredients in commercial products that should not enter a grey water system. 
These include some common substances such as:
Salts and sodium products:

Salt can build up in soils and interfere with plant growth. Of course, this doesn't mean that there should be no salt at all – look for products that have low concentrations of sodium compounds.

Boron:

This is toxic to plants and can cause damage to ecosystems even in small amounts. And yes, boron-based substances include borax!

Chlorine bleach:

Bleach is a common component in many household cleaners, but

chlorine

bleach specifically is harmful. The chlorine kills beneficial microorganisms such as soil microbes.

Phosphorus:

While it

is

beneficial for soil, phosphorus causes excessive algae growth in water systems. High levels of phosphorus can also be harmful to Australian native plants.

Alkaline products:

Too-high pH levels (generally over 9.0) can dissolve organic compounds and harm both plants and soil organisms.

Acidic products:

Too-low pH levels are also harmful for a grey water system. Be mindful of products and substances that are lower than pH 5.5.
You can have a greywater pre-treatment system installed for additional filtering! 
Check your local council guidelines regarding these changes, as well as any water supply and sewage removal authorities.
Greywater Storage and Use at Home
Grey water systems can be as simple as a storage tank. Just make sure not to keep the water untreated for more than 24 hours, and don't store any if someone in your household has a contagious illness.
Separate any water taken from kitchen sinks as it will contain fats and solids that can damage your plants.
If you want to reuse your grey water, check your local council and state regulations. 
For example, Victoria has policies for using treated and untreated greywater in your home. Meanwhile, Queensland regulates where and how you can discharge greywater from your kitchen, and how you use greywater on-site.
Are These Cleaning Products Greywater Safe?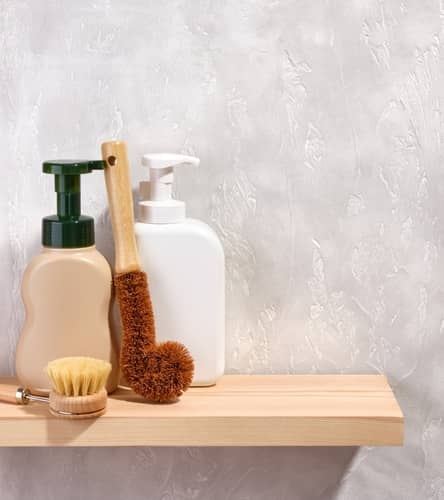 If you're looking at other products, there are ways to check whether they're safe for grey water. 
Besides the substances listed above, here's a quick FAQ on common household cleaners.
Is Omo greywater safe?
Surprisingly, no.
Omo products do use oxygen bleach instead of chlorine, and they contain very low amounts of phosphonates and sodium compounds. However, Omo bleach has unspecified enzymes which may be harmful to plants.
Is Napisan greywater safe?
No, Napisan products are not safe for grey water use. 
Most Napisan cleaners contain sodium compounds and unspecified enzymes which could be harmful to the ecosystem.
Is vinegar greywater safe?
Only if diluted! Distilled white vinegar by itself is an acetic acid with a pH of around 2.5, which could harm gardens and soils. Diluting it reduces its strength.
If your water is very alkaline, white vinegar might also help reduce the pH to more neutral levels.
Is borax greywater safe?
Technically no, but that's only for grey water used for gardens. Boron is toxic to plants in all forms.
If you do not plan to use your greywater for the yard, or your plumbing connects to a grey water system that can filter the boron, then you'll be fine.
Is hydrogen peroxide greywater safe?
Yes it is! 
Alongside oxygen-based bleaches, hydrogen peroxide is a preferred alternative to chlorine-based products.