Have you been looking for ensuite bathroom ideas, but feel that they're just not stylish enough? Search no more, because we're giving you the best ensuite design tips straight from interior design experts!
It doesn't matter if you have a lot of room to work with, or a little room to work with – there are ensuite designs to suit all spaces. We've got all your ensuite bathroom questions covered, and we're throwing in extra interior design tips to make sure that your ensuite exceeds your expectations.
What is an ensuite bathroom?
An ensuite bathroom is a bathroom that's connected to the master bedroom. It's meant for private use, and normally not intended for guests. The most sought-after ensuite bathrooms have three things in common: they are inviting, purposeful, and well-crafted. Because you will be the one using it, it's only fitting that you go the extra mile in creating a bathroom that'll give you the best toilet and bathing experience.
Beautiful ensuite designs for your bathroom
Achieving a pristine and well-executed bathroom is all about picking the right pieces. When it comes to your bathroom's finish, less is more. There's no need to go for expensive fixtures – but make sure that your choices go well with the rest of your bathroom. And they should make you happy, of course!
There are a lot of ensuite bathroom layouts and designs to choose from. We're rounding up the most stylish bathroom looks to take your ensuite to the next level.
The modern ensuite bathroom
If you're looking for a design you can't go wrong with, a modern ensuite bathroom is the one to aim for. Make your bathroom sleek and sharp with these tips:
Sophisticated fixtures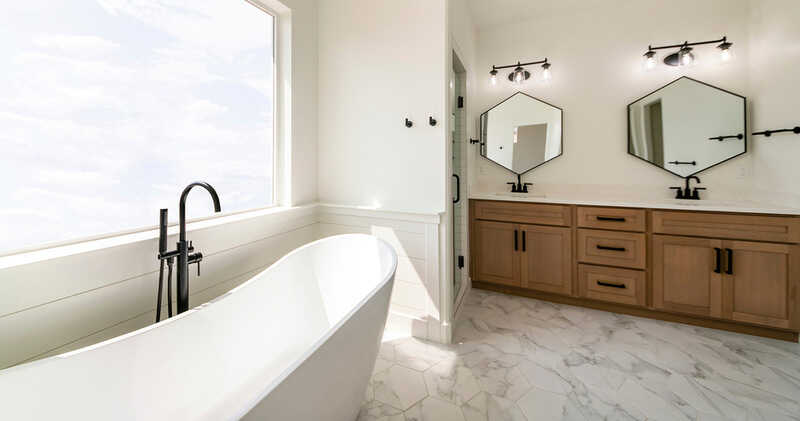 Add a freestanding bathtub for structural appeal. 

Instead of the usual brass or gold faucets, use matte black fixtures for a well-groomed finish.

Attach a rainfall shower head for added aesthetic value and a relaxing bath experience.

Use a shower glass enclosure for a clean, crisp look. Just make sure that your shower glass is streak-free. Nothing brings down an ensuite bathroom's mojo more than shower glass stained with water droplets and mildew.
Luxurious paint and finishing
Colour palette: matte black and bleached oak are the colours that go best with a modern ensuite bathroom. Accessorise with glass, mirrors, and steel to enhance the sparkle of your bathroom.

Go for stone-finish porcelain flooring instead of tiles. Tiles may be more economical, but stone-finish flooring looks sleeker and is more solid. You can make the most out of your renovation budget by focusing on this one expense (which is a good enough investment for your bathroom), and refraining from purchasing unnecessary decor and fixtures.

Paint the walls a matte plaster finish for a textured look. This kind of wall coating will look especially attractive when lit with ambient warm lighting.

Install a sliding pocket door to create some privacy while you're enjoying a bath in your ensuite.
The small ensuite bathroom
A small space shouldn't stop you from enjoying the privacy of having your own ensuite. With these fabulous small ensuite bathroom ideas, you can transform any teeny area near your bedroom into your personal toilet and bath.
Start with the basics
The first thing you need to remember about small ensuite designs is to work your way around the 3 fixed needs of a bathroom: the toilet, the sink, and the shower area. Everything else should be an add-on.

Pick a toilet bowl shape that's proportional to the shape of your bathroom. A narrow bathroom works well with an elongated toilet bowl, while a round toilet bowl is best suited for a square bathroom. 

Use the size of your toilet area as the reference for how big or small you'll want your sink and shower area to be.
Space-saving fixtures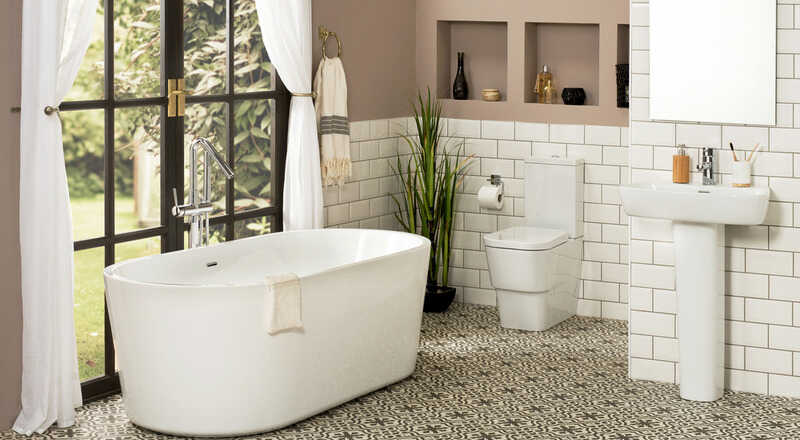 Use a pedestal sink to create the illusion of height and give you more room to move about. Stay away from sinks with a wide base, as these will eat up a lot of surface area and make your bathroom feel claustrophobic. Another great alternative is a wall-mounted sink – this will free up plenty of space that you can use for other purposes, like storage.

A great tip from interior designers is to use a wall-mounted faucet. With this kind of fixture, you won't have to worry about compromising form for space-saving function. A wall-mounted faucet won't eat up additional space from your sink, and is easier to clean and dry! For added leeway, use a faucet with just one lever instead of two.

Pair your sink with a floating vanity cabinet. The space underneath your fixtures lifts up your bathroom's appearance, instead of weighing it down and making it look heavy and confined. To optimise your space even more, opt for a curved vanity.
Illuminate the space
Mirrors, mirrors, and more mirrors. Help your bathroom bounce off light by adding mirrors in strategic points of your bathroom. A large unframed mirror above the sink is a good place to start. This will open up the space and make your bathroom look even more inviting.

Artificial light is a great way to create the look of a bigger space. LED backdrop lights behind shelves and mirrors not only illuminate, they also add a luxurious touch to your bathroom.

A frameless glass shower door separates the shower area from the rest of the bathroom, and bounces off light to make the room look airier. If you want even more flow for your bathroom, do away with a shower glass door altogether – but make sure that you have a sloping drain to prevent water from spilling onto your bathroom floor.
Stick with the same tones
When it comes to palette, using light colours is recommended, but is not a hard-and-fast rule. You can also use darker hues, too, as long as you keep the contrast low. The important thing is to stay within a specific range – if you choose light colours, stick with this palette. The same goes for darker colours – mix black and charcoal gray with navy blue or pine green, rather than blush or sky blue. 

As a general rule of thumb, windowless bathrooms look better with dark hues, while airy bathrooms with windows look better with lighter tones. Refrain from mixing light shades with darker colours to prevent a cluttered appearance.
Use large patterns
Tiny bathroom spaces don't mean you have to move away from using wallpaper. Believe it or not, large wallpaper patterns make the room look more expansive. The larger the design, the bigger your bathroom will feel.

If wallpaper isn't your thing, use wall-to-wall tiles for your bathroom layout instead. These are waterproof, sturdy, and economical to use.
When decorating your small ensuite bathroom, optimise as much light as you can to make the space look as bright and big as possible. Remember to do away with the bulk, and get as much flow into your bathroom as you can.
The minimalist ensuite bathroom
At a time when shifting to an eco-friendly lifestyle is not only trendy but necessary, the minimalist ensuite bathroom is a godsend. These green ensuite ideas will help you achieve a low-waste style of living without cutting back on aesthetic appeal:
Scandinavian minimalist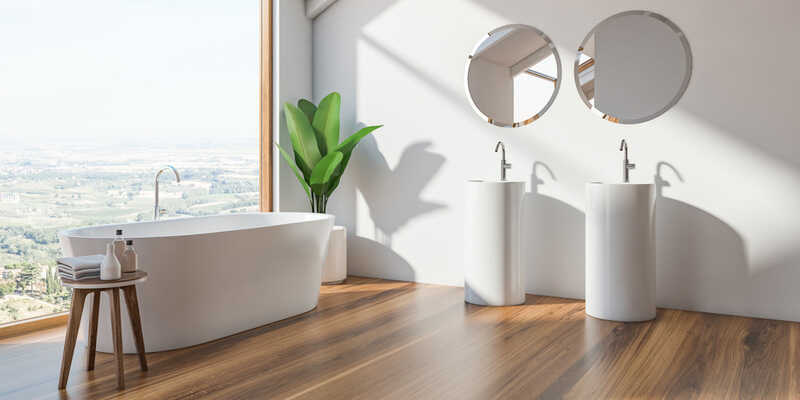 The obsession for Scandinavian design isn't going to disappear anytime soon. Trademark Scandinavian elements you can use in your bathroom are indoor plants, wicker accessories, and a predominantly white palette.

White on white is the signature colour preference for minimalist bathrooms. It looks clean and brightens up any space. Add beige, light gray, and eggshell to add interest to an otherwise monochromatic bathroom.

While one of the features of a minimalist ensuite is a white colour scheme, it doesn't have to be drab and boring. Make your minimalist bathroom more inviting with a humidity-loving houseplant or two, such as a snake plant or an aloe vera plant. These indoor plants work in warm environments, are low-maintenance, and purify the air as well.
Go for earth-friendly materials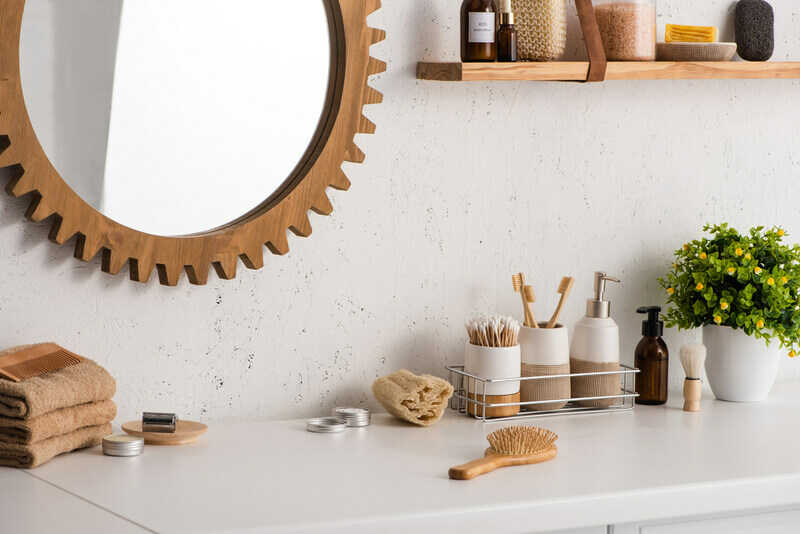 No minimalist ensuite would be complete without biodegradable materials. For some privacy, use a linen shower curtain instead of a plastic curtain. Linen has that textured feel and natural look that goes well with the rest of your minimalist theme.

Instead of plastic bins, wicker baskets are a great option for storage. Metal or wooden rubbish bins are also a more attractive alternative to the plastic ones you usually see in most bathrooms.

Complete your shift to a zero-waste lifestyle by opting for products that come in recycled paper packaging, such as shampoo bars and bar soaps. These eco-friendly products are usually paraben- and sulfate-free and use natural essential oils for their fragrance. You'll be amazed at how great your hair looks after using them!
Getting started: make a mood board for your ensuite ideas 
Now that you have the best tips for your ensuite bathroom, you can now start to piece together the design you'll want to go for. The important thing is to do your research and go through the necessary prep (because going into a full-on bathroom renovation without any preparation is the worst idea ever).
Before rushing to the hardware store and going all gung-ho on every tile that catches your eye, prepare a mood board for your design ideas. 
To make a mood board, simply collect photos of colour swatches, tile or stone samples, and fixtures that you'll want to add in your own bathroom. Your ensuite idea board will help you visualise how all the elements will come together before you start purchasing. Doing this extra step is not only fun, but will also save you from spending your hard-earned money on unplanned purchases. 
Extra tips: keeping your ensuite bathroom stylish and functional
A well-executed luxury ensuite bathroom instantly increases the value of your property. A beautiful ensuite will also make the atmosphere in your bedroom look more polished and sharp. 
Regardless of the design, it goes without saying that the best bathrooms are spotless. Even if you have the most expensive fixtures and fittings, they won't stand a chance if your bathroom is filled with mould, mildew, and clutter. Not only that, but dirt and stench reeking from your ensuite will seep into your bedroom and completely ruin your R&R at home.
Having a stunning ensuite is the perfect opportunity to become obsessive about your bathroom cleaning. The best way to ensure that you'll be getting the most out of your ensuite bathroom is to give it a regular deep cleaning. It may be tedious, but the outcome is definitely worth it. If you're not up for the job, a professional house cleaning company is always a great option.