Forget scrubbing stains off your floor – that's what steam mops are for! Unlike vacuum cleaners, which use suction, steam mops use hot steam to clean the surface.
Steam mops work by generating steam through an internal mechanism. The steam then loosens dirt and grime from the floor, which the cleaning head wipes away. Some models come with attachments such as a grout tool or scrub brush to clean different surfaces.
Spend less time scrubbing and make cleaning more efficient. Here are the best steam mops in Australia for your home.
How to Choose a Steam Mop
There are several factors to consider when choosing a steam mop. Look beyond the steam mop brand and keep these characteristics in mind so you can get value for money on your purchase.
Water tank refill and capacity.

Look for a model with a good volume for the tank. Ideally, you should also be able to refill the tank without needing to switch off the mop and let it cool down.

Style of mop.

You can choose either an upright steam mop or a canister one. Upright mops are lighter and easier to manoeuvre, but canister mops have higher water tank capacity and more consistent steam output.

Cleaning pads. Most steam mops come with more than one pad so you can swap during a long cleaning job, or when one steam mop pad is in the wash.
Lock switch.

The steam-on switch activates continuous steam, so you don't need to keep holding down a button. Meanwhile, the steam-off lock is a safety feature to prevent you from accidentally turning on the steam flow.

Pad rest.

Your model ideally comes with a pad rest so you can take a break without the steam mop damaging the floor.

Heat-up time.

Pretty self-explanatory!

Attachments.

Some models come with a carpet glider so you can do some light cleaning on rugs and carpets. Other models have grout tools, angle tools, and even scrub brushes.
Best Overall Steam Mop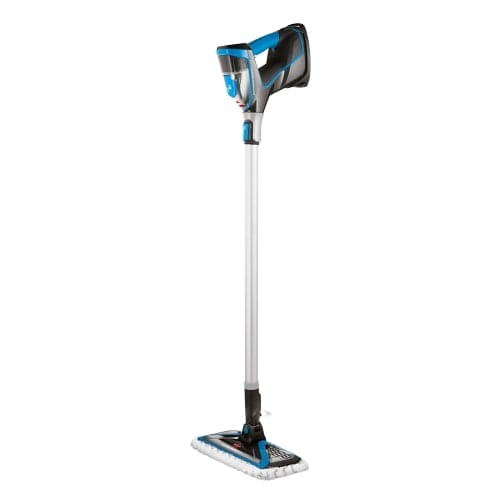 0.35L Water Tank | 30-second Heat Time | 2.9kg Weight
You can't beat a Bissell steam mop when it comes to performance, and the PowerFresh Slim is up there with the best of them. One of the key features is that you can easily convert it from an upright mop to an extended-reach surface cleaner – and even to a handheld steam cleaner.
This 3-in-1 mop provides continuous steam at a level you can control. It comes with an attachable tool kit and a whopping 7 – yep, 7! – tools such as an angle tool, a flat scraper, and even a clothing steamer attachment. This means you can clean tile grout, stovetops, grates, and even fabric.
If you want one of the best steam mops, look no further than the Bissell PowerFresh Slim.
Best Steam Mop for Tiles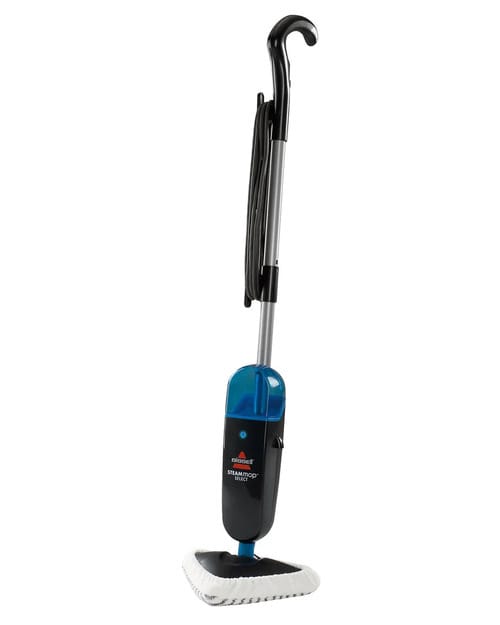 0.5L Water Tank | Triangular Mop Head | 3.10kg Weight
The Bissell Steam Mop Select is perfect for tiles – and other hard floors. The triangular head lets you get into all sorts of corners and crannies, as well as clean around furniture. Moreover, since it weighs just 3.10kg, you can easily manoeuvre your steam mop throughout a space.
This model comes with two microfibre mop pads – one for everyday cleaning and one for tougher messes. Switch between the two, then wash them when you're done so they're ready for the next clean.
The Steam Mop Select is corded, with a 5.5m power cord that gives you a wide cleaning radius. Clean tile floors with this steam mop for a pristine surface.
Best Steam Mop for Wooden Floors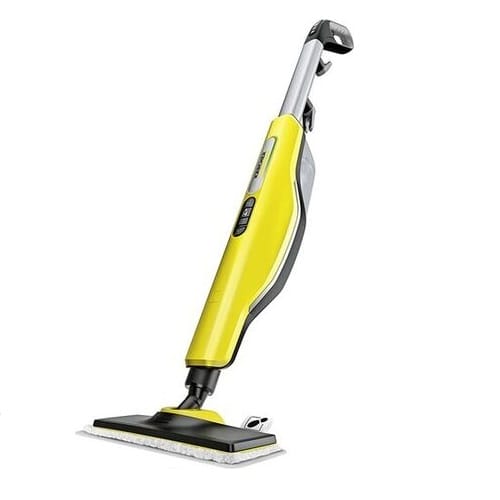 1.0L Water Tank | 30-second Heat Up Time | 3.1kg Weight
This floor steam cleaner by Karcher means business when it comes to cleaning. There's no need for detergent – just water will do. It's especially good for cleaning hard floors, including wood.
The SC3 EasyFix has several attachments, allowing you to clean different surfaces besides your wooden floors. It also comes with a large water tank, meaning you can clean for longer. Its drawback is the short power cord, which limits your cleaning radius.
Besides clean floors, the SC3 EasyFix Steam Mop can also handle ovens, stovetops, carpets, and even sofas! So you can use it to clean any room in your home – giving you more than your money's worth.
Best Steam Mop for Laminate Floors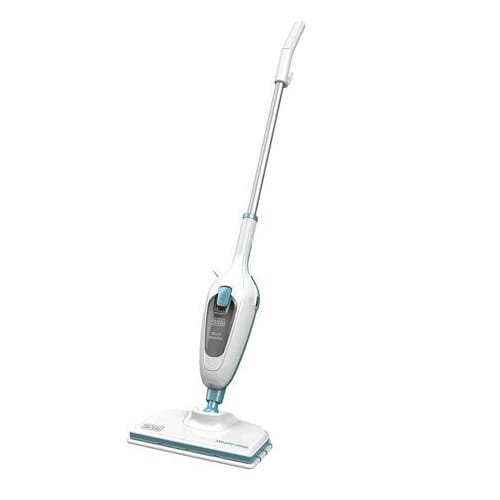 1300W Power | 30-second Heat Up Time | 4.0kg Weight
When you consider BLACK+DECKER's cleaning products, their 10-in-1 steam mop is up there with the best of them. This model works on hard-sealed floors, including laminate and vinyl. (It also comes with a carpet glider!)
The 10-in-1 steam mop has 180º swivel steering, so you can get around furniture and into tight spaces easily. At a modest 4.0kg, it's easy to manoeuvre, all the more with its array of attachments that can clean different surfaces. 10 functions sound like a lot, but the 10-in-1 is still simple and easy to use.
BLACK+DECKER's 10-in-1 model also comes with Smart Select Technology that lets you release just enough steam for you to clean different materials. And you can swap it to handheld mode as well!
Best Steam Mop for Carpet
15-second Heat Up Time | 5.0m Power Cord | 15 minutes Continuous Steam
Want to rejuvenate the look of your carpet? The Kogan 13-in-1 Steam Mop can help you there. With a max temperature of 108ºC and 15 minutes of steam time, you can freshen up your carpet while killing germs and bacteria.
Besides the carpet cleaning function, the 13-in-1 Steam Mop comes with other functions such as jet nozzles, fabric cleaners, and hose attachments. Tackle multiple cleaning tasks with just one tool to make cleaning the house a breeze.
This model features a cold-fill tank, so you don't need to wait for it to cool before refilling. It also has temperature control so you can choose the perfect heat depending on the surface.
Best Cheap Steam Mop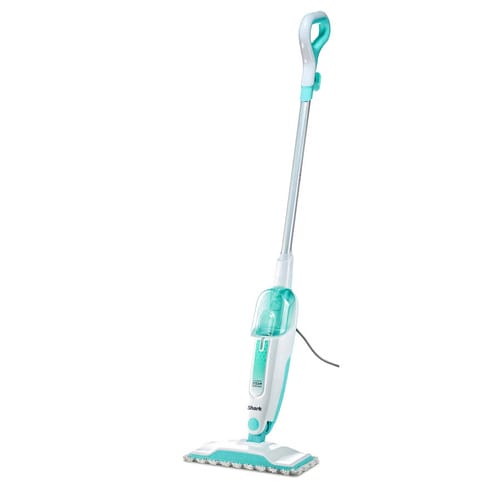 0.375L Water Tank | 30-second Heat Up Time | 1.8kg
Looking for the best budget steam mop? The Shark S1000 is perfect for you. Don't let its affordable cost fool you, though – this is still one of the better steam mops you can find. It's easy to manoeuvre and comes with washable cleaning pads, making it very usable for everyone.
One key feature is its manual pump action, giving you the ability to control the amount of steam released by the mop head. The Shark S1000 is suitable for all sorts of surfaces, including hard-sealed flooring.
Get a fantastic clean without breaking the bank – using no chemicals, and leaving no residue.
Best Steam Mop and Vacuum Combo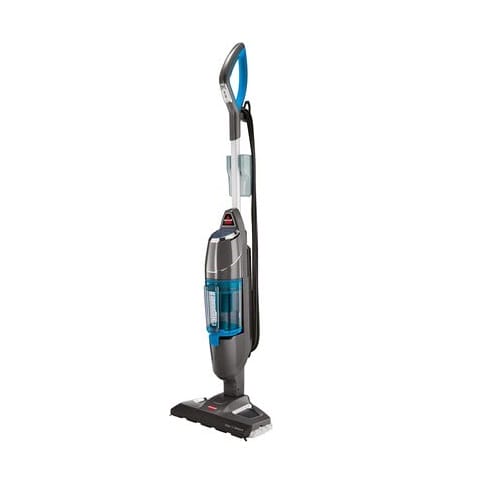 0.4L Water Tank | 0.95L Bag Capacity | 4.8kg Weight
Can steam mops vacuum and steam at the same time? This one can! The Bissell Vac & Steam combines two functions for simultaneous use – although you can also switch between the two at the touch of a button.
The vacuum cleaner function can handle different hard surfaces, including sealed hard floors. Then you can switch to the steam function, or do both in one go since the model separates dry debris from liquids.
Choose the function that best suits the mess you need to clean up – and eliminate bacteria in the process. Get value for money by skipping the need for two separate cleaning tools with the Bissell Vac & Steam.
Best Handheld Steam Cleaner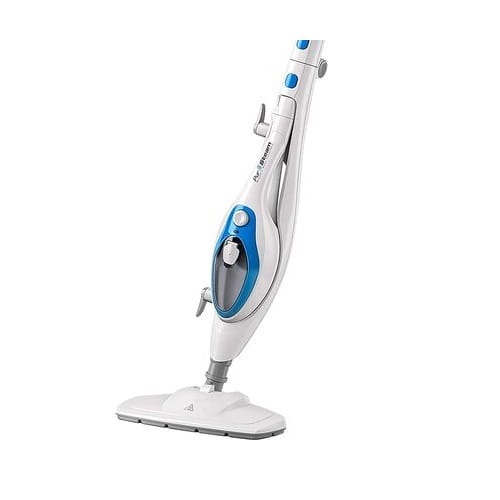 0.38L Water Tank | 30-second Heat Up Time | 0.998kg Weight
If you want to switch to something more manoeuvrable and handy, the PurSteam 10-in-1 Steam Mop is your go-to model. This steam mop features a detachable handheld unit, meaning you have the flexibility to clean hard-to-reach areas or even furniture.
With a moderate water capacity, you'll get 25 minutes of steam on its lowest setting or 12 minutes at maximum output. Fortunately, the tank is easy to refill during use, so you can clean without breaking your momentum.
The tens of thousands of reviews don't lie – PurSteam 10-in-1 steam mop gets you through any mess in your home. It's lightweight and easy to use, so you can clean just about anything you want.
How Steam Mops Work
Steam mops contain an internal mechanism that generates steam and releases it through the mop head. The idea is that the hot steam will loosen dirt and grime, which the cleaning pads will wipe away.
Most steam mops also come with different attachments to let you clean different surfaces, appliances, and items.
Using a steam mop is simple enough – so long as you follow the instructions! But of course, if you'd rather skip the effort, you can always get professional cleaners to tidy up for you.
Is a Steam Mop Worth Getting?
The short answer: Yes.
The long answer: It depends on your floor materials and on the energy you want to devote to cleaning. Steam mops are generally not recommended for vinyl and laminate flooring since they can weaken the adhesive, although sealed stone or ceramic tiles should be fine.
Hardwood floors are also tricky (especially unsealed or waxed timber) since a constant steam application can weaken boards and cause cracks or warping. It's worth checking with your floor manufacturer if they indicate that you shouldn't use a steam mop to clean.
Still, for most surfaces, steam mops are excellent for cleaning. They'll lift light stains and remove grime, and they're less effort to use than a conventional mop. Many models also come with attachments that let you clean other surfaces and items in your home.
Cost of Steam Mops
Steam mops cost anywhere between $45 to $1,000 – although a high price tag doesn't necessarily mean better performance. Many steam mops on this list range from $99 to $350, so you can choose one that's within your budget.
Steam Mop Vs. Traditional Mop
Your traditional mop is still better for large wet messes (or a wet-and-dry vacuum cleaner). Steam mops don't have suction power, so they can't clean up spilled liquids.
Still, a steam mop will be better if you need to clean floors, stains, and light soiling. A conventional mop also won't clean carpets, although not all steam mops come with a carpet cleaning attachment.
What to Know When Using Steam Mops
With steam mops, there are tips and tricks to cleaning your floor. One thing to note is that you should sweep or vacuum before using a steam mop, as you could risk spreading dirt instead of cleaning it up.
Moreover, steam mops can clean grout – but only if there are no old stains. The mop pads aren't designed to remove in-ground dirt, even with a grout tool.
Don't forget to wash your mop pad after cleaning, and use a good detergent to remove dirt and bacteria. Otherwise, even with the best steam mop Australia, you'll end up putting back the grime you just cleaned off!
Lastly, a steam mop might refresh your carpet, but it won't substitute for a deep clean. You'll still need a traditional carpet steam cleaner to thoroughly clean any rugs and other floor covers.