Do you want to give your home a luxurious look without spending too much? Breathe new life into your living space with one of the hottest trends in interior design — a VJ feature wall. VJ walls instantly add texture and aesthetic value to any room, and it's easier to do than you think!
You can also use VJ panels to cover an unsightly wall. Say goodbye to stubborn crayon markings and rough surfaces — wood panels are as decorative as they are functional. Here's how to achieve a gorgeous VJ panelling feature wall that's fit for an interior design magazine:
Tools and materials
Tape measure

Sandpaper

Sugar soap wipes

Liquid dishwashing soap

Sponge

Circular saw

Pencil

Stud finder

Nails

Nail gun or hammer

Wall glue

Filler

Paint

Roller brush
Note: Ready to start? Check that you're wearing gloves, safety goggles, ear protection and a dust mask before doing this project. Personal protective equipment can go a long way in preventing injury.
How to create a VJ panelling feature wall
Step 1: Prepare the surface
A squeaky clean surface is key to a professional-looking VJ panelling. Trust me, it will make all the difference when you're attaching the VJ panels onto the wall. Sand off any rough areas to create an even surface for the wood panels.
To clean your wall, scrub it with a sugar soap wipe until all the dirt comes off. You may want to repeat this step to ensure a thorough cleaning. For surfaces with more grime and grease, a stronger solution of liquid soap diluted with water is needed. You can use this solution on the walls of your kitchen or bathrooms.
To ensure that the VJ panels will successfully stick, house cleaning specialists recommend using a dishwashing soap solution when cleaning your walls. Dishwashing soap is best for removing oils and stubborn dirt and stains. It's an effective cleaning agent and doesn't leave any slippery film when rinsed. 
Dip the sponge into the dishwashing soap solution then use it to wipe the surface. Clean the wall until it doesn't feel slippery to the touch. Be sure to scrub well and remove any particles sticking to the surface. Rinse off the dishwashing soap with a clean cloth dampened with water. Dry the wall with a microfibre cloth, then allow to aerate until all the moisture has evaporated.
Pro tip: Cleaning walls may prove to be a challenge if you don't have the equipment — or time — for it. For a truly complete and intensive wall cleaning, getting professional cleaning services is the best way to go. Professional home cleaners will scrub the walls from top and bottom and see to it that the whole surface is spic and span. They'll also cover hard-to-reach nooks and crevices that may otherwise be overlooked when the cleaning is done DIY. 
Step 2: Start measuring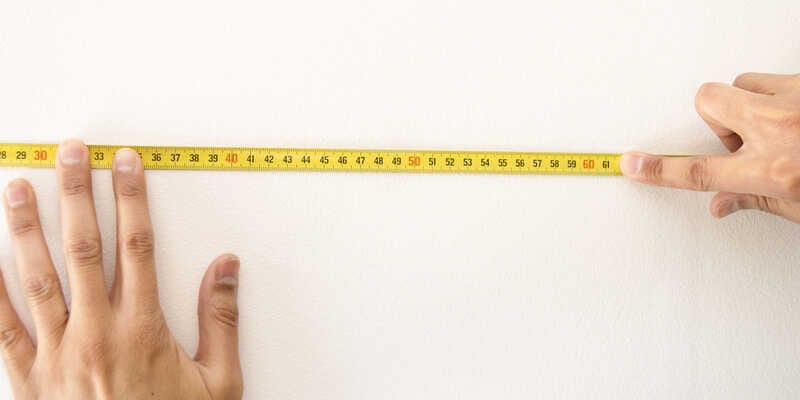 Now that the wall is scrubbed clean, you can start measuring its dimensions. Use a tape measure to get the width and length of the wall. Measure the same size in the VJ panels, but leave a 10mm gap on the top and bottom part of the panels. Cut the panels to size using a circular saw. Remember to cut around sockets and switches. 
Step 3: Mark the wall studs
Locate the wall studs using a stud finder. As soon as you've found them, mark them on the skirting board with a pencil. If you don't have a stud finder at home, it's not a problem. Simply knock on the wall to know where the wall stud is. When the part of the wall feels more solid — and makes a low, dull sound when tapped — that's where the wall stud is located.
Step 4: Apply glue to the back of the panelling
Lay the wood panels front side down. Make sure that the panels are steady and not swinging or moving about. Apply wall adhesive or liquid nails on the back of the VJ panels using slow circular motions.
Step 5: Nail the VJ panelling to the wall
Attach the sticky side of the VJ panels to the wall. Secure the panels onto the studs using a nail gun — this will give the adhesive enough time to bind with the wall. If you want to go the old-fashioned way, a hammer will do just as well.
Step 6: Repeat with the second panel
Attach the second panel using the same method. VJ panels have an interlocking tongue-and-groove system you can use to securely fasten the panels in place.
Step 7: Fill in the gaps
Caulk in the gaps with filler and allow to dry. Wipe off excess filler with a damp rag.
Step 8: Sand the panels
Create a smooth surface before painting by sanding off the panels. Clean up the sanded wood using sugar soap wipes. Tape the edges that you don't want to get stained with paint.
Step 9: Prime the panels
Apply a layer of primer on the VJ panelling to prepare it for painting. Skipping this part may result in a discoloured layer of topcoat.
Step 10: Paint
Here comes the fun part — painting the wall panelling. There are many looks you can go for, from the ever-popular minimalist design to nautical-themed Hamptons-style to classic Queenslander homes. Use a roller brush to give the panels an even, smooth coating.
VJ panelling design ideas
There are a million and one colours you can use on your feature wall. Go with the vibe of your home and have fun with it! If your house is a Queenslander, it's best to go with white paint that's sanded slightly to give it a weathered look. For more modern homes, a darker shade provides contrast and delivers a sleeker look.
Play around with lighting, other textures in the room, and wall decor to see what design you can come up with. No matter what design you choose, these panelling ideas are sure to add interest to your home.
Boho luxe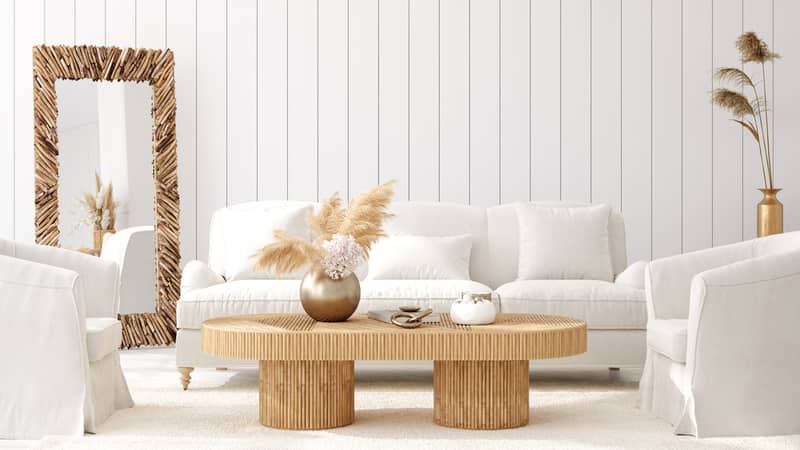 Are you inspired by beautiful sunsets, lace dresses, and golden sunflower fields? Bring a touch of bohemian to your interiors with VJ panelling in light, muted tones. Accentuate your feature wall with a few dainty elements — dried flowers, a straw hat, and brass fixtures all represent fun vintage design at its best. Make the room even more attractive by painting your VJ panelling in mauve, beige, or lavender for a spark of whimsy.
Modern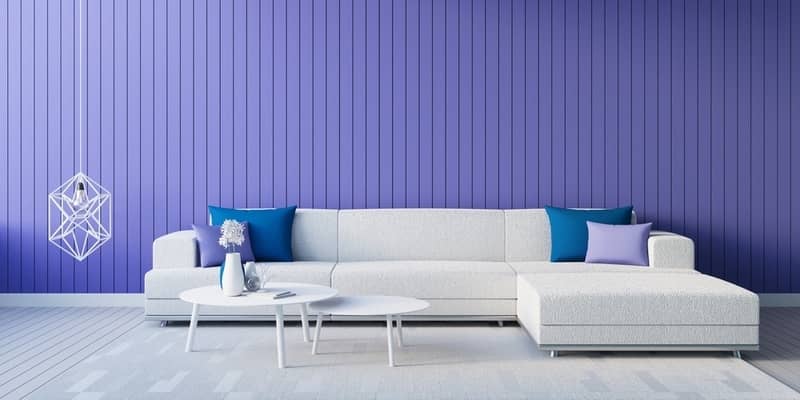 Make a bold impression with a feature wall in unpredictable colours like teal or aubergine. These hues make a confident statement and provide plenty of interest in an otherwise ordinary room. Accessorise your dramatic wood panelling with equally modern sculptural pieces made of metal for a sleek feel. Finish off the whole thing with accent furniture, and you'll instantly have a room that's fit for a magazine.
Minimalist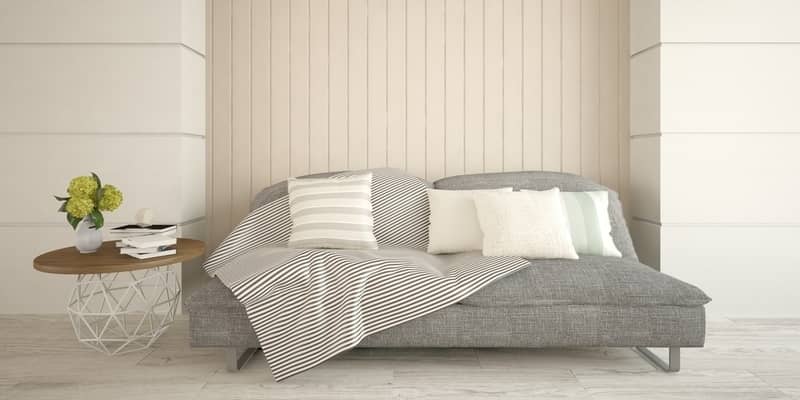 With wide light-coloured VJ panelling, simple interiors are anything but ordinary. These wooden panels are an inexpensive way to create the illusion of a more spacious room. Pair with natural-coloured timber flooring for an elegant finish.
Hamptons-style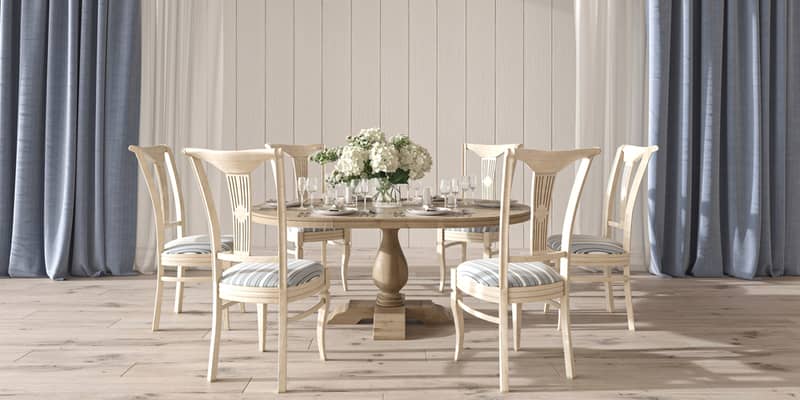 With their white on white palate and use of natural materials, Hamptons-style homes are always interior designer-approved. This palate is easy to pull off and will never go out of style. All you need are white VJ panels, white walls, and white furniture. Give your wall panelling depth and texture by distressing the paint — this lends a weathered look to your interiors that's très chic and full of personality. 
Love what you read here? Transform your home from plain to plush with more decorating tips — our article on wall panelling ideas will give you interior design hacks on how to use wooden panels creatively in your home.