Many of us know the pain of going to sleep all warm and comfy… only to wake up with your doona at the bottom of the duvet cover. It's an ongoing battle in bed to keep your duvet inside, staying put.
How to stop doona moving in cover? The first step is to ensure the corners of your doona reach the inside corners of the cover. If your doona still moves, then you can use several strategies to prevent duvet slips:
No more comforters slipping inside their covers! Make sure your duvet stays put so you can get a good night's sleep in your comfortable bed.
Why Does the Doona Move Inside the Duvet Covers?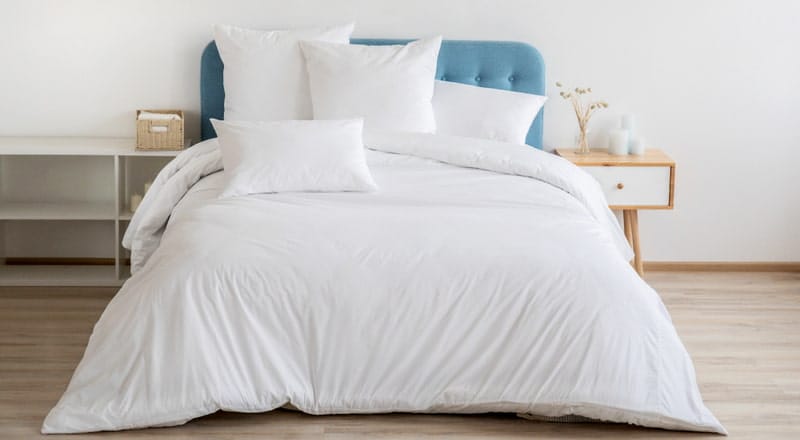 It's simple, really – you move, so your doona moves too!
As you toss and turn at night, you shift the position of your doona in its cover. This goes double if there are two of you sleeping under the covers.
What's the material of your duvet cover?
We have lots of choices for the material of your duvet's outer layer, but some fabrics are more "slippery" than others.
Synthetic materials such as polyester allow for more slipping, as does silk.
Meanwhile, natural fibres like cotton and linen have textures that provide more friction and grip.
What size is your duvet cover?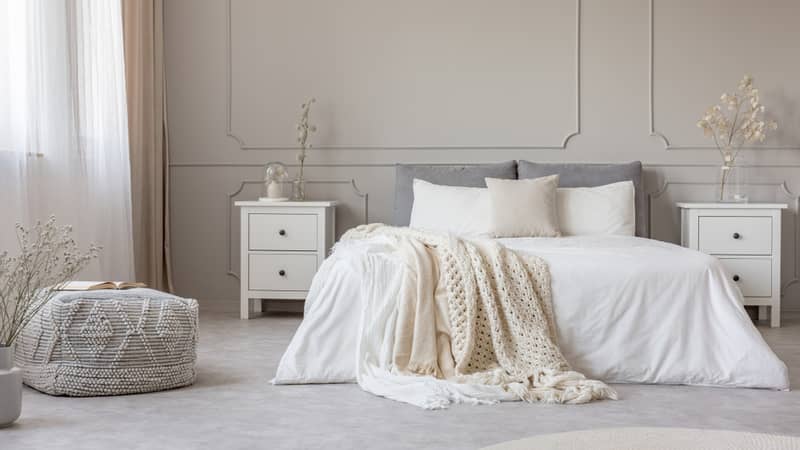 To stop your duvet sliding around inside the cover, it's essential the doona and cover are the same size. The more fitted the cover is to the doona, the less likely it'll slip.
Be conscious about where you're buying from, though! Sizing might be different depending on the manufacturer and country.
Check the exact measurements so you know you're buying covers that are as close to your doona size as possible.
How to Stop Your Doona from Moving
Make sure you've bought the correct size doona cover – it should be the same size as your doona. If the cover is loose, the doona is more likely to slip around.
Following that, here are some foolproof ways to stop your doona or comforter from moving inside.
1. Using duvet straps
This is a traditional method for keeping your doona in place.
Often, a duvet and cover will come with ties at the corners, which you can knot. That's sufficient for keeping your duvet from slipping inside.
2. Using duvet clips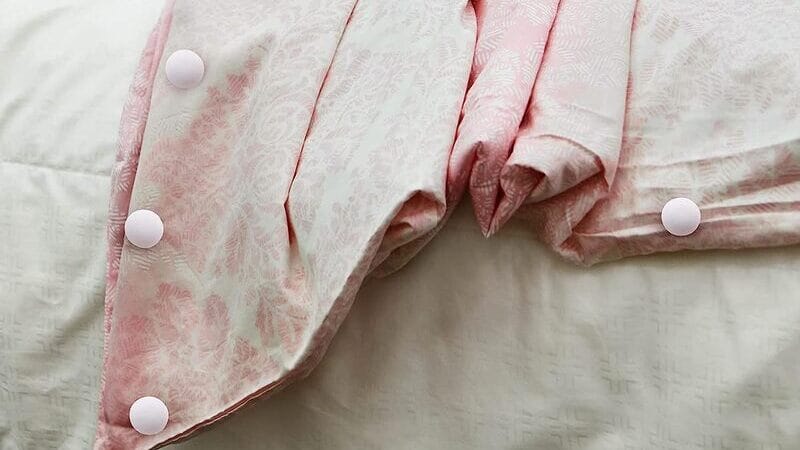 If your doona has no ties on the outside corners, you can buy duvet clips! These are made of plastic and are attached to the outer layer.
The clips then pinch the doona and cover together to keep them in place.
NOTE: This method is more visible than the others, but may be more affordable and convenient.
3. Using duvet grips
A duvet grip is a small, circular plastic "lock" that you can attach to the corners of the duvet and cover.
The grips then snap together on the inside of the duvet cover and keep the doona in place.
4. Using velcro strips
These are a bit more difficult to attach, but they're less visible than other options. Simply sew velcro strips onto your doona and the four corners of the duvet cover.
The velcro will stick together and prevent your doona from sliding around.
How to DIY Doona Straps
If you don't want to buy doona clips, you can always just sew ties onto each corner of the doona and use that to tie the doona to the cover inside. Take some ribbon or tough string – about 15cm for each inside corner.
Start with the top edge of your doona cover. Sew loops onto the inside corners of the cover – one end, then the other. Then move to the bottom edge and do the same.
Switch to your doona and again, sew the ribbon or string onto the four corners. Then you can simply tie the ends together and presto! No more duvet shifting inside the cover.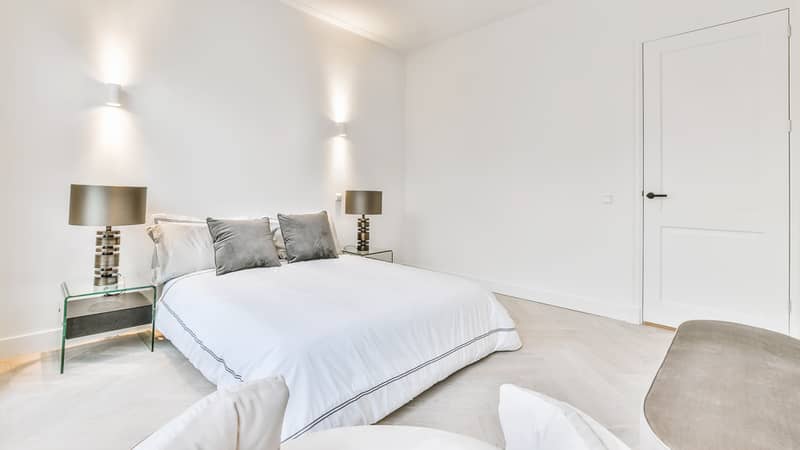 Can You Use Safety Pins to Make Your Duvet Cover Stay?
Absolutely not. Safety pins are dangerous both to yourself and your doona.
Duvets are heavy, and combined with your sleep movements, they can pull a safety pin loose. And no one wants to be woken up by a nasty sharp poke in the middle of the night.
A safety pin could also tear your doona and cover. That'll ruin the integrity of your doona and could even pose a hazard in the wash.
The agitation of a washing machine will rip the holes open further, which could be difficult to repair – if you can fix it at all.
Proper Bedding Care
Besides making sure your doona isn't slipping inside the cover, you should also maintain your linens and bedding.
Change and wash bedsheets and doona covers at least once a week. This keeps your bed hygienic and fresh, and ensures that natural oils and sweat don't build up on the fabrics. Pillowcases, you can wash at the same frequency.
You can wash your doona once every two weeks – or even once a month. The quilt cover protects the doona from getting too dirty, although that doesn't mean you can get away with not cleaning it!
Need help with your home cleaning and laundry duties? Leave that in the hands of a professional cleaning service.
We can do a load or two for you as an add-on, so you come home to fresh and clean bedding – and have a good sleep later that night.