We all have chores we'd rather avoid doing – washing laundry, scrubbing grout, and yes, cleaning fly screens. Many of us would prefer that a fly screen clean itself, but the reality is we've got to do it. Whether you have fixed security screens or fly screen doors, it's important to keep them clean.
For removable fly screens, it's simple enough: just remove from their casings and gently rinse them with a garden hose. For fixed screens, you can gently use a damp cloth soaked in warm, soapy water. In between cleaning, use a handheld vacuum cleaner with a brush attachment to remove grit and dirt.
You may not want to, but if your screens are dirty, you're gonna need to clean them. Here's how to clean fly screens – removable or fixed – easy-peasy.
When to Clean Fly Screens
Clean fly screens are a benefit – they prevent pests from coming in, and lessen the amount of dirt entering your home. In some rural cases, they can even prevent birds from flying inside.
Dirty fly screens, on the other hand, can act as a health hazard in your home. They prevent clean airflow and can collect dust, which then enters your house. They also visually look unappealing, with dust clinging to the wires. If you are a tenant renting a unit or home, clean fly screens are a must for both your routine rental property inspections and end of lease cleaning.
As for how often you should be cleaning fly screens – the answer really depends on your environment. If it's windy where you are, or if you live in an urban/coastal area, your screens will need more frequent cleaning. In general, once every three months is a good benchmark. But if you're seeing visible dust and dirt, it's time to break out the soap and water!
How to Clean Fixed Screens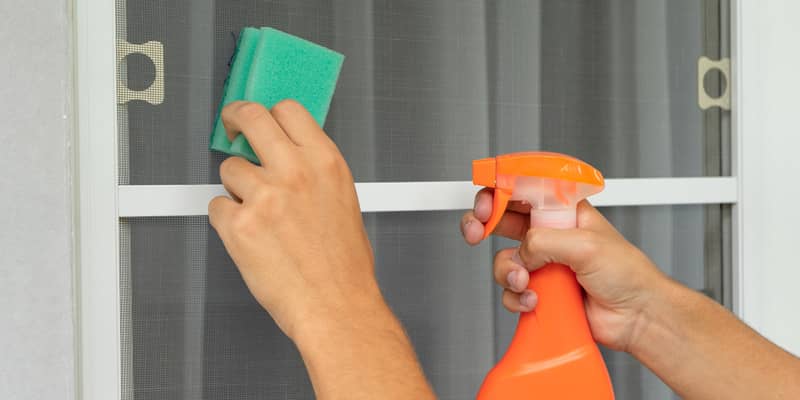 Cleaning fixed security screens or security doors can seem like a hassle, but with the right tools, it's very straightforward! Your biggest challenge will be water collecting on surfaces beneath the fixed screens, so begin by laying towels on window sills and floors.
Start from the exterior side of the screens. Get an old toothbrush or soft-bristled brush and go over the fly screens to get rid of loose dirt and clinging grit.
You then can use a spray bottle filled with warm soapy water to wet the screens, then wipe them with a damp cloth. Otherwise, use a sponge dipped in soapy water to clean.
Repeat the process inside, taking care so you don't exert too much pressure and dislodge the screen.
Let the screens dry in some fresh air and they'll be good as new.
As an alternative cleaning method, you can also hire a portable air compressor if you're able – check any local shops!
How to Clean Removable Fly Screens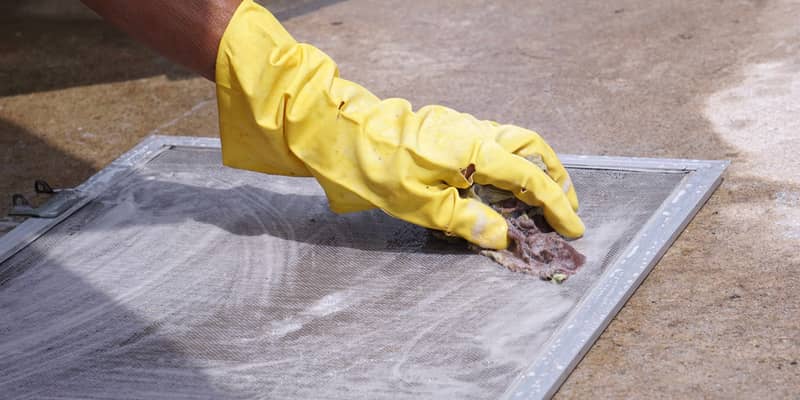 Many fly screens are removable, which makes the process of regular cleaning much easier. Firstly, remove the fly screens from their casings.
Take them outside and lay them on a clean, dry surface – or more preferably, leaned against an outdoor vertical surface.
Use a garden hose and gently spray them with water to properly clean. Be careful not to use too much water pressure or you could cause the screen to warp or come off its housing.
In case of stubborn dirt, use a bristle brush dipped in warm, soapy water to scrub your fly screens. Repeat on both sides, then rinse thoroughly.
Don't forget to clean the window sills and door tracks while the screens are removed! Use an old toothbrush or a vacuum with a narrow nozzle.
That's it for how to clean fly screens. Just make sure to do it regularly – we all need clean air to breathe, after all!