What's covered by a window cleaning service?
t's normal to set time aside for cleaning your windows. If you have the time, and know what to do, it is a task you can do once a week or 1-2 times in a month. However, anybody leading a busy lifestyle needs professional window cleaning services.
So, it is important to know what the service you hire will cover.
First, it's important to hire a cleaner who explains everything he will be doing in your home, or office. Let the cleaner clarify whether he will be cleaning all the houses, or just a few. Compare his rates with others, and ask if you can get more done at the same or a similar rate.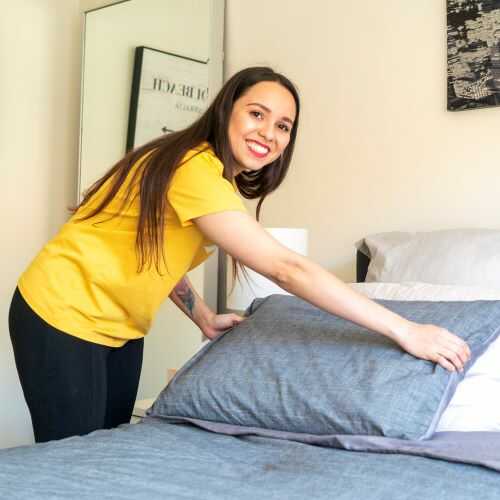 We are the best in what we do. No job is too big or small for us. We ensure that our clients get the services they have paid for within the shortest time possible.
So, why exactly should you choose us?
Get an instant quote
Knowing the amount of trust our client's place on us, we have no hidden charges. Besides, our clients are able to get instant quotes from our website upon telling us the number of bedrooms and bathrooms they have.
Insurance
We don't want to burden you with extra costs in the event that an accident occurs. For that reason, all our employees and partners are insured against any liability for your peace of mind.
Online booking
You can easily book our cleaning services online from the comfort of your home or office. No more calling to schedule your house booking.
We save you money
Who doesn't like to save an extra coin once in a while? Well, at Maid2Match, our clients get to enjoy a discount if they book weekly or monthly cleaning. How about that?
Do you need professional window cleaning services?
Yes, the truth is that you need professional window cleaning services. It is more rewarding to assign the task to professionals. One reason is the pros know what to do. They know the kind of service and work each one needs.
Pro cleaners help you to avoid mishaps. Yes, cleaning windows is replete with the likelihood of causing mishaps. Unskilled workers are capable of causing too much damage. Therefore, hire a team of professionals to help you reduce your liability in case something goes wrong.
Apart from assuming liability on your behalf, you can rely on professionals to prove they care. Yes, they care for more than the payment you will make for services rendered. Their main concern is to see them clean and the entire building looking amazing.
The debate on DIY versus hiring professional window cleaning services is worth looking into before making any decision. DIY has its merits, especially if you wish to save money and have the tools for the job. Hiring a professional is great if the following situations exist:
You need to save time
You have problem spotting the problem areas
You're unable to eradicate insect infestation
You need services that extend the life of your window
Just See What They Have To Say
Google Review

"Awesome, very personalized service with great attention to detail. We've had problems with another cleaning service and Maid2Match provided nothing but ease throughout the whole process. I cannot recommend them enough, great local business."
– Peter Loughman
How to choose between different providers?
In a city filled with many top window cleaners, choosing the right one for you can be a massive challenge. It's important to know what to look for in the cleaner.
Also, you can't ignore your own needs, including finances, when making this decision.
To some people, a company that gives back to the community is worth choosing. Owning a business is a third of one of the most important things in life. The other two are giving back to the community and using the opportunity the business offers to serve others. 
An insured cleaner is worth hiring any day. You can't go wrong. A verified business owner's insurance, workers compensation, and general liability insurance are just but a few of the policies they must have.
Apart from these, other qualities worth considering include
What makes good window cleaners?
It's important to know the qualities that separate good window cleaners from the rest. Just as is the case in any other profession, window cleaning has a crème de la crème and others. What you want is to choose the best the industry has to offer.
The following are the qualities you ought to zero in on from any cleaner you select.
First, go for a cleaner who values safety. It is not a light task. Anything can go wrong at any given moment. The cleaner might fall. He might knock the window, shatter it, and send it dropping like a meteorite down to the ground. Therefore, choose one who values safety.
Some of the hazards the cleaner is likely to face include:
Falling
Equipment
Ground obstacles
Overhead obstacles
Electric supply lines
Suspension rigging
Anchor points
Weather
Honesty is a good quality too. What you don't need is a cleaner who tells you half-truths and outright lies. Look for a cleaner whom you can trust. After all, you may have to leave the cleaner in the building or some rooms alone while doing other stuff.
The level of professionalism a cleaner displays tells you whether he's worth hiring or not. A real professional will prove that he takes the work assigned to him very seriously. A professional cleaner is also reliable, courteous, licensed and fully insured.
How often should you be getting your windows cleaned?
Cleaning your windows regularly has many benefits. First, it ensures that you live in clean surroundings. Obviously, it's not enough to clean just them while leaving all the other parts of the building dirty, untidy, hazardous, and unhygienic.
Clean windows improve the building's appearance too. They help you to make good first impressions. Clean windows, combined with a clean house, reflect well on you as the owner. So, how frequently should you clean the windows?
Well, this depends on several factors. For example, the prevailing weather conditions determine whether regular cleaning is possible. Your personal preferences also affect this decision. All the same, the windows on a commercial property need to be cleaned at least twice each month.
For a residential property, cleaning the windows at least twice a year is considered sufficient.
DIY Window Cleaning Tips
DIY window cleaning is worth delving into, especially if you lack the money to hire a professional and have enough time. Nonetheless, you should clean the windows yourself only if you're willing to do an excellent job.
DIY tips worth observing are as follows:
Prepare all the tools needed for the job
Start cleaning the inside of the house before moving outside
Using a strip applicator to wash the windows
Using a squeegee to wipe the windows clean
Drying all the remaining drips off
Scrubbing the window panes
Eliminating all the stubborn stains
If the work seems enormous, do not hesitate to contact Maid2Match for professional services.