Thinking of buying a dining table for your home? Not so fast.
There are some things you'll want to consider before purchasing one (or risk having the wrong piece of furniture for your dining room layout!). We're weighing in on the great debate between rectangular and round dining tables – confessions and all – and we're leaving no stone unturned. 
A round vs rectangle dining table
Why should you choose a round dining table?
It's all about the flow
Round dining tables are simply awesome when it comes to flow. Because you don't have sharp corners or edges to work with, the dining area has a softer, less structured feel to it. It's one of the reasons why homeowners prefer a circle dining table.
You have a square or rounded dining room
A round table works best in square-shaped dining rooms, as well as curved or circular spaces. Any round object has the tendency to draw your eyesight in, and a table with this shape does exactly that to your dining area. With a round dining table, you're creating balance in your dining room and anchoring your eyesight onto the centre of the space.
You like dynamic, less structured conversations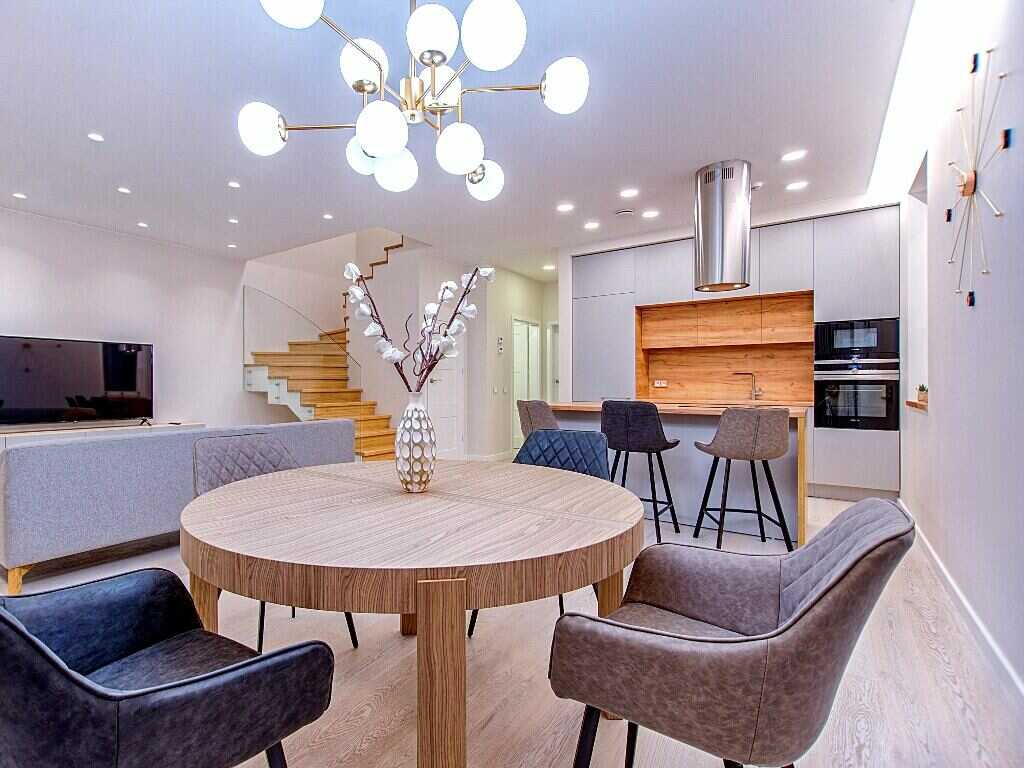 Let me tell you a secret: if you prefer to eat quietly, a round dining table may not be for you. BUT, if you love chatting with your family and friends while dining (much like myself, admittedly) – and you feel that it's no fun to eat in silence – then you should get yourself a round dining table. This table shape is a great way to spark spontaneity in the dining room and include everyone in the conversation.
You adore lazy susans
You may want to consider getting a lazy susan if you're crazy about condiments and sides. Trust me, this is the way to go big with your meals when your dining space is small.
A lazy susan is a round tray that you place in the centre of your dining table. It's designed to rotate in both clockwise and counterclockwise directions to allow everyone easy access to the food on the table.
You need extra legroom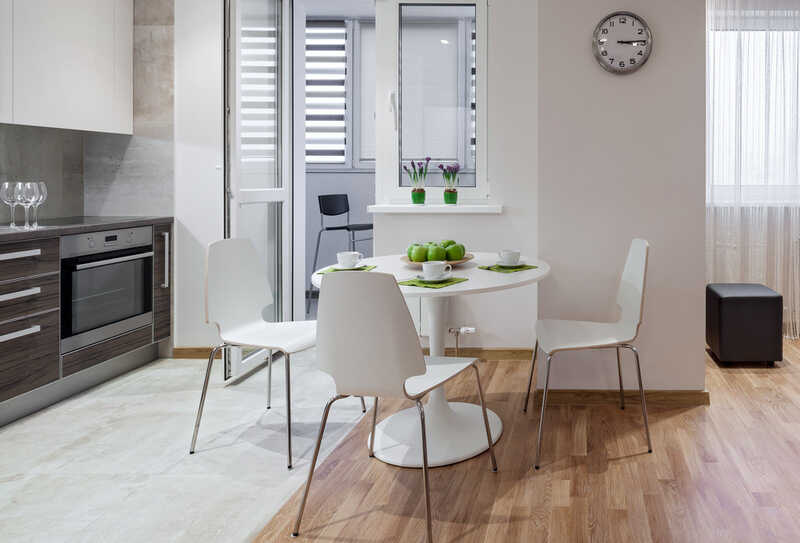 With a round dining table and chairs set, you'll still have a fun, homey atmosphere in your dining area without running the risk of accidentally kicking someone under the table. 
A round dining table table for 4 can give more legroom for 4 people better than a square dining table or a 4-seater rectangular table can. This is because a round table usually needs just one leg to support it. 
Rectangular or square dining tables, on the other hand, usually need at least 4 legs to remain steady. If you're the type of person who enjoys stretching her legs while eating, a round table is the right shape for you.
There are 6 or less people in your family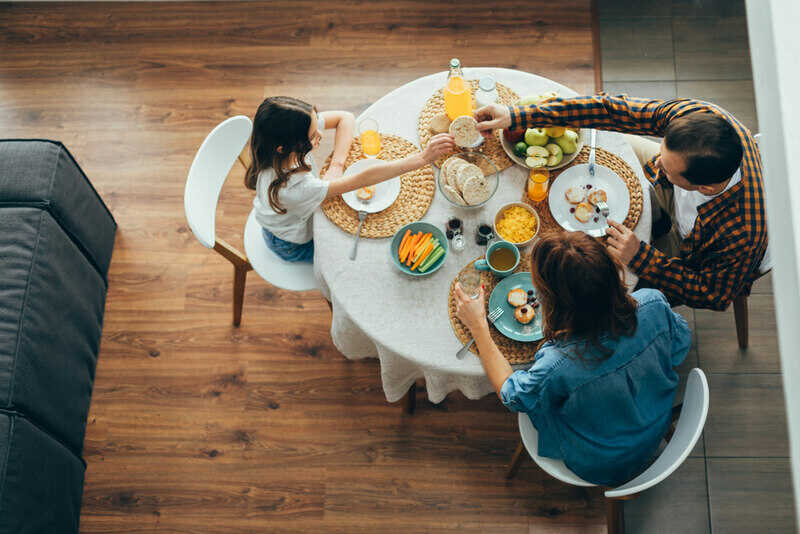 Having a conversation in a rectangular 8-seater may feel cold and distant if there are only 2-6 people seated around the table. With a round dining table for 6, this won't be much of a problem for you. You'll have more than enough wiggle room for everyone and still have that warm, inviting atmosphere you hope to achieve. 
A round table is not the best idea if you're planning on seating more than 6 people at a time, though. This is because the table diameter of an 8- or 10-seater will be too big for intimate conversations to take place.
If you love entertaining at home and still want a round table for more than 6 people, here's a pro tip: use a round extendable dining table. Simply fold down the extension when you don't have guests over. Doing this will preserve that cosy feeling in your dining space, and you'll still get to enjoy the perks of having a round dining table set in your home.
You have a toddler or small child in your family
Let's say you want to buy a table made of glass or marble, but are scared to get one because there's a small child in your family. Well, worry no more. In the debate between round vs rectangular tables, the former wins when it comes to child safety. 
A round glass dining table is stylish – and safe – enough to make your dining room inviting without causing that occasional anxiety that your little one will accidentally get injured by your furniture.
Another option is to prop a small round dining table near your main dining table for your child. This clever setup can serve as the kids' table during family parties and other gatherings, and makes cleaning up easier.
Why should you choose a rectangular dining table?
You have a rectangular dining room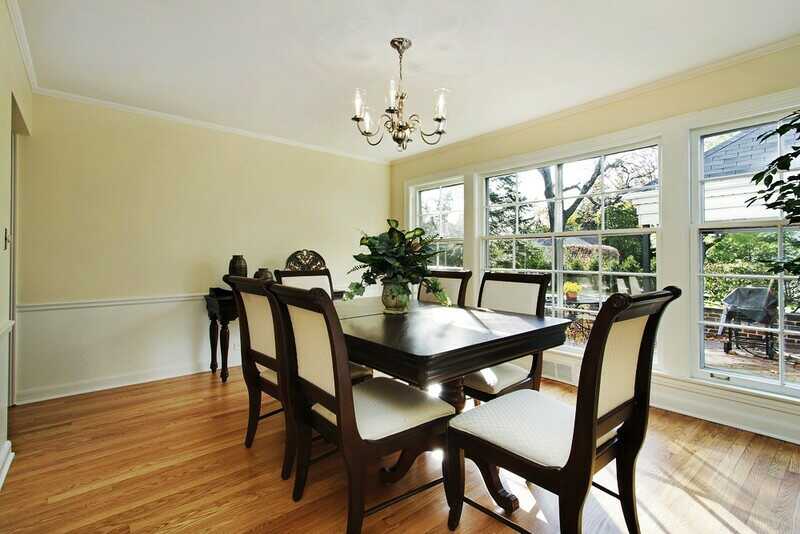 Let's not overthink. The first – and most obvious – reason for getting a rectangular dining table is a rectangular dining room. Unless you prefer a disproportionate look, rectangular dining rooms call for a similarly shaped table. A rectangular dining table will follow your elongated dining room's layout with ease. No awkward spaces here, only a beautifully fitted furniture arrangement.
You live for practicality
Rectangular tables are versatile and easy to position in a room. You can push your dining table against the wall to free up space, or transform it into a workspace in an instant.
Rectangular dining tables are also a breeze to configure. Look up space-saving furniture and foldable rectangular dining tables will surely be in that list. They're functional and come in a lot of styles to choose from.
A rectangular glass dining table is your best bet if modern design is your kind of aesthetic. It is easy to clean, functional, and sleek at the same time.
If you're looking for height and structural appeal, a rectangular pedestal dining table is the perfect choice for you. It looks elegant in any room, has plenty of legroom, and is just as practical as any other rectangular table.
Symmetry is the name of your game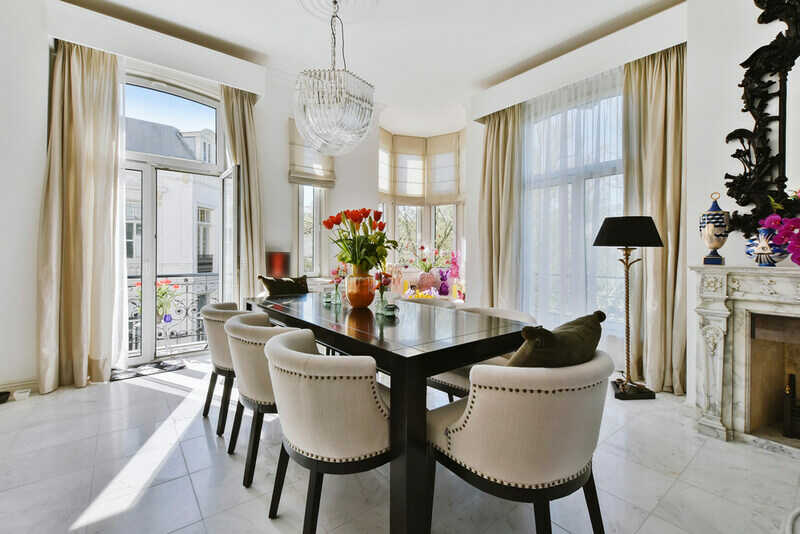 If you don't want to worry about symmetry and which corner of the room should be balanced with what furniture, rectangular dining tables may be right for you. You can arrange your dining table near a wall to anchor it, or place it in the centre of the room to create a focal point for your dining area.
Your social dynamics may require this table shape
Your social dynamics are also something to consider when you're deciding what dining table shape to buy. Some cultures are particular about designating the end of the dining table to the eldest member of the family or to the head of the household.
Some families who have a toddler to feed may also prefer a rectangular table. With this table shape, they can efficiently position the baby chair at the narrower side of the table and not have to worry about occupying additional space in the dining room.
You love hosting dinner parties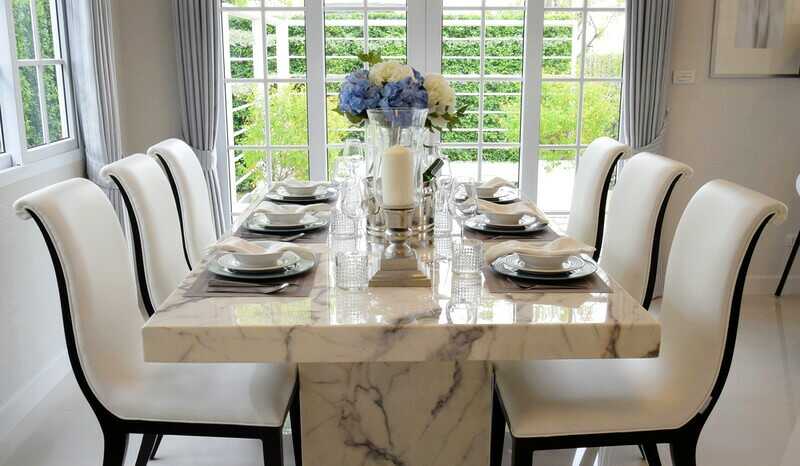 When throwing dinner parties left and right is a common thing for you, you'll do well to pick a rectangular table instead of a round one. With this table shape, you'll be able to accommodate more than 10 people without having to consume a huge area of your dining room.
Another advantage of a rectangular table dining arrangement is the convenience with which you can position your guests along the table. You can strategically place guests together who have much to talk about, and place those who have little in common far from each other. 
Style isn't much of a problem, either. If formal 5-course dinners are your preferred dining style, a marble rectangular dining table is the perfect setting for this. Add candleholders near the end of each table and decorate the middle area with a beautiful centrepiece to complete the luxurious look.
The verdict: which dining table shape is better?
In the debate between a round vs rectangle dining table, the truth is, the better shape is the one that suits your lifestyle better. Round dining tables are all about the flow of the room, while rectangular ones can't be beat when it comes to versatility and functionality. If you're worried about the space, there are small dining tables in either shape to fit your dining room layout. 
One thing's for sure, whether your dining table is round or rectangular: a clean dining room is a must. It's hard to enjoy a sumptuous lunch or dinner if your dining room is cluttered with dirt and food debris. Makes you lose your appetite, doesn't it?
To ensure that your home is always ready to receive guests, you can request a recurring house clean from professional cleaning services nearby. With a regular tidying and decluttering, you won't have to worry about giving your dining room an overhaul before you can entertain family members and friends. You'll be saving yourself a lot of time (not to mention stress) that you can spend on activities that you enjoy.