Have you been rearranging your furniture lately, only to feel discontent at the design you came up with? The problem may not be your furniture per se, but in the layout of your interiors.
That's why plenty of modern homes are opting to go for open plan living — it is the answer to tiny house problems, house cleaning woes, and everything in between. With an open plan design, you get to make the most out of your living space and have the flexibility to change it whenever you want. It's perfect for on-the-go homeowners and families looking for more flexibility.
Sounds too good to be true? Open plan living is all that, and very easy to achieve! Check out our awesome design ideas to make your open plan layout a success.
What is open plan living
Open plan living looks like it's here to stay, and with good reason. But first things first — what exactly is open plan living? 
Open plan is an interior design layout where the walls are torn down to make one huge living area. You won't get traditional enclosed rooms with this type of interior arrangement. Instead, the kitchen, living area, and dining are positioned strategically in one continuous space. That's why it's perfect for houses and units with small interiors. This type of layout works well especially when you entertain guests frequently, or need a living space that gives you better mobility. 
Another factor that makes open plan living a hit among homeowners is its multifunctionality. Imagine having interiors where the dining room and kitchen seamlessly blend into the living area — you can easily convert one space as an extension of the other. 
How to style open plan living
Styling your open plan layout is fun and easy with these interior design tips:
Use natural lighting
An open plan layout works best when there is natural light all around. Simply open your windows, pull the blinds, and draw the curtains — it will make a world of difference in your interiors. With sunlight streaming in, your home will look brighter, newer, and cleaner. A sunshine-filled home is also happier and healthier. It's a win-win situation!
Tip: Thinking of getting as much sunlight as you can into your interiors? Now is the perfect time to get those wall-to-wall glass windows you've been dreaming about. Better yet, curved glass walls amplify natural lighting in your home. You get maximum sunlight by day, and you'll also add a luxurious finish to your living area.
Capitalise on views
When you have an open plan layout, there's plenty of opportunity to enjoy a panoramic view. Bring the outdoors in by arranging your furniture around a large glass window that has access to a scenic display. The view can be beautiful greenery, a gorgeous skyline, or even unique architecture — these are great conversation starters, and you don't even have to buy expensive artwork to decorate your home with.
Use monochromatic colours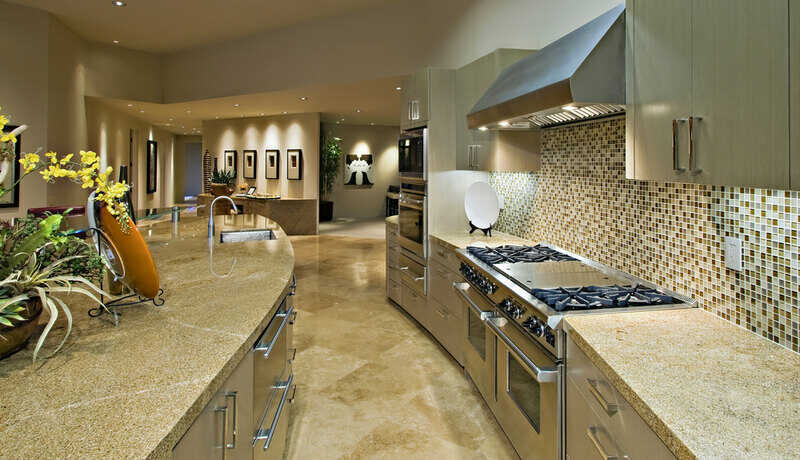 Open plan living is all about making the most of your space. Make your home interiors look bigger by painting the walls with the same colour. A monochromatic colour scheme allows your eyes to wander effortlessly through the space without obstruction, creating the illusion of a bigger space.
Tip: Use neutral colours to make your interiors look even more spacious! A monochromatic palette of light gray, white, or beige reflects light and makes the whole area look airy. This interior design trick is also suitable for homeowners who find mixing and matching colours challenging. For many designers, neutrals are the easiest colours to work with!
Create a focal point
Focal points are every open layout's best friend. You're going to need them when your space runs from end to end! By creating centred spaces using furniture and decor, you're able to signify the function of each area. Keep the theme in each focal point cohesive to avoid ending up with a cluttered look.
Tip: Just because you have an open plan living layout doesn't mean it can't be cosy. Place a rug and a sectional sofa to 'enclose' the area and create an intimate space — this will give ample room for privacy, while still complementing the general layout of your interiors.
Accentuate with special touches
With any home, the finishing makes all the difference. Accentuate your interiors with special touches to enrich the feel of your home. Exposed ceiling beams, wood planks, and distressed furniture all lend character to an otherwise bland space.
Go natural
When it comes to designing open plan interiors, using natural and eco-friendly elements is one of the most popular choices. Concrete walls, wooden furniture and benchtops, and stone decor are a nod to effortless chic and sustainable living. If you want to elevate your home from boring to beautiful, this is the way to go. At a fraction of the cost, your home will look plush and cosy — and you'll also be protecting the environment in the process! 
Spruce up your outdoor space
When it comes to having an open plan living design, you have to think outside the box — literally! Give your home other points of interest by creating cosy nooks outdoors. This is the perfect complement to your indoor space and will give your home's open plan layout home a feeling of balance.
More tips on how to decorate open plan living
Use lightweight furniture
Flexibility is one of the assets of your open plan home. Optimise this by using furniture you can easily move around. This will help you convert one space into another, or blend two functional areas together seamlessly.
Use light-reflective decor
Decor that reflects light makes your home look bigger. Avoid dark furniture and decor especially if your interior space is on the smaller side, as these absorb light and make the area feel more cramped.
Use beautiful fixtures to add interest
Tiny homes need not look shabby or uninteresting. You can achieve a plush look for your open plan space by using unique-looking fixtures and beautifully finished furniture. These will give your interiors plenty of personality and create a cosy atmosphere in your home.
Add houseplants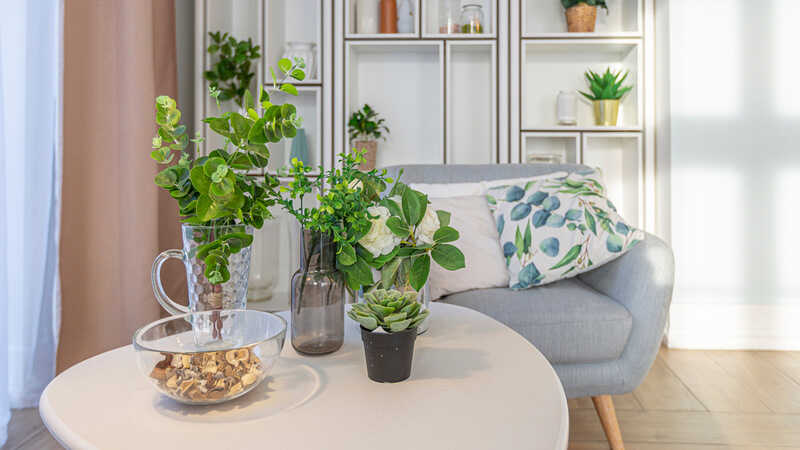 Breathe life into your home by placing potted plants in strategic areas. Houseplants such as the Fiddle Leaf Fig and Philodendron have gorgeous foliage and look great potted. You can add in hanging air plants in the dining or living area to spruce up your interiors and give your home an effortlessly stylish look.
Open plan kitchen, living, and dining layouts
All successful open plan house layouts have one thing in common: intentional arrangement. Each area and nook that you'll create must have a clear purpose and function. 
Open plan kitchen layout
Homeowners love an open kitchen layout for its easy-to-clean arrangement. Because of its spacious configuration, it also gives you plenty of flexibility and room to work with.
To achieve an open kitchen layout, you have to first map out where you'll want the kitchen to be situated. The popular position is near the dining area — this makes moving about easier, especially when you're entertaining guests. 
One thing you'll want to have in your open kitchen design is a kitchen bar that doubles as a breakfast nook. Its multifunctional form will save you space, and give you added workspace for preparing and serving food. 
Tip: Unlike enclosed kitchens, an open kitchen layout has no walls or doors. This means that the odours, spills, and dirty appliances are exposed for everyone to see. This is a big no-no — a dirty and smelly kitchen will ruin the ambience of your interiors completely!
If you don't have time to give your kitchen a thorough cleaning every time, we recommend getting regular house cleaning services for your home. When it comes to tidying up, sanitising, and deodorising living spaces, these guys have it down pat. For a reasonable rate, you'll achieve spotless interiors and save yourself precious time and energy at the same time. 
Open plan living layout
The living area is where most of the fun happens! Keep your open plan layout looking plush by layering textures on your furniture. Mix and match materials such as wood, faux fur, and stone, to create a space that looks luxurious and relaxing at the same time. Set the ambience for your living area with lighting — white light instantly makes the space look expansive, while warm lighting is intimate and romantic.
Finish off your open plan living space by dotting strategic areas with indoor plants — these will give your living room a fresh vibe and soften hard elements such as wood or metal.
Open plan dining layout
An open plan dining layout is a clever way to bring in more space to your dining area and allow for better mobility. Capitalise on an open dining room's multifunctionality by using mixed types of furniture as your dining set. A built-in bench paired with wire or wicker chairs and a wooden table is very Scandi-chic and modern. The bench and chairs can be used separately or together, and can be used to create smaller, more intimate dining spaces.
Anchor the dining room with a beautiful centrepiece — a basket of lemons or a vase of sunflowers provides a burst of sunny colour as well as a focal point for the entire space.
As with your open-style kitchen, keeping your open dining room clean is a must if you want this layout to work for your home. Make sure there are no dirty dishes left on the table, and the furniture is arranged properly when not in use. By simply following this tip and the ones we mentioned earlier, you're on your way to having stunning — and very spacious — interiors that you're bound to love.