Regularly cleaning your Weber Q is a must to make sure it stays pristine even after years of use. Following our cleaning guide below will ensure that your Weber will be ready to cook up a storm when you have your best mates over for a barbecue.
The key to an immaculate Weber Q is understanding both your grill and the type of cleaning it requires. We recommend that you aim to do various types of cleaning to get the best results! For an easier experience, we've summed up the procedures for each form of cleaning to help you out with the process.
Day-To-Day Weber Q Cleaning
Day-to-day cleaning doesn't necessarily mean that you have to clean out your Weber Q every single day. This type of cleaning is usually done after each use to make sure your Weber Q is clean from sear marks and food residue. If done properly, your BBQ is sure to be cooked to perfection nearly every time!
Start by preheating your grill for 10 to 15 minutes then clean the grates with a clean stainless steel brush or specialised grill brush. You can also opt to do this after cooking, brushing the grates while the grill is still turned on.
Always check the drip pan before using your Weber Q. We recommend that you don't clean it out. Simply replace the drip pan if necessary.
Lastly, clean the inside and outside of the lid to avoid grease and food build-up. You don't have to use any cleaning products for daily cleaning – this way, you can avoid corrosion from harsh chemicals. Instead, you can simply scrape the surfaces when the grill has cooled down.
Weekly Weber Q Cleaning
Routine maintenance of your Weber Q brings a heap of benefits. From a better flame distribution to the perfect grill marks on your food, cleaning your Weber Q after every few uses will definitely up your grill game to the next level! Here is a good routine to try that we find very effective for cleaning grills after five to six uses.
The grates of your Weber Q should be washed with hot water and detergent for a stronger clean and easier daily cleaning process.
To clean your burner tube, use a clean and dry stainless steel brush to scrape off food particles and clogs in the tubes. Remember to brush in the direction of the burner tube opening. If that doesn't work, you may use smaller items like a hairpin to unclog the holes of the burner tube.
Next, chip away any particles or grease from the cook box and bowl. Make sure to scrape these into the opening of the drip pan to make the process easier. You can use a variety of materials for cleaning the bowl – a scraper, spatula, putty knife, or even a hard piece of cardboard can do the trick.
End your weekly cleaning session by checking the drip pan again and replacing it with a new one.
Spring Cleaning For Your Weber Q
Like with any other appliance, it's best to schedule an intensive clean at least once a year for your Weber Q. Proper spring cleaning will ensure that your Weber Q is up and running well for the year ahead. It also involves small tweaks and cleaning tasks that are keys to keep your grill looking and working like new!
First off, make sure that the brush you use for cleaning the grates is replaced. Dirty brushes won't be much help, especially when they've been continuously exposed to grease.
To improve your BBQ experience, remove the grates from the grill and spray a generous amount of oil on them. Once finished, put the grates back on the grill and turn it on at low heat for five to ten minutes. The heat will re-seal the grates.
You should also check the grates for signs of corrosion. This will give you an idea of how much your grill has been exposed to the elements and guide you on how and where you should handle your Weber Q.
Inspect the inside and outside of your lid for abrasions and cracks so that you can prevent any major issues with your grill. Also, perform a round of regular cleaning on your lid and bowl by scraping off any residue.
For more effective cleaning, use a cleaning product while doing so. We recommend using a non-caustic cleaning product to prevent corrosion of your Q's surface from harsh chemicals.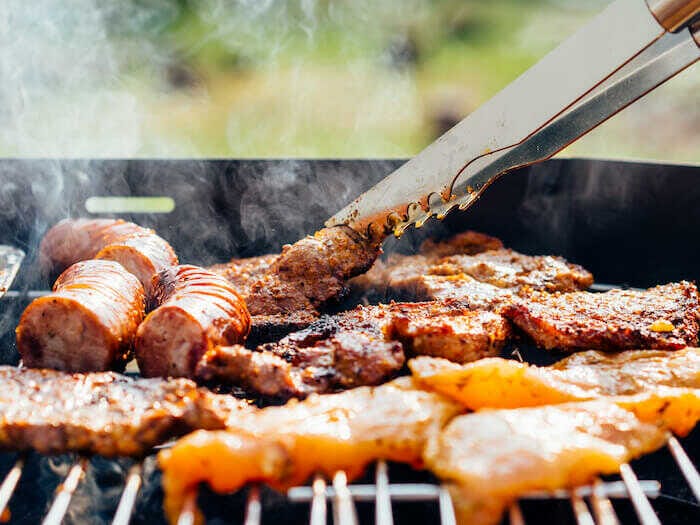 Grill Food To Perfection
Now that you've read up on the types of cleaning and procedures to follow, you're ready to be the master of your Weber Q! Enjoy the comfort of wonderfully grilled food whenever you're in the mood for a barbecue.
Although, we understand that cleaning your Weber Q can be a lot of work in itself. Add the afterparty clean-up to the mix and it might be too much work to hold a BBQ for all of your friends.
We recommend trying our services here at Maid2Match, the most reliable cleaning company in Australia! Focus on having a great day of barbecuing and eating with your loved ones while our team of cleaning professionals handles the clean up. We have a 100% guarantee for customer satisfaction, so you can enjoy the day stress-free. Contact us online and have a wonderful time grilling!