A TV unit looks much better these days than before when it used to be a clunky box. But a flat-screen TV still looks fairly boring – it's just a black rectangle on a stand or wall mount.
As for TV wall design ideas, there are plenty. Build your TV unit into a cabinet that matches the interior decoration of your living room. Make a creative TV wall to display art and other decor, or simply have a dark wall behind your TV so it blends into the background. Alternatively, create a feature wall with wall panelling to turn your TV set into a main focal point! Or build a TV wall niche so your TV screen doesn't stick out. You can even stack your TV stand with plants for a green touch.
(And remember: no matter how nice your TV wall design is, it won't look good if it's not clean! Dust and wipe your TV wall and the surrounding areas – or get a professional cleaning service to take care of it for you.)
In need of TV wall ideas? Want more than just a TV on a stand? Here are some TV wall design ideas for your home.
Build it in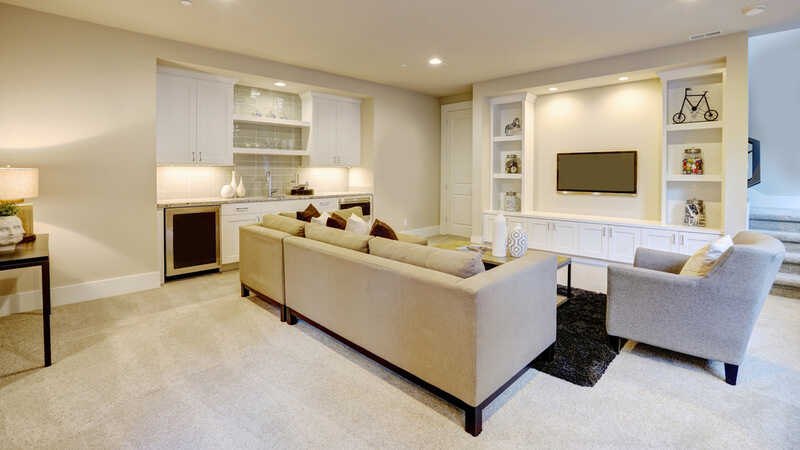 If you have a small living room, a media cabinet definitely saves space. It also helps you conceal all your cords and other accessories, and acts as multi-functional storage. Building a cabinet for your television screen also allows you to match the furniture in your living room.
You can even turn your media cabinet into a room divider of sorts depending on the design! If your home is open-plan, a custom-made cabinet can divide the space between your dining and living room. Don't forget to design the back side as well, though – a tangle of cords and a black surfaces do not look good.
Gallery wall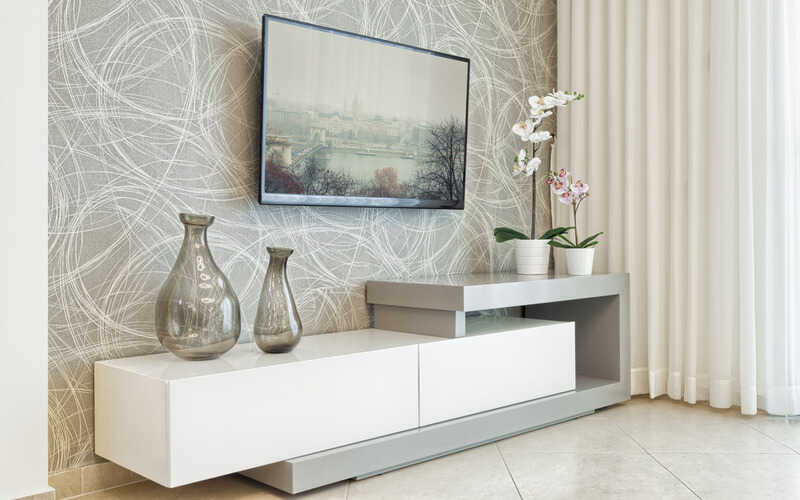 Surround your wall-mounted TV with art to construct a creative TV wall! This is a more contemporary approach which doesn't cover up your TV, but instead turns it into a focal point. How's that for interior design!
There are several approaches to creating a gallery feature wall. You can go greyscale and match the black of your TV screen with black-and-white art. For a different aesthetic, go monochrome in a complementary colour to your wall – or if you have a plain white wall, choose a colour that creates contrast. Just don't choose too many shades and hues, otherwise your TV wall will look too cluttered!
Shelf life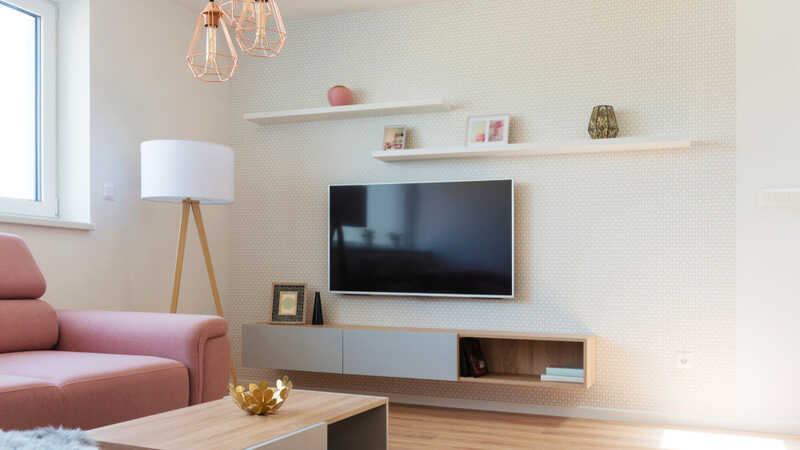 Pair your wall-mounted TV with a set of floating shelves for a modern design. Or have a TV stand customised so it does double-duty as storage, then place different decorative items on the surrounding shelves. Create a creative TV wall by using vinyls, DVDs, and other media items to decorate the space around your TV screen.
The tricky thing with using shelves instead of a wall mount is that you may have to take extra steps to conceal the cords and accessories that accompany your TV set. If your shelves are against the wall, try not to use open shelves so that the back panels can cover up any wires. Or incorporate small spaces in the shelf where the cords can run through.
Background block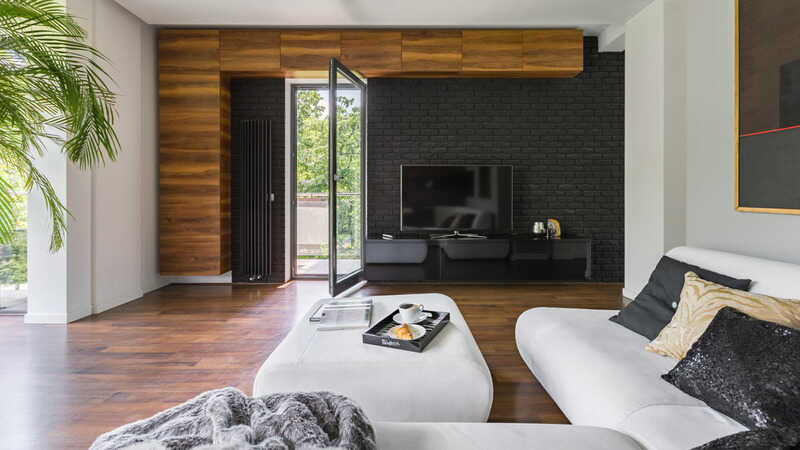 Make your black TV unit disappear into the background by painting the wall behind it a matching dark colour. Black is a classic, but if you find that too dark and ominous, go for dark blue or brown. Different colours create different moods, so choose what goes best with your TV unit and furniture.
You can also create some contrast between your black TV set by having a plain white wall behind it. White has the added advantage of making a small space feel bigger, so use this if you have a more compact living room.
Com-plant-nions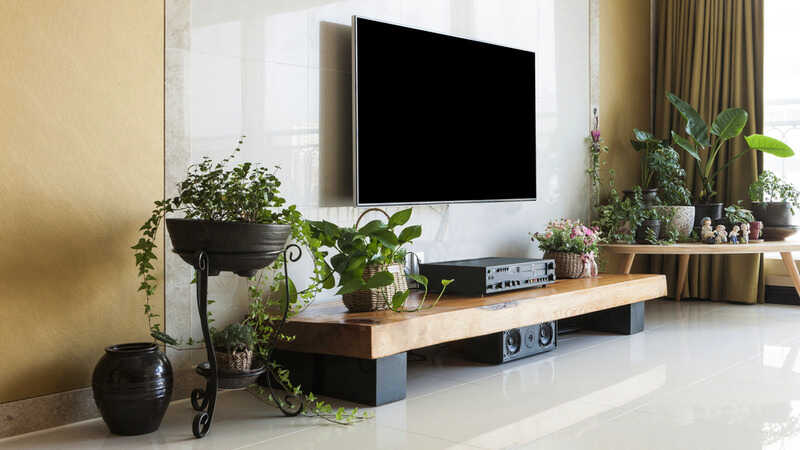 Take inspiration from Mother Nature and create a feature wall by surrounding your TV screen with plants! Whether they're artificial decorative items or real leafy friends, they'll help conceal your TV set and add colour to the room.
For TV stands, stack tall, lush plants around your TV to frame it. For a wall-mounted TV, you can dangle hanging plants and vines along the sides, or create a plant shelf underneath. Just make sure to prune your plants regularly – you don't want your leafy friends to block your view!
TV feature wall
Create a TV feature wall with different wall panelling designs. Wall panelling in interior design involves installing wood panels on the walls – whether that's simple boards or intricate woodwork. This allows you to turn your TV into a room accent, taking the look and feel of your living space to the next level.
One interesting wall panelling idea is to create a 'picture frame look' with your panels. Place your TV unit on a wall mount, then build a 'frame' around it. This way, instead of acting as just another appliance, your TV now becomes a main focal point!
Niche solution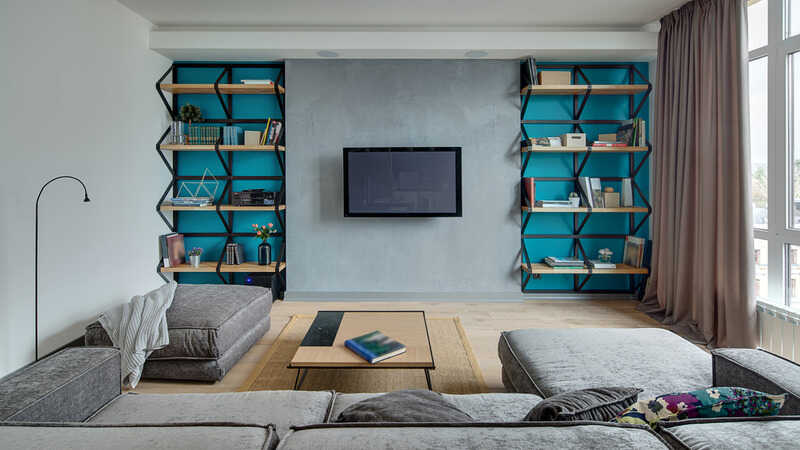 If you don't want your TV screen extruding from the wall, you can build a TV wall niche for your TV. The advantage to this design solution is that you can use it for both a wall-mounted TV or a stand TV, depending on which you buy. You can even have a sliding cover over your TV wall niche so that your TV is covered up when not in use.
The TV wall ideas you use will depend on the general look of your living room and the amount of space available to you. Whichever you choose, the point is to have more than a plain black TV set, thereby adding to the overall aesthetic of your room. Then just sit back and make yourself comfortable for your next Netflix marathon – and enjoy your new TV wall design, too!