A tidy house never runs out of towels, is what I always say. You need a towel for practically everything — from wiping hands after washing them, to drying yourself after a shower or swim. 
When your house is bursting at the seams with every kind of towel imaginable, you know it's time to organise and declutter. Here are fabulous towel storage ideas to tidy up your home:
Bathroom towel storage ideas
Bathroom towels are best stored in either a linen closet or a bin that's placed in a dry area in your home. Avoid storing towels in bathrooms if possible — the high moisture level in bathrooms can cause mould to form in your storage compartment.
Bathroom towel storage bin
A covered wooden towel storage bin keeps bath towels clean and dust-free. Place it near the bathroom door or your closet for easy access. 
Hanging wooden box
This DIY bathroom towel storage idea can be made from a wooden box and strap. You will also need a sturdy hook for this project. To make a hanging wooden box, attach the strap on either side of the box. Install the hook on a wall then hang your DIY towel container on the hook. There you have it, a quick storage container for your bath towels!
Wicker basket
Instead of the usual plastic hamper, why not use a wicker basket to store your bathroom towels in? Not only are wicker baskets environmentally-friendly and biodegradable, they also give a rustic feel to your home. Choose a basket with a cloth lining to prevent the towels from getting caught in the basket fibres.
Wardrobe or closet
One of the quickest ways to store bathroom towels is to place them in a wardrobe or closet. Allot one area of your wardrobe just for your towels to keep them organised. Make sure to roll each towel before storing — this will keep the towels tidy and prevent them from sliding when stacked.
Vertical column shelf
Parallel metal vertical columns hold rolled towels neatly in place. Simply stack the towels in the columns while forming a straight vertical line. Make sure to keep the towels tightly packed to prevent them from slipping.
You can do this project yourself by installing metal bars vertically on a wall — you won't need a big bathroom space for this. Remember to place enough distance between the wall and the metal bars for the towels.
Built-in towel shelf
A built-in towel shelf is an excellent towel storage idea for small bathrooms. Position the shelf in a corner of your bathroom to save space. Keep the shelf aerated to prevent mould from forming.
Versatile ladder shelf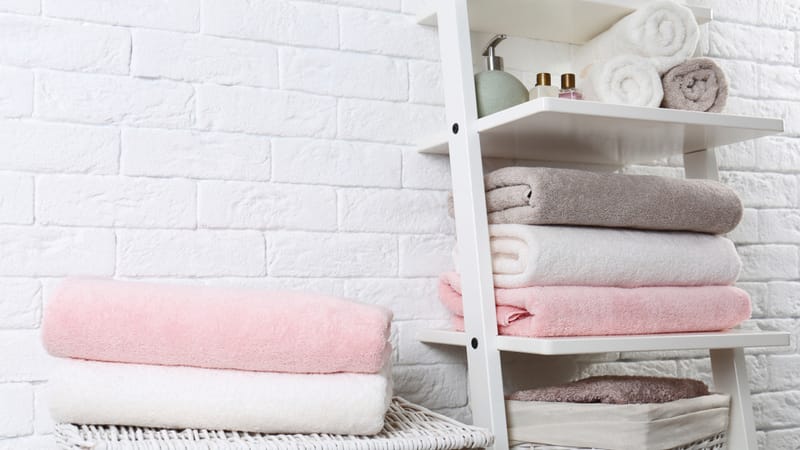 For an attractive and functional towel storage idea, use a multi-purpose ladder shelf. Transform it from drab to fab by arranging indoor plants, bath essentials, and rolled up towels on the planks. Paint the shelf black for an industrial look, then prop it against a white wall for contrast.
Ornate floating shelf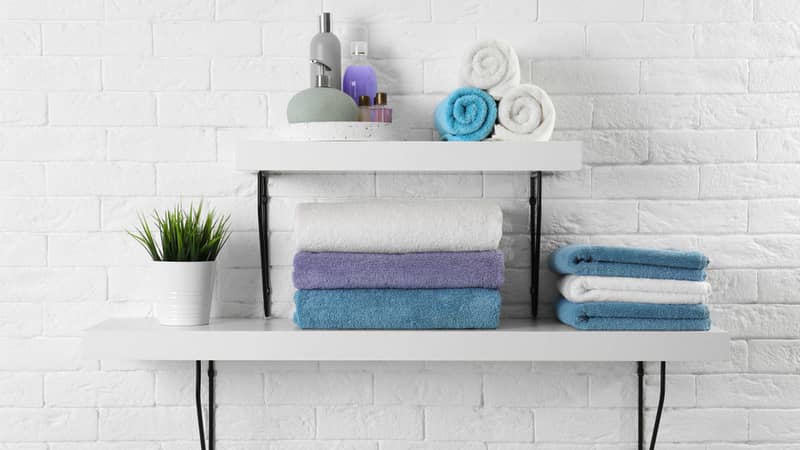 An ornate floating shelf keeps your bathroom towels organised and also makes for a delightful wall accessory. This storage idea works well if you have a small bathroom. Take it up a notch by placing scented dried herbs in between the towels for a rustic touch. 
Simple wooden boxes
Old wooden boxes can be repurposed into towel storage containers with a little creativity. Give the boxes a good coat of paint, then apply a layer of waterproofing coating. Place your rolled up towels in the boxes to keep them tidy. To save space, you can also stack the shelves on top of each other.
Open shelf
Multi-level open shelves are as versatile as they are space-saving. Make it decorative by colour-coding rolled up bathroom towels before you place them on the shelves. Use the other compartments for bath essentials such as soaps, shampoo bottles, and other toiletries.
Pool towel storage ideas
When storing pool towels, remember to keep them within arm's reach for easy access. Position the towel storage bin or rack in a well-ventilated area to prevent mould from forming.
Farmhouse-inspired wooden crate
Rolled-up pool towels look tidy when placed standing up in a wooden crate. For effortless rustic chic, paint the crate in matte white, then sand the surface of the crate for a distressed finish.
Metal hanging rack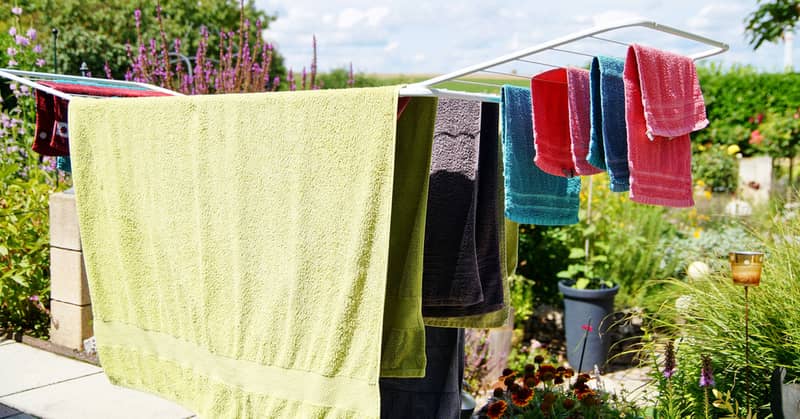 A metal hanging rack makes drying pool towels quick and convenient. Choose a foldable rack for easy storage when you're not using it.
Movable towel storage rack
A movable towel storage rack with wheels is convenient for transporting pool towels from one area of the pool to another. Choose a rack with a mesh hamper to ensure that the pool towels stay aerated and mould-free.
DIY pool towel rack with hooks
You can make your own pool towel rack by installing metal hooks on a wall. We recommend positioning your towel rack near the pool area for quick access.
Outdoor towel storage cabinet
An outdoor towel storage cabinet keeps pool towels clean and within arm's reach after a swim. You can also use it as part of your outdoor decor. Make sure to pick a storage cabinet that has been waterproofed to protect it from the elements.
Outdoor bench with storage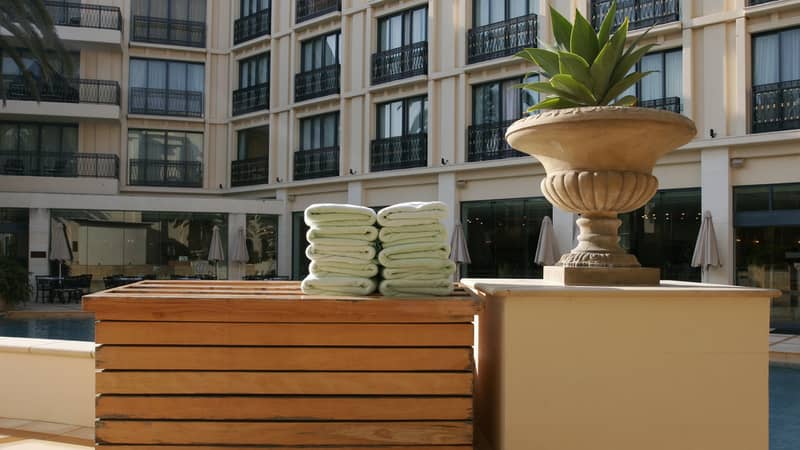 An outdoor bench with built-in storage is an attractive and space-saving furniture to have. For practical purposes, make sure to pick a bench made of lightweight and waterproof material.
Kitchen towel storage ideas
Kitchen towels are handy to have after washing your hands. They are also great for cleaning up spills and surfaces stained with grease or leftover food. 
Kitchen drawer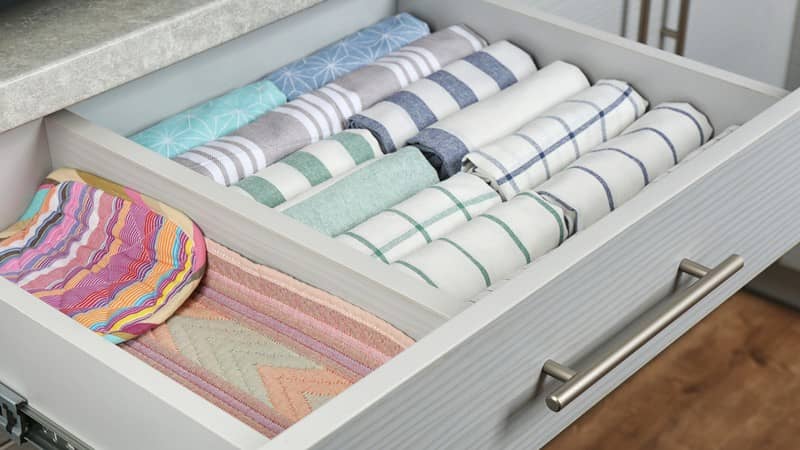 Keep your kitchen towels tidy Marie Kondo-style by folding them in half, twice. When you have a neatly folded patch of fabric in your hands, fold the towel again — this time, into thirds.  Flatten folded towels to make them compact, then arrange them standing up in a kitchen drawer.
Floating shelves
Floating shelves made of wood planks are an accessible way to store kitchen towels. Roll the kitchen towels and store them in an organised manner to keep them orderly and compact.
Wire mesh baskets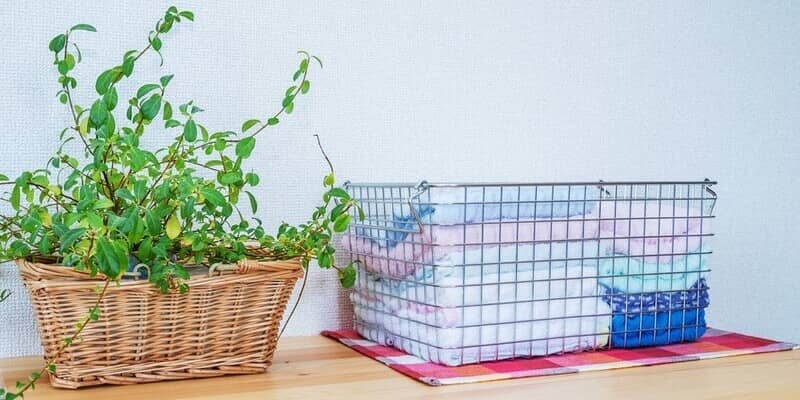 Multi-level wire mesh baskets give any kitchen a modern, industrial feel. Use these metal baskets for organising small towels, pot holders, and other kitchen linen. You can hang the baskets on a wall vertically, or place them separately in different areas in the kitchen.
Tiered kitchen towel holder
A multi-layered kitchen towel holder keeps folded towels and other kitchen linen neat and orderly. Place the towel holder on the kitchen countertop or near the sink so you can easily reach for them after washing.
Vintage cabinet shelf
Flea market finds can be repurposed into quaint storage pieces. A vintage wooden cabinet, for example, can be repainted then hung on a kitchen wall to serve as a holder for kitchen towels, plates, and cutlery.
Keep your home tidy and organised
Having proper storage spaces for towels and other linen is a great way to keep your home neat and orderly. Take the next step towards home organisation by giving your interiors a thorough cleaning. You can set aside time on your calendar for this, or book professional home cleaners to do the cleaning and tidying up for you. You'll be surprised how fresh-smelling and organised your home will be right after!