If your home is starting to feel more like a storage unit than a comfortable place to live, it might be time to call in some professional help. Australia is home to a number of talented professional organisers who can help you get your life back on track. From sorting out your wardrobe to decluttering your home office, these experts can help you regain control of your space.
Not sure where to start? Here are four of the best professional organisers in Australia.
The Art of Decluttering
Amy and Kirsty are the duo behind The Art of Decluttering — a team of professional organisers and declutter coaches who are passionate about helping you experience freedom from clutter. They provide decluttering and organising services around Australia.
Their team have years of experience in decluttering homes and offices, and they know exactly what it takes to help you get organised.
The Art of Decluttering offers you supported organisation and tidying up at home — whether you need the whole house decluttered or you want to focus on toys or paperwork, there are sessions to suit every need.
Reclaim Your Space
For those who need help getting organised and want a more personal touch, Reclaim Your Space is your best bet. Founded by Sarah, this company offers decluttering and organisation services for families and small homes.
Sarah understands that home is a place for rest, relaxation and spending time with your loved ones. So, just like the company's name, her goal is to help you reclaim your space and make it as comfortable for you as possible. 
At Reclaim Your Space, Sarah offers home organising, interior design, and moving home services. These services are all available in person for those who live within a 1-hour radius of Northern Illawarra, including Wollongong, Sutherland Shire, and Inner West Sydney, NSW. If you're outside of that radius, don't worry – Sarah also offers virtual organising packages.
Outside The Box Organisation Solutions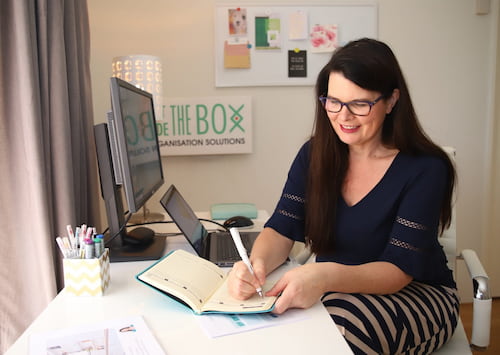 If you need someone to help you with time management and home organisation, look no further than Nikitayn Verhoef. As the founder of Outside the Box Organisation Solutions, Nikitayn has spent 15 years helping her clients make the most of their time, space and energy.
Based in Perth, Nikitayn's unique approach to home and life organisation has come from years of experience in management roles. She offers a one-of-a-kind 6-hour home organisation programs to suit your needs, focusing on decluttering and organising. Nikitayn's virtual consultation is also available remotely via video conferencing. 
Her fun and professional attitude makes her the perfect coach for anyone looking to get their home and life organised. Nikitayn is also an accredited mental health first aider, Accredited Expert Professional Organiser and certified Coach specialising in helping someone with ADHD manage their life and home.
Clean Organised Home
Want to declutter your home, but don't know where to start? Clean Organised Home can help. Founded by Jessica Beileiter, this company offers personalised cleaning consultations and home organisation services, tailor-made to suit each family's individual needs. 
The team at Clean Organised Home has helped countless clients organise their homes, streamlining the process and providing practical solutions that work for them. They are passionate about helping people declutter their homes and lives, and they firmly believe that a clean and organised space can help to create a sense of calm and wellbeing.
Clean Organised Home offers two packages, and each one comes with a complimentary 45-minute consultation via phone, video call or in person. A minimum on-site session is 4 hours, and service areas cover the Greater Sydney area.
Go From Being Disorganised To This Organised
The best professional organisers will work with you to find a solution that suits your needs and budget. They will also be able to provide you with tips and advice on how to keep your home organised in the future. So, take the stress out of organising and let a professional do most of the heavy lifting for you. Once your home is decluttered and reorganised, call in the cleaning experts to make it spotless!