If you're anything like me, then you probably have a pantry that's bursting at the seams with spice jars. As foodies and kitchen lovers know, basil is never a substitute for oregano, nor will black pepper ever be a good enough replacement for white pepper. When you have culinary standards to uphold, you just have to have one of each kind of spice — and that's perfectly okay.
The problem with this setup is, the clutter can get out of hand! What's a cooking aficionado like you to do? Luckily, you don't have to spend hours in the kitchen tidying up your pantry. There's a trick on how to organise your spice rack storage in a flash. These awesome spice storage ideas will show you how.
Space-saving spice storage
Rotating spice rack
When it comes to space-saving spice containers, a rotating spice rack takes the cake. This one is definitely a must-have for any kitchen connoisseur. Also called a lazy susan, this nifty spice jar storage is particularly useful when displaying different spice labels — there's no need to pluck one random jar after another trying to get to your stock of marjoram or Himalayan pink salt.
With a multi-tiered rotating spice rack, everything is conveniently laid out in plain sight and kept within reach. You can easily cook your favourite dishes on the fly, sans the hassle of hunting for a particular jar of spice.
U-shaped spice shelf
Have you ever encountered the problem of hunting for a particular spice and going through each jar before finally succeeding? Well, you're not alone. The good news is, there's a quick spice storage solution to it: a U-shaped spice shelf.
With a U-shaped spice shelf, you can line up all your spices in plain sight. No more guessing if the jar you picked is the right one! And no, we're not stopping you from arranging your glass jars alphabetically. Use as many shelves as you need in your pantry — you'll love this trick so much, you just may find yourself installing these shelves all over your kitchen.
Sliding wall spice rack
Store spices inconspicuously with a sliding wall spice rack. This wall mounted spice organiser is the perfect solution when you have a small pantry or kitchen cabinet. Maximise the usable space in your kitchen by installing a foldable spice rack in your pantry. It tucks neatly into the shelf when not in use and expands to display your spices when your cabinet is opened.
Expandable spice rack
Are you looking for ways to optimise your drawer space? With an expandable spice rack, you can! This smart spice storage contracts and expands to fit the exact width of your spice jars — there's no wasted space here.
It comes in different materials, but we think the one made of bamboo takes pantry organisation to a whole new aesthetic level. It definitely makes for an elegant and eco-friendly way to store your spices. Any interior designer will tell you, this space-saving rack adds functionality and style to your kitchen.
Minimalist spice storage
Wire spice rack
Think neat and easy-to-clean — that's what you'll get when you have wire spice racks in your kitchen. These spice storage containers will help you organise your spice jars effortlessly. Simply line them up in the rack (and make sure that nothing is out of place). It's that easy. We suggest classifying your spices according to the size of their jars for a tidier look.
Ceramic spice jars
Ceramic jars are another great idea for storing spices. These spice storage solutions are both functional and attractive. Whether your home is more country or minimalist, you can be sure they will complement your kitchen design well.
As an added bonus, these jars are effective in retaining the aroma and flavour of your spices and herbs. The airtight cap and the ceramic material ensure that your ingredients stay good as new. No more stale pepper or dried rosemary when you have these elegant containers for storing spices in your kitchen.
Clamp canisters
Canisters with clamps will never go out of style. Place your spices and herbs in these clear glass jars for a no-fuss pantry organisation. Your spices are sure to be preserved for a long while when they are contained in these airtight canisters. There's no need to worry about spoilage when you have these jars to store your spices in.
Decorative spice storage
Wooden spice rack
With this decorative wooden spice rack, aesthetically pleasing pieces can be just as functional. Much like a wine rack, this multi-tiered spice rack can stack a lot of jars without taking up too much space. The wide slots are built for easy handling and organisation. Even better, it also doubles as home decor.
Here's why we particularly love this nifty container: you won't have to worry about opening your kitchen cabinet whenever you need a particular spice! Imagine the convenience of not having to pull open the pantry door every time the recipe calls for a pinch of sea salt. Simply get the jar from the rack and return it to its slot when you're done using it — no stress at all.
Magnetic spice jars
Get creative with your spice storage by using magnetised clear spice jars or magnetic tins. These ultra-sleek spice containers are just what you need to add style and flourish to your state-of-the-art kitchen setup. For added panache, put different-coloured spices and herbs on display — these will bring the look of your kitchen to another level while keeping your spices within arm's reach.
For a DIY approach, use a magnetic board as your base, and use mini mason jars with steel lids. You can also attach magnetic strips on the lids of your spice jars then stick them on your rangehood, fridge, or any steel board. They're as modern-looking as they are convenient!
DIY spice storage
Test tubes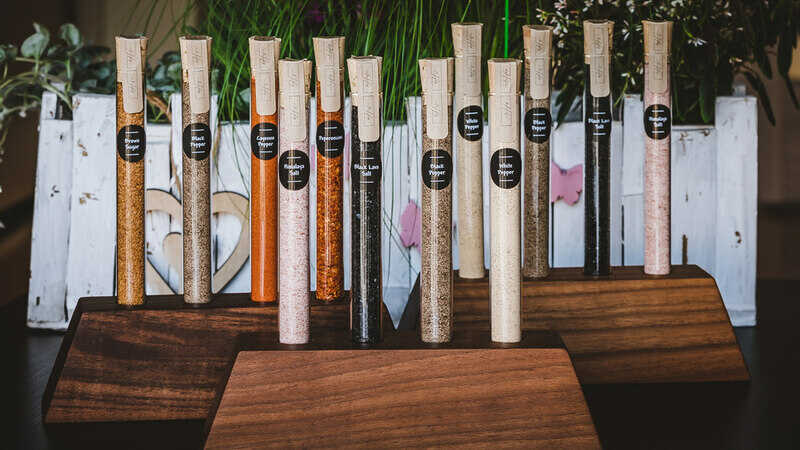 Test tubes aren't just for science labs. These clear glass tubes also make attractive herb and spice storage containers. Give the test tubes a light tap when the recipe calls for a dash of your favourite spice. With the tube's small-mouthed opening, you won't have to worry about accidentally putting in more than the amount you need.
A DIY spice rack made of test tubes will look great especially in a minimalist or an industrial design-inspired kitchen. It will complement white tiles, black steel, and copper pans perfectly! Embrace your inner kitchen neat freak by adding uniform labels to your spice tubes. There are plenty of printable templates online that you can use to personalise your spices.
Spice drawer
This is spice organisation made easy. With just a few drawer inserts, you can have your very own spice storage drawer. A spice drawer helps you quickly find your spices and herbs while keeping things organised. No more rolling spice jars and whatnot. With this easy DIY trick, everything you need for cooking is tucked neatly in place.
Keep your kitchen organised all year round
Pantry organisation can be fun but tedious when you have a busy schedule ahead of you. For no-fuss kitchen organisation — meaning you won't have to lift a finger — you can book professional cleaning services to do the tidying up for you.
Professional cleaners will take care of everything from pantry organisation to deep kitchen cleaning. You won't have to worry about spending more time on chores — all you need to do is sit back and relax. Before you know it, you'll have a tidy and sparkling kitchen, with none of the hassle included!