Tiny homes are taking the world by storm, and Aussie houses and apartments are no exception. Small home living is for people who want to cut back on expenses, or be able to travel without worrying about home maintenance while they're away. If you're an urban dweller who loves moving from one city to another, you understand how practical (and fun) living in an apartment can be.
But as any small home owner knows, scaling down is not always a walk in the park. How do you fit big dreams into a teensy-weensy space?
With our awesome space saving furniture ideas, you can supersize the joy of living in your dream home without feeling closed in at all.
Folding tables and chairs
Folding furniture is a quick answer when you're saving space. Forget about the hardwood 6-seater table that will take up most of the square footage in your tiny home. Get a folding dining table instead! With this nifty contraption, your small home won't lack space and will be party-ready anytime unexpected guests appear at your door.
An extendable dining table can comfortably shift from seating 2 to 6 people in a snap. Pick one that is lightweight and has durable hinges. You definitely wouldn't want to hassle yourself with folding and unfolding a heavy piece of wood in the middle of a dinner party. We're going for stress-free here.
There are amazing options for folding chairs as well. These smart chairs can be unfolded into a straight panel and hung on the wall as a piece of colourful artwork. How cool is that?
When your guests have gone, simply fold back the extended area of your table and tuck away your folding chairs. You have instant space in minutes!
Multifunctional couch
If you want unmatched practicality, multipurpose furniture is the way to go.
Easily turn your living room into a guest room by using a sofa bed or a sectional L-shaped couch. You can use the longer end of the couch separately as a guest bed, or attach it to the love seat to make for comfortable seating during movie night.
Convertible coffee table
Thinking of the perfect accessory to your versatile couch? Why not add an ottoman that doubles as a coffee table and storage space?
Think outside the box when it comes to coming up with ways to make the most out of your furniture's function. The sky's the limit with what you can do here.
Modular desks
Modular furniture is perfect for modern homes because it offers a great deal of flexibility. Unlike built-in furniture that uses traditional carpentry, modular furniture can be assembled and disassembled according to your needs.
Modular desks are especially popular for people who have a WFH setup. Much like how an extension table works, these desks can be put together at home and can be dismantled into smaller parts when the need arises.
You can even have a modular sofa, dining table, cabinets, or a whole modular kitchen constructed according to your preference. These pieces are so smart, you'll be tempted to DIY just about everything.
Space saving bookshelves and cabinets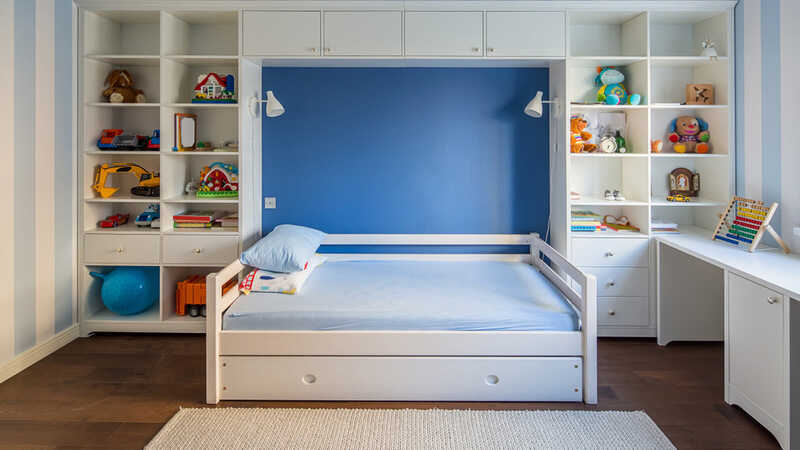 Your home likely has free space that you may not be aware of. We're talking about that empty area above eye level (that space we don't usually notice), or that tiny corner in your bedroom that's too small to fit anything larger than a few knickknacks.
Here's the good news: you can do so much more with that untapped space! Simply install made-to-fit cabinets and shelves in those areas to maximise your home's space saving potential.
Don't shy away from using these awesome furniture pieces to organise your bedroom, study, bathroom, or kitchen… you name it.
Take advantage of the vertical space by storing linen, office supplies, and other bits and pieces that are otherwise scattered around your home. You can even use the shelves and cabinets as a makeshift pantry, or a quick organiser for your plates and glassware.
Shelving is particularly helpful in organising kids' bedrooms (we all know how clutter can be larger-than-life when kids are involved).
To make the room seem bigger, arrange a stackable shelf or two in a corner of the kids' bedroom to store the heaps of toys and art supplies lying around. You'll be surprised how airy it suddenly becomes.
Narrow furniture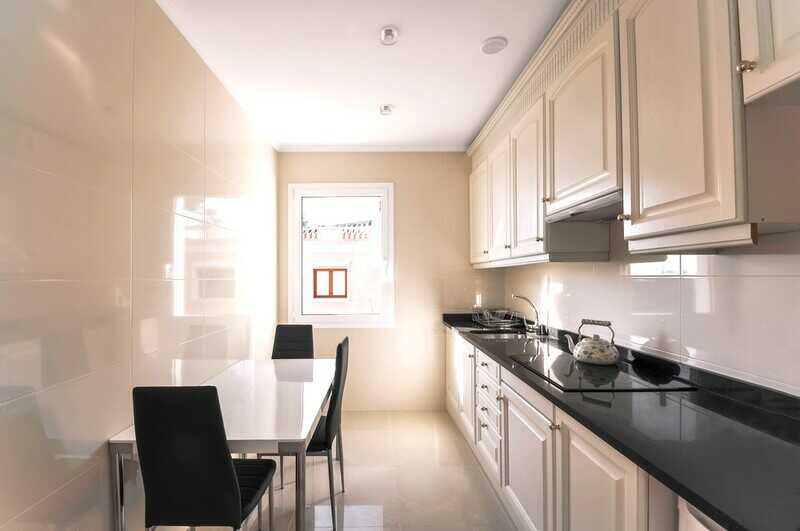 When scaling down, leave the massive furniture out the door and pick out the ones with the least amount of room. You'll save more space with pieces that have less width and length.
A narrow dining table will save you a few precious centimetres of wiggle room in the dining area. Believe it or not, you'll notice the difference.
For your bedroom, use a steel clothes rack instead of the antique wooden wardrobe you saw at the flea market. Not only will this save you twice the amount of space, but you also won't have to worry about your clothes smelling like old wood or mould.
Knowing that your outfits are there in plain sight also makes it easier to track your laundry, too!
Furniture with storage space
Storage is one of the biggest challenges in a tiny home. You know you have a problem when you can barely walk in your home without tripping on a runaway sneaker or stumbling over a pile of wayward luggage.
Here's a pro tip from interior designers and builders of tiny homes: use furniture with secret storage spaces! Customised beds and benches with built-in storage are especially helpful when saving space in small apartments and houses because you're practically hitting two birds with one stone.
Heavy winter coats, extra towels, and old clothes you'd like to keep are perfect for this type of furniture. They can all go into your bed's secret compartment for safekeeping until you're ready to use them again. Just be sure to store them according to their specific instructions – but other than that, you can forget about them. Out of sight, out of mind!
If you don't have beds with built-in storage, crates and bins are the next-best solution, and they work equally well in freeing up space in your home. The look may not be the same, though.
Multipurpose kitchen furniture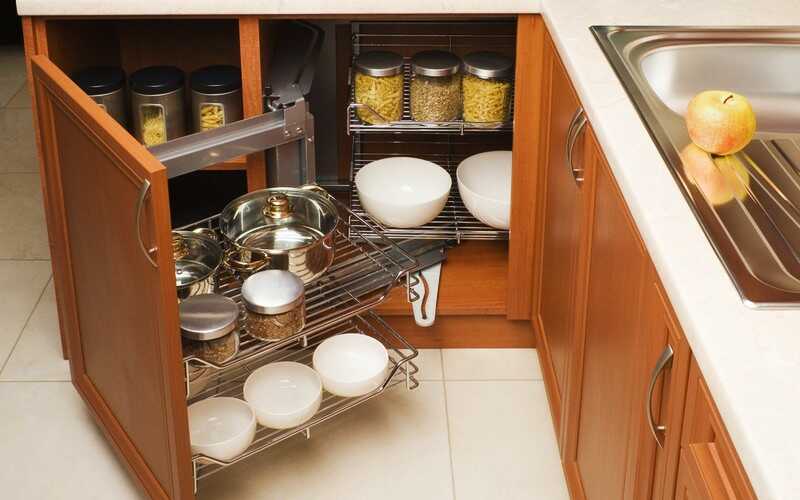 Let's talk about space saving kitchen storage. That window seat in your kitchen doesn't have to be for singular use only! You can add cabinets underneath and use the space to keep old cookbooks and other kitchen memorabilia you don't usually use.
Another piece of furniture you can look into is your pantry cabinet. The underutilised pantry door can be put to good use as a spice rack, or a hiding place for your ladles and spatulas.
Get creative with transforming parts of your kitchen into clever storage areas! With a few clever hacks and some simple organisation ideas for your pantry, you'll be making space for your kitchen in no time at all.
Pop-up kitchen
While we're on the topic of clever kitchen space savers, there's one mind-blowing invention that I'm sure will set the trend for space saving furniture in Australia.
Ever heard of the pop-up kitchen? This out-of-this world innovation opens up to reveal a real multifunctional kitchen inside. What can you not do when you have a dishwasher, refrigerator, rangehood, countertop, stovetop, waste disposal cabinet, and shelves all in one?
Space saving beds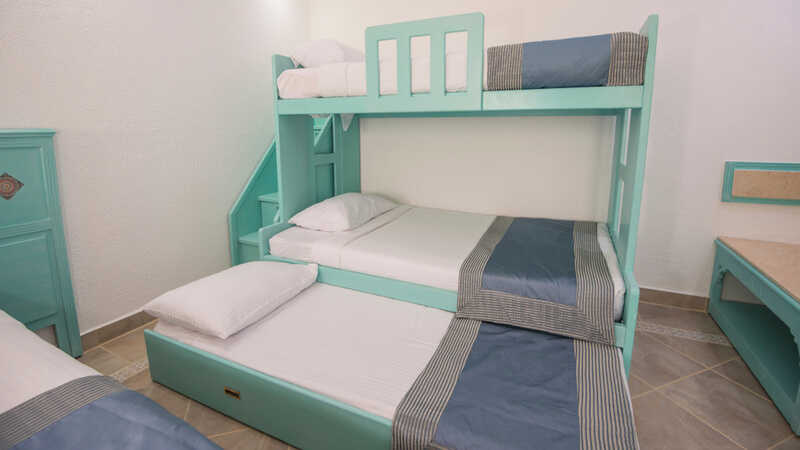 As a general rule of thumb, going for smaller beds over king-sized ones is the traditional answer when furnishing a bedroom with little space. But with brilliant furniture solutions around, this doesn't always have to be the case.
One space-saving alternative is to use a trundle bed. A trundle bed is a bed on wheels that you can just roll under the bed frame when it's not being used. For the same room size, you can double the room occupancy in a flash without having to take up the rest of your room space permanently.
Bunk beds are also an economical option for when you're trying to make the most out of your room capacity. It's the perfect style to go for when you're sharing a small room, or you're renting out with 4 or 5 other people in a tiny home. Bunk beds and trundle beds usually cost less than two separate beds, too, and that's always a good thing!
DIY expandable loft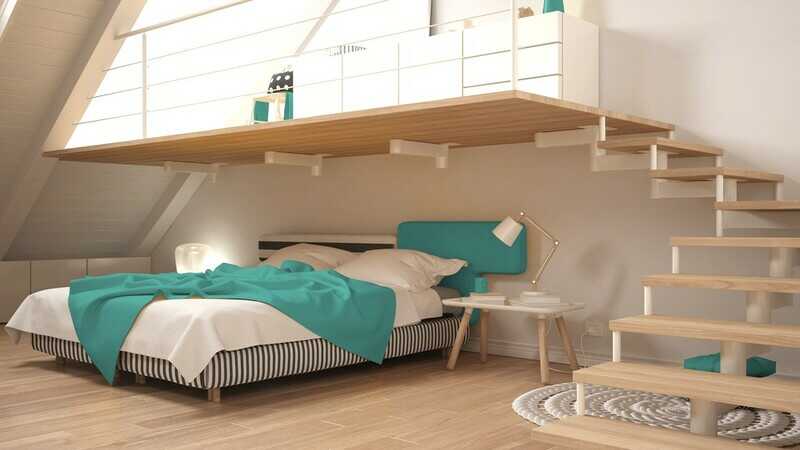 Living in a small modern home has its perks, one of them being that lofts are made for you. Not only do lofts give your apartment or house an urban vibe, they're space-saving and multipurpose as well!
Install a loft in your tiny home and turn it into an office, bedroom, library, or even an art studio. No matter what you do with it, one thing's for sure: you're doubling up the space in your home, and adding mileage to what you can do in it, too!
Making it big in small home territory
You don't have to put a cap on the things you enjoy doing just because your space is limited. As a homeowner, you want to get the full experience out of your home and enjoy each nook and cranny with ease.
Functionality matters as much as size when it comes to choosing the right furniture for your small home. On top of that, a tidy and fresh-smelling abode is essential to making the most out of your space. Give your small home a regular decluttering and house cleaning to ensure that it feels airy and spacious all the time.
With spotless rooms and these stylish furniture suggestions, you can set up your small home for success!