Our fur friends are an immense source of joy, with their affectionate snuggles and funny antics. They're also a source of frustration, though, like when they eat something they shouldn't, stain your upholstery, or scratch up your furniture… or pee on the carpet.
Whether it's a new puppy that doesn't remember yet that potty time is outside, or a cat that got a little stressed, if you own both a pet and a carpet, you'll inevitably get a mess. But those cute faces won't let you be mad for long — and luckily for them, there's a host of carpet cleaners you can use to get pet stains out of your rugs.
If you're lucky enough to rent a pet-friendly house or apartment, then it's all the more important to have everything in your home clean and tidy. If your lease is almost up, you can book a professional end of lease cleaning, and have the whole place looking almost new again. Otherwise, roll up your sleeves and distract your pet, and get cleaning!
Pet Pee PSA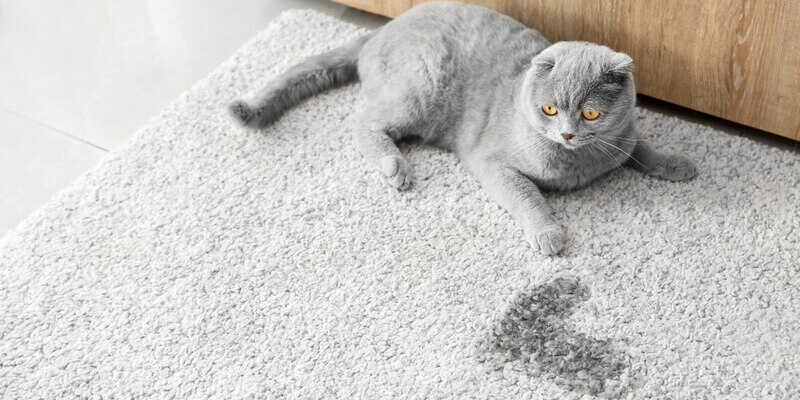 Not all pee is the same, not even between animals. For cats, their urine carries a stronger scent that often lingers if not dealt with properly. Male cats pee more than female cats, while older cats produce urine with a stronger odour.
For dogs, their urine is mostly water (plus uric acid and ammonia), but they pee a lot more than cats. Older dogs also pee with a stronger odour.
You should also note the frequency with which they pee indoors. Once or twice is accidental, but too frequently and there may be underlying health problems. Turn your rug over to a professional carpet cleaner and take your fur baby to the vet for a check-up — and hopefully, you won't have any more accidents after that!
Scent Suppression
The most important thing about cleaning off pet carpet stains is to remove the odour. If you allow the scent to linger, your pet will return to the same spot to make another mess, which is the last thing you want. Removing the odour eliminates the carpet as a potential pee spot… and also, no one wants a urine scent to linger!
You may be tempted to use an ammonia-based cleaner, but don't — you'll only make the scent worse. Fortunately, there's an organic carpet cleaner you can use that'll still cut the scent — and clean up the messes your pet left behind.
Natural Carpet Cleaner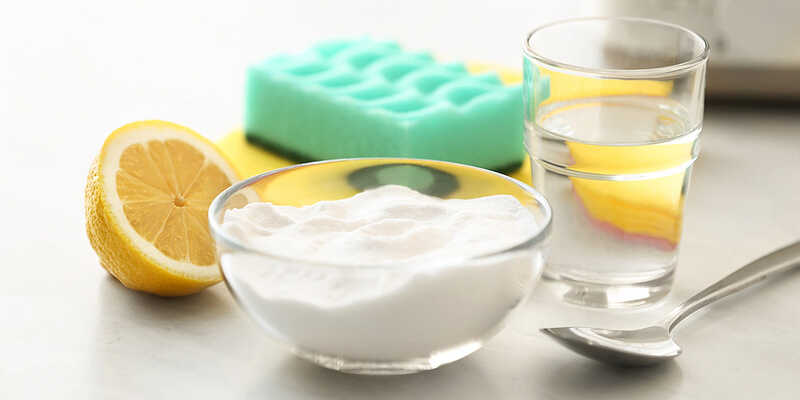 While there are any number of chemical products you can buy from the shops, you may prefer to use something more organic. Store-bought cleaning products can be harsher, which could damage your carpet depending on the material. They may also be harmful for anyone with allergies or sensitive skin. Any scents can also bother your pets, who have more sensitive senses of smell.
DIY pet urine carpet cleaner
Fortunately, putting together a natural carpet cleaner is simple. You'll need:
One cup white vinegar (more if the stain is large)

One cup warm water

3% hydrogen peroxide

Paper towels

Old toothbrush

Vacuum
How to clean pet urine from a carpet
The important thing when it comes to cleaning pet stains from your carpet is to catch the messes as soon as possible. The longer they stay on the carpet, the more the stain will set, and you risk it seeping into the floor underneath.
Blot the stain with paper towels

to absorb as much of the pet urine as possible. Don't rub — you'll risk working the pee into your carpet and making it harder to clean out.

If the carpet is removable,

bring it somewhere you can easily clean it — and make sure it's out of the way of your pets! After that, inspect the floor underneath and wipe it down if any pee seeped through. You may need to spot clean with some vinegar and water.

Mix one part vinegar and one part water

in a spray bottle. You can add a small amount of 3% hydrogen peroxide or lemon juice to help cut the scent. For particularly stubborn stains, you can use pure vinegar with some lemon juice.

Spray it onto the stains

— enough to soak the entire affected area. The vinegar will help neutralise the ammonia and re-wets the stain to lift any pet urine off the fabric or fibres. 

Grab your toothbrush

and start scrubbing, working the cleaning mixture into the carpet well. Really get into the fabric or fibres to remove any lingering traces of urine (and therefore the odour).

Sprinkle some bicarb soda

over the whole area while it's still damp, and let it fizzle then set.  Leave it overnight. The bicarb soda will also serve to deodorise the carpet further.

Vacuum

the affected area to remove any trace of bicarb soda and clean out the fibres one more time. Shake your carpet down, then replace in its original spot.      
How to clean old pet urine stains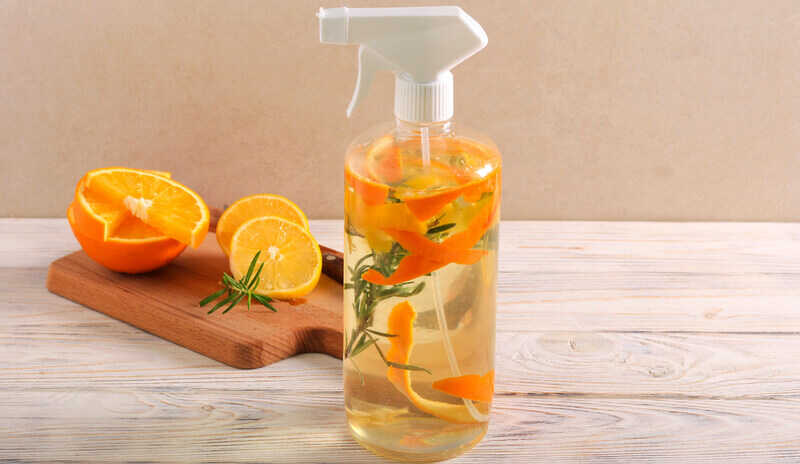 For older and/or more stubborn urine stains, you may need to level up your cleaning product. An enzymatic cleaner is the best way to remove the stain and any odours with it. You can purchase one at any pet supply or home supply store, or you can DIY one at home!
Ingredients for a homemade organic enzymatic cleaner are:
2 cups citrus bits (lemon, orange, and lime peels work great)

1/2 cup brown sugar

1 tsp yeast

1 litre of water
Mix all the ingredients in a bottle in order. Tighten the cap and shake thoroughly until the brown sugar dissolves. Then loosen the cap a bit to let the gas out — you don't want to make even bigger messes with an enzymatic explosion!
Let it sit for two weeks to a month to ferment, and check on it often. Once it's ready, mix half a cup of enzymatic cleaner with four cups of water (or less if you want a stronger solution). Test on a small area first to make sure it won't damage anything. If it works, spray over the affected area, cover with foil or something similar, and leave for a few hours. Scrub with an old toothbrush and let dry.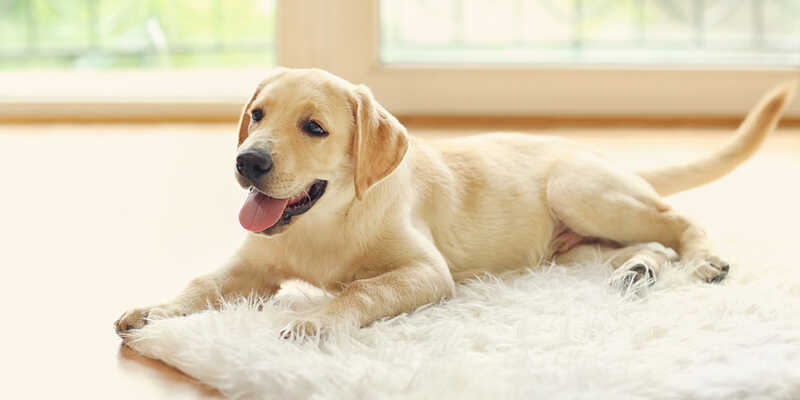 Carpet Cleaner Equipment
If you want some mechanical help when cleaning up your pet's messes — and you want to deep clean your carpet at the same time — then you can invest in a vacuum cleaner with an upholstery attachment, a carpet cleaner, or a carpet shampooer.
(Note: you can also rent a carpet shampooer if you'd rather not buy one for your home!)
Bissell and Hoover are some of the top brands for a pet carpet cleaner. The Bissell ProHeat 2X Revolution carpet cleaner is one of the most highly recommended, alongside the Hoover SmartWash Pet Automatic carpet cleaner or the Hoover PowerDash Pet Compact carpet cleaner. If you want something handheld, the Bissell Pet Stain Eraser Cordless Portable carpet cleaner is a good option.
Read the manuals for each machine before use, and make sure to follow all instructions. Also make sure your rug is able to handle mechanical cleaning. Some rugs, like shag rugs, don't take well to being vacuumed and need other ways to be cleaned. 
It'll take some elbow grease and hard work, but it's perfectly possible to clean pet stains out of your carpet. And once your carpet is clean and dry, you can put it back and let your pets in to play again — just make sure they don't make any more messes!