Whether it's your first baby or your fourth baby, setting up a nursery is an exciting time for any parent-to-be. It's a chance to create a special space for your new arrival, and to start thinking about all the amazing memories you're going to make together. While it may be tempting to simply throw together a few items, taking the time to plan and organise the space can make a big difference for both you and your child.
A well-organised nursery will be more welcoming and inviting, making it easier for you to bond with your newborn. It will also help you ‌keep track of all of your baby's things, making it easier to find what you need when you need it.
How to Get the Most Out of Your Nursery
A baby's nursery should be a safe place where your little one can sleep, play and grow. But for many new parents, the prospect of creating a cohesive design scheme can be daunting. Luckily, there are a few simple steps you can take to get the job done.
Choose a Theme
Decorating a nursery is a fun and exciting project. There are many themes to choose from, so it's important to take some time to think about what you and your child will love. Here are three key considerations:
Decide on a colour palette and stick to it.

Make sure that the theme is appropriate for the space available.

Select a theme that is both stylish and timeless.
For animal lovers, you can incorporate animal-themed wall decals, plush toys and noise-making mobiles. If you're looking for something classic, you can't go wrong with a nautical theme. Blue and white stripes are always chic, and you can add maritime-inspired accents.
If you want something more whimsical, how about a fairy tale theme? You can paint the walls light blue and cover them with starry decals, or create a forest scene with trees and animals.
The key here is to go for something you and your child will enjoy as they grow. Something you won't grow tired of seeing everyday. And something that isn't overstimulating, so they can rest well at night. A baby nursery will eventually be their childhood bedroom, so choose well.
Once you've settled on some colours, it's time to think about furniture.
Pick Functional Nursery Furniture
The crib is obviously the centrepiece of the room, but you'll also need a changing table, dresser and storage solution for all of your baby's things. No two nurseries are alike, but there are a few key storage solutions that every parent should consider.
Dresser
It's important to have a place to store all of those tiny clothes. A dresser with enough drawers is perfect for this purpose. We don't recommend going for deep drawers because they make it easier for you to overstuff them. Also, be sure to get furniture with rounded corners as a safety precaution.
Changing Table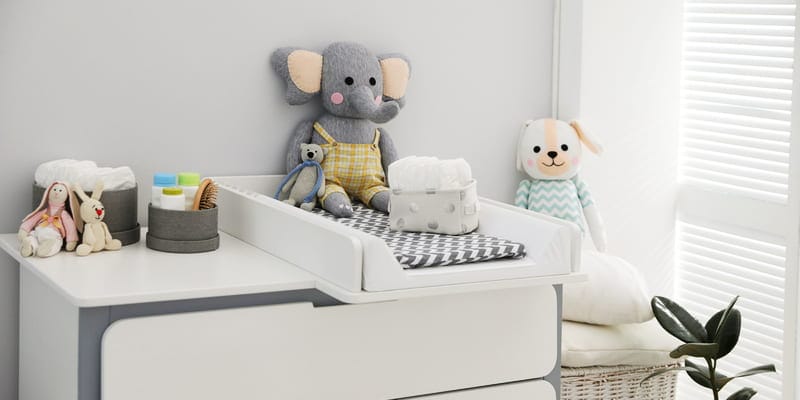 Any parent needs a place to keep nappies, wipes, and other changing supplies. A changing table with built-in storage is ideal, but a small cabinet will also do the trick.
Supply Cabinet
If you have more space, consider getting an extra supply cabinet. It's a place where you can keep all of the important things you need for your baby. From nappies and pacifiers to bottles and formula, a supply cabinet helps you be prepared for anything your baby needs.
Toy Chest
Don't forget to create a space for all of those toys! A toy chest is important for keeping the nursery tidy and organised. It can also double as a seating area for small children.
Bookcase
If you're a new parent, you might wonder why a bookcase is on this list. After all, your baby won't be reading books for several years. Well, listening to adults read books is an excellent way for babies to learn how to speak. A well-designed bookcase can help to create an inviting space for your child to enjoy in the future and promotes literacy.
Maximise Your Nursery Space
Anyone who has ever decorated a nursery knows that space can be very limited. With all of the essential furniture, gear and toys, it can be hard to find room for everything. So, here are a few tips to help you make the most of your baby's new room.
Keep nursery furniture to a minimum
Some of the furniture listed above can be combined and multi-purpose. If you have room for an extra supply cabinet, great! If not, go for space saving furniture such as a changing table with drawers and built-in cabinets. Here's a multipurpose changing table that is perfect for small rooms — it's portable, has enough storage space for nappies and baby blankets, and can be stowed away when not in use.
Use nursery shelves
You don't have to put all the furniture on the floor, especially if you don't have enough space. Consider putting built-in nursery shelves or cabinets for your baby's things. 
Your baby doesn't need a lot of big things, but they will use a lot of little items that can clutter a room if not stored properly. Bookshelves are super handy for organising baby supplies, or go for an over-door organiser.
Invest in clever nursery storage solutions
Nursery storage baskets can help you keep organised by storing everything from diapers to bottles. You can also save yourself space by investing in nursery drawers with a changing topper – no need for a separate chest of drawers and changing table! A handy toy chest can help to corral loose toys and stuffed animals.
Design a Perfect Nursery to Rock-a-bye-baby
In the end, taking the time to set up a functional and stylish nursery will pay off. By considering these storage solutions, you can make the most of your nursery space and create a safe and comfortable environment for your little one. If you're having trouble getting started or keeping your nursery tidy, you can ask cleaning professionals to help.