So much makeup, so little time! It all starts with that one irresistible tube of red lipstick, then two, then three… Before you know it, your drawer is filled with every shade imaginable. And that's not even counting each blush, highlighter, brow pencil, and eyeshadow palette.  What's a girl to do?
Why, the next best thing to collecting makeup, of course: organising it. We're not talking about keeping it neat the same, old boring way. Our clever makeup storage ideas are so easy to follow, tidying up your dresser won't feel like a chore ever again. 
Makeup storage ideas for small spaces
No space? No problem. These nifty hacks are all you need to organise your makeup, no bulky containers required.
Lazy susan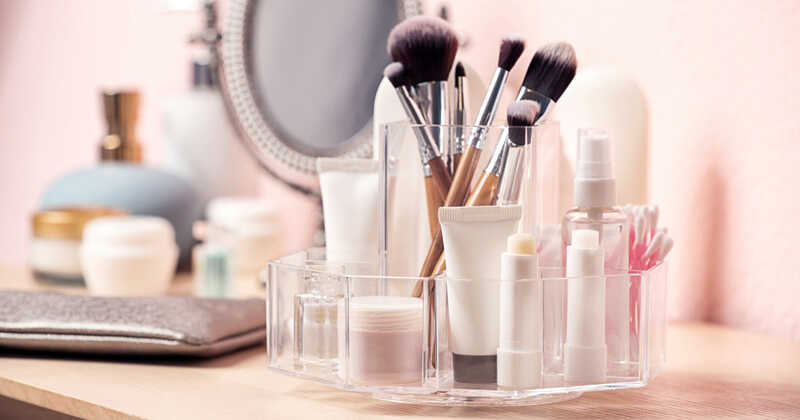 A lazy susan is every tidy homeowner's solution to small spaces. This 3600 rotating makeup organiser is not just a great space saver in dining areas — it's equally useful when organising personal items such as makeup and other knick knacks. You won't have to fumble in the morning looking for your favourite brow pencil and foundation. Lazy susans will keep everything in sight, minus the mess.
Acrylic lipstick organiser
Let's face it, when it comes to lipstick, one tube is never enough. Keep your lipstick shades in full display with a tiered acrylic lipstick organiser. It's particularly helpful when you're in a rush — you won't have to worry about mistaking crimson for nude when your lipsticks are this organised. 
Stackable makeup organiser
Tired of seeing makeup containers scattered all over your bathroom counter? Use a stackable makeup organiser instead. Easily store and classify your makeup in these clever minimalist containers. They're sure to keep your makeup organised and your dresser looking tidy. Here's what we especially love about them — they're completely interchangeable as well. 
Palette organiser
Palettes are every glam girl's must-have. Whether you're into neutral nudes or pretty pigments, keeping palettes organised is key to achieving your desired look. No more settling for the wrong eyeshadow or blush when your makeup palettes are kept in these neat cosmetic organisers. Fun fact: they free up a lot of space, too!
Nail polish organiser
Keep your nail polish collection tidy with a tiered acrylic organiser. These minimalist containers are the easiest — and prettiest — way to display your nail polish bottles, all without the clutter. 
Drawer organisers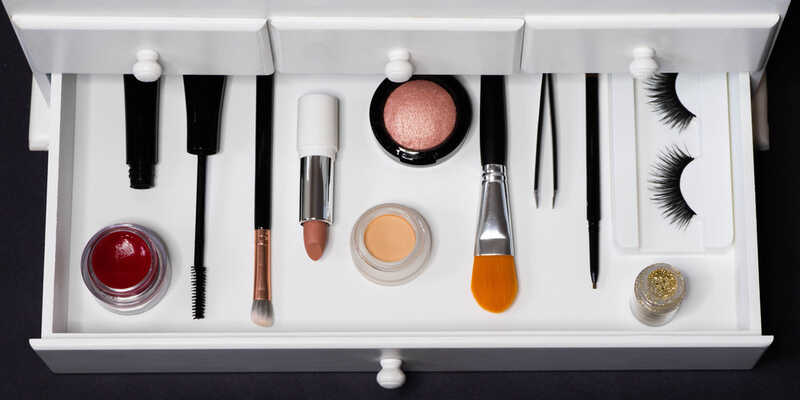 Neat freaks and makeup junkies can't do without drawer organisers — they're super easy to use and make great makeup storage options! The slots in the organiser will keep the tubes, brushes, and small compacts in your collection from mixing with each other. This multi-purpose storage is also useful when hiding makeup clutter from view. No more tubes rolling around or compacts accidentally dropping on the floor when they're safely tucked in your drawer.
Rolling cart
Office supplies aren't the only thing you can keep in this nifty storage. Rolling carts make great makeup organisers when you're living in a small space. Plus, they're super easy to move around — perfect for an on-the-go lifestyle! Simply label each tray, place your makeup in, and voila! A quick space saver you can easily transfer from your bathroom to your bedroom.
Floating shelves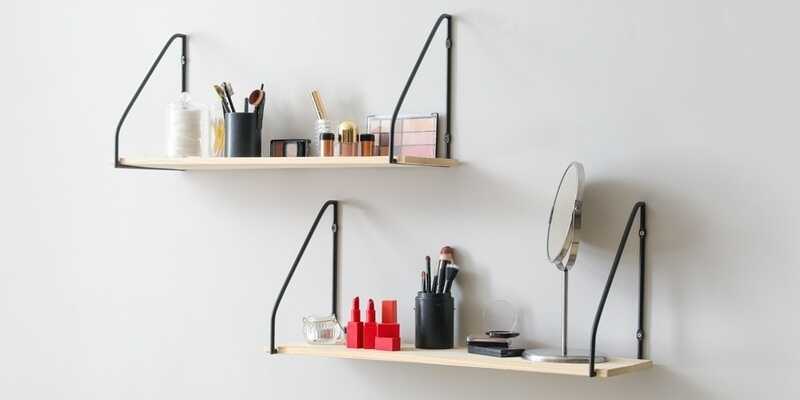 When you think about space-saving furniture, floating shelves will surely be at the top of the list. You can hang them in your bathroom or bedroom to keep your makeup collection organised. 
DIY makeup storage
It's the weekend and you're thinking of your next crafting project. Here's an awesome idea for you: why not make your own makeup containers? These DIY makeup storage ideas are fun and relaxing to do. Time to take out your art supplies and start getting creative.
Magnetic board
Showcase your colourful makeup collection by displaying it on a magnetic board. Simply attach a magnetic strip at the back of your makeup container and stick it on the board. You can do this with your foundation, compact, blush, and palettes. What do we love most about this clever hack? This decorative storage idea will beautify any bedroom, and save you a lot of space as well!
Napkin holder organiser
Napkin holders aren't just great for keeping table napkins in place — they're equally nifty as palette organisers, too. Instead of stacking your palettes (or leaving them cluttered in your drawer), line them label-side up in napkin holders to keep them neat and orderly. 
Makeup brush storage ideas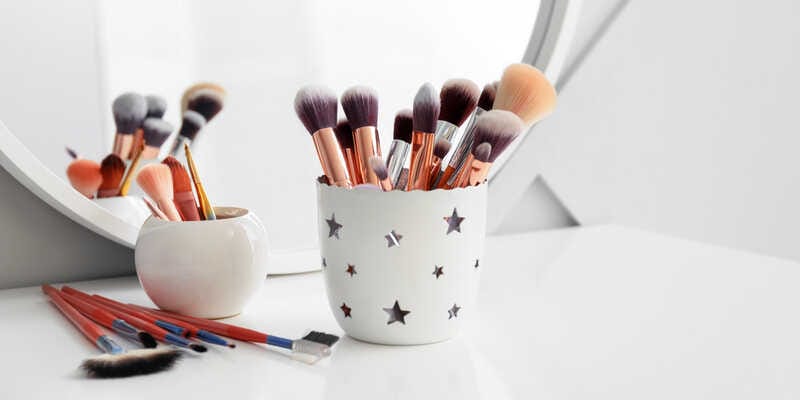 You don't need to spend a lot of money to organise your makeup brushes. These clever storage ideas are quick to follow and won't cost you a penny.
Mason jars
Mason jars — everybody has them and every crafter loves them. Whether plain or decorated, these rustic-looking containers can spruce up any bedroom or bathroom. Mason jars also make beautiful makeup brush holders that you can display on your shelf or bathroom countertop. Go the extra mile and decorate your brush collection with fairy lights. This inexpensive trick will instantly give your room a facelift without breaking the bank.
Candle jars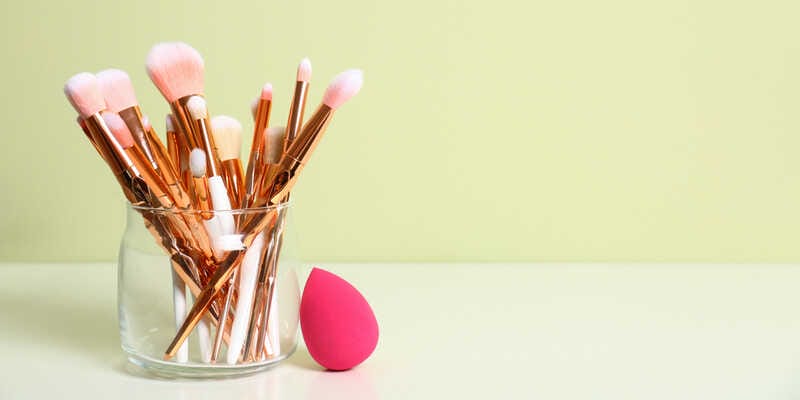 Don't throw away your candle jars just yet. Once empty, you can recycle them into makeup brush holders. Decorate to your heart's content, then add colourful glass pebbles to anchor the makeup brushes. There you have it — your very own makeup brush holder, personalised and ready for use.
Eco-friendly makeup storage
When it comes to makeup storage, plastic is king. It's waterproof, easy to clean, and convenient to use. Who says you can't go green, though? There are a lot of eco-friendly storage options that are better for the environment and work just as well. From biodegradable boxes to jars made with recycled materials, you won't run out of sustainable choices to store your makeup. 
Bamboo storage boxes
Go minimalist when organising your makeup with beautiful bamboo boxes. These stylish containers are waterproof and just as easy to clean as plastic. Use them to store your palettes, compacts, brushes or just about anything in your makeup collection. Not only do they add a touch of understated elegance to your bathroom countertop, bamboo boxes are also biodegradable.
Paper towel tubes
Here's a great way to recycle paper towel tubes: turn them into makeup brush holders! There are a million and one ways to transform these cardboard cylinders into decorative containers. Glitter, coloured markers, and watercolour paint come to mind when sprucing these guys up, but there's really no limit to what you can do with a blank canvas.
More home organisation tips
With a few smart tricks, tidying up your home can be enjoyable and fuss-free. Keeping things organised is one way to maintain the look of your interiors. Proper storage choices also ensure that your living space is well-kept and breathable.
Make your home organisation even more thorough by treating yourself to a professional house cleaning service — it's convenient and saves you a lot of time. Think of it as a reward for yourself after a hard day's work: you get to enjoy a clean and fresh-smelling house without the stress of doing it yourself!