We don't think of our laundry rooms as somewhere aesthetic, and with good reason. They're not very interesting places, after all – just where we wash our dirty clothes. Still, we need somewhere to store our laundry supplies and ironing board… oh, and the washer and dryer, too.
Every home needs a laundry room, even if it's in a closet. And yes – every home needs to keep it organised, too. Whether it's a basement laundry room or a compact laundry in a closet, you'll be more efficient when your laundry essentials are neat and tidy.
(And of course, don't forget to keep your laundry room neat and tidy, too – or let a professional cleaning service do it for you.)
How to organise a laundry room? Well, you could go several ways. Install an old ladder or clothing rod so you can hang up clothes after drying. Stack laundry baskets to save valuable floor space, or build a shelf to hold your cleaning supplies. Get stackable containers to keep dirty clothes ahead of laundry day. You can even create a counter around your washer and dryer to make folding easier!
If you need laundry room ideas for storage, here are a few ways to keep your laundry room organised.
Hang it up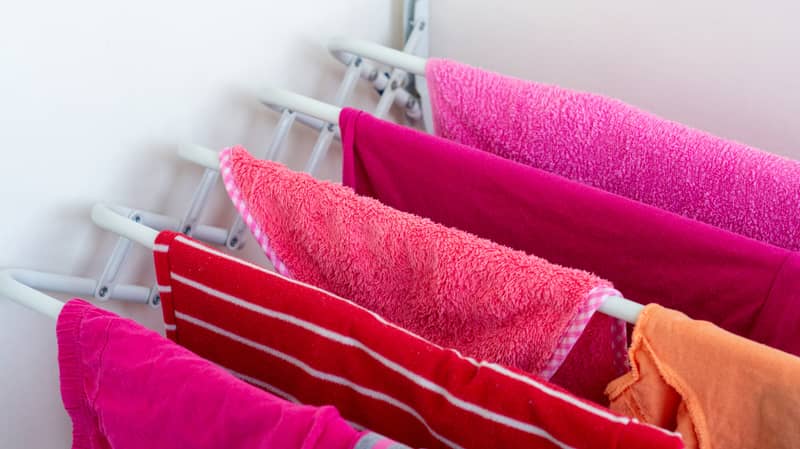 Got an old ladder you no longer need? Affix it from the ceiling and let it work as a drying rack! It's a nifty way to upcycle something that would otherwise be tossed out, and lends a certain rustic aesthetic to the room. It also makes it easier to hang clothes up.
Alternatively, if you have empty space on your wall, install a drying rack that you can pull out. This helps with space-saving and makes it more efficient to dry clothes.
Supply storage
It's not enough to keep the laundry room itself organised; you should tidy up your laundry supplies too! Turn a blank wall into supply storage with some open shelves to hold detergent and other products in easy reach. Or get a cart so you can move your products around quickly. Just make sure they're always within easy reach – you don't want to be digging around for detergent on laundry day.
Space savers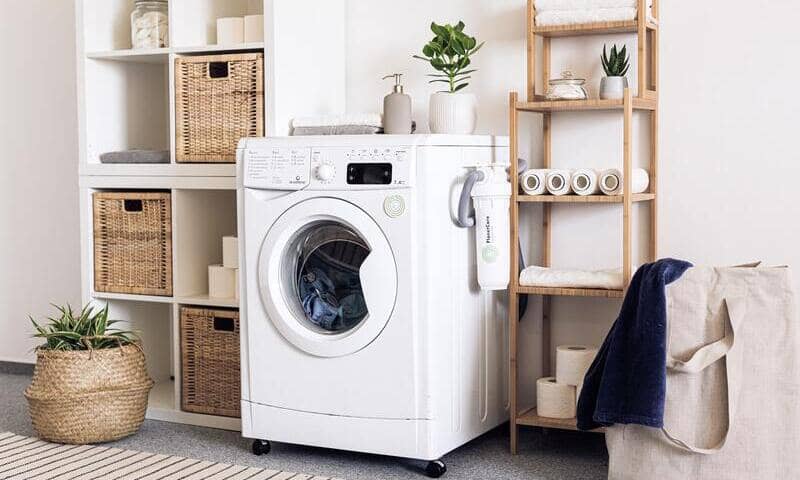 Got nowhere to place your brushes, gloves, and other cleaning supplies? Put up a pegboard on the wall and hang them from there! This is a nifty space-saving solution that'll let you organise essentials easily.
You can also get stackable bins and laundry baskets to hold your cleaning products and other equipment. If you can't find any, get a shelf built to store containers and baskets vertically.
You can even get a free-standing shelving unit! Store detergents and conditioners at waist level for easy access, then dryer sheets below or above. Keep handheld appliances within reach, so you're not bending over every time you need them.
You can save space with your ironing board, too. Make it so that it slides out of your linen cabinet, or pulls down from your wall. Don't forget to put it back afterward!
Dirty divide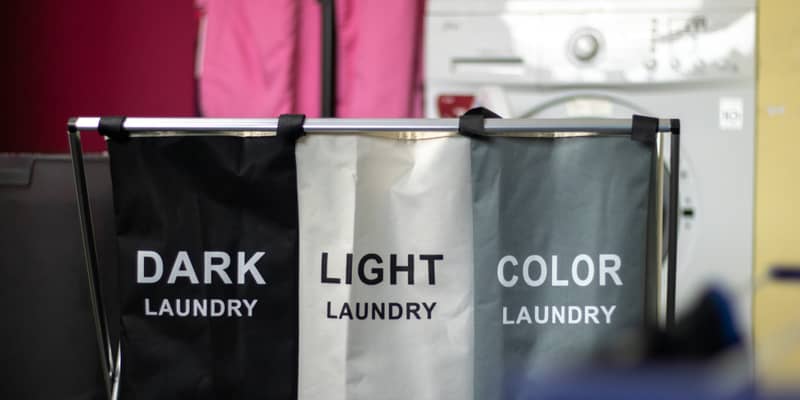 If you have enough space in your laundry room, get a closet or shelving unit specifically for organising dirty clothes. This lets you separate whites from colours and delicates from heavy-duty fabrics. It'll make doing the laundry a lot easier… so long as your family members follow the same system.
Roller cart-er
Is there space between your washer and dryer in the laundry room? That's the perfect place to slot in a rolling cart. Use it to store supplies like detergent and fabric conditioner. This way, you can easily roll out the cart when you need laundry products, then keep it back inside when you're done.
Wall'er up!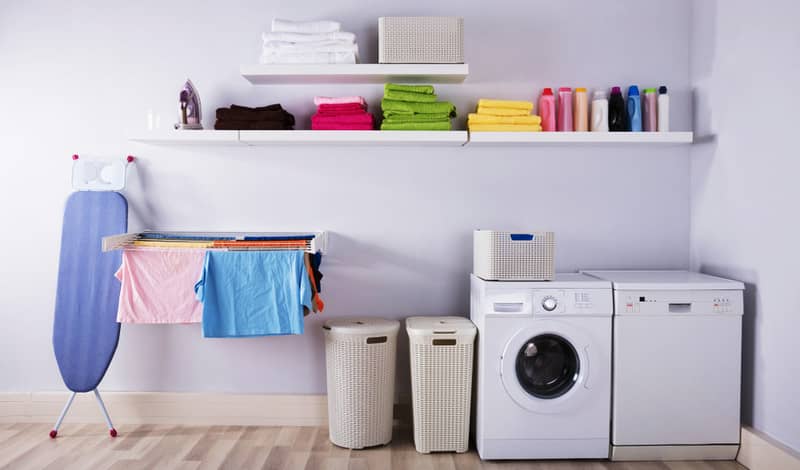 If you have a tiny laundry room, don't worry — you still have space, like on the walls. Convert as much wall space as you can to make efficient use of your room. Affix hanging rods up high, or between cabinets. Or install a hanging organiser beside the door or the washing machine. Compact storage can help in a small laundry room, especially keeping supplies within reach!
Counter topper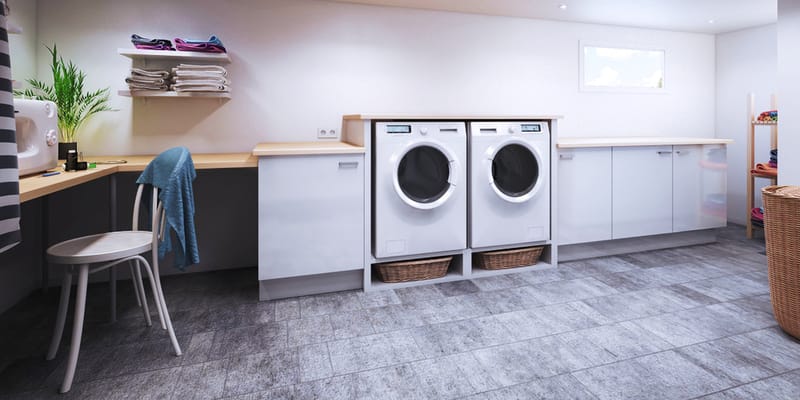 Here's a fun idea – construct a counter around your washer and dryer! You can even build the counter to double as an ironing and folding station. Then, match the design of the counter to your interior decor to add a pleasing look to your laundry room.
Go continental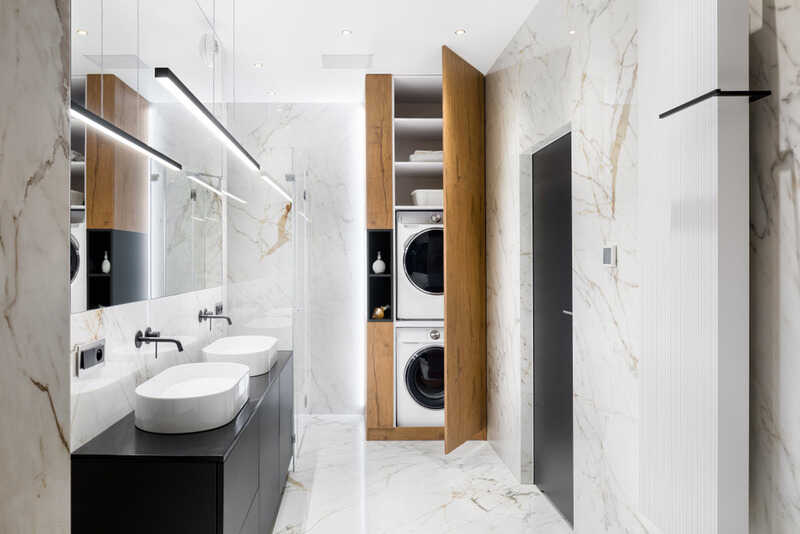 Got a front-loading washer? Design a European laundry, so your laundry area doesn't take up much space. A European laundry lets you stack your washer and dryer, which is great if you only have a small space available. You can install your European laundry in a wall cabinet or closet so it's hiding in plain sight. It'll also give you extra space around the house for organising other things.
Multi-purpose
Your laundry room doesn't have to just be for laundry. Save space in your home and make the room do double duty as a mudroom. If you have a European laundry, attach hooks to the outside of the door and use it for hat storage. Keep the linen closet in your laundry room, so you have all the essentials in one space.
And it's not just the laundry room that can be multi-purpose. If you're lucky enough to have a walk-in robe, install your ironing board inside. This makes it easier to put back your clothes after they've been ironed. After all, the hangers and rods are right beside you!
There are plenty of storage solutions for your laundry room, no matter the size. Just make sure to keep everything organised, or you'll have a hard time come laundry day!