Have you struggled with the decision to hire a maid service or house cleaning service? If so, you are definitely in good company. I can assure you that many of us have struggled with the idea at some point. Yes, your mother or grandmother probably did teach you how to clean and yes, I am sure you can do it yourself. You may think that hiring a service implies that you are unable to clean your own home and maybe that you are lazy, but the fact of the matter is that it really has nothing to do with that. Hiring a cleaning service is what gives you time to focus on the little details that really matter. Spend time with your children or finally find time for your hobbies or to relax. You hire people that are good at cleaning and do a really good job to feel that sense of peace that comes with a clean home. Still need more reasons to hire a home cleaning service? Read on, my friend.
Cleaning For a Party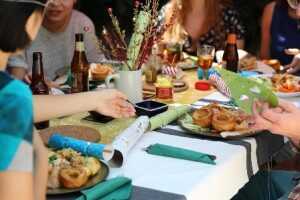 A happy dinner party in a clean home.
Prepping for a party can be hectic and stressful; your attention is torn in different directions by all aspects of planning a party — supplying food, organizing entertainment, decorating and creating an atmosphere, etc. Whatever kind of party it is, I guarantee you will breathe much easier once you have the cleaning outsourced to a professional.
Another part of having a party is dealing with the mess and disorder afterward. Dishes are overflowing; sticky spills are accumulating dust by the minute. The aftermath of a party is hardly fun. A good solid clean by a helpful maid service is a great way to clear out the confetti and return to normal life without too much stress or backaches.
Pre Vacation House Clean
Before a vacation, there are two types of people: Those that are ready and those that are up all night and packing the night before. Whether it is because of your busy schedule or a procrastination tendency, you may want to call in a maid to help freshen up the place so you don't have to leave a mess or return to a mess. I completely understand that it can be especially stressful if you want to come home to a clean home and do not manage to find time or energy to clean in the midst of packing and preparing for a trip.
Spring Cleaning
Oh, the infamous spring cleaning! It's everyone's favorite springtime tradition of clearing out the cobwebs in seldom-visited corners of the home. Scouring all of the remote corners and under couches for dust bunnies and long lost pet toys does not just have to be left to spring cleaning. The more thoroughly the cleaning is done, the less build-up of allergens, mold, dirt, etc. This also holds true with how often you clean, so why not have a fall cleaning and winter cleaning? Cleaning is for all seasons, and even though it seems like a big process for you, it can be done more quickly and thoroughly by a professional.
At Maid2Match we love Marissa Maker. Even though we do house cleaning in Brisbane and she cleans houses in Toronto we love her content. Have a peek at her huge spring cleaning guide on her blog.
The Gift Of A Clean Home
It may seem odd, but hiring a cleaning professional for someone can be a great gift. It is an extra thoughtful gift that tells your friends or family that you want to give them a gift that they actually want or need. Not only are you giving them a clean house, you are giving them the gift of free time, less stress, fewer allergies, and relaxation. Some thoughtful friends have given cleaning services to friends with a brand new baby who want to spend every waking moment with their beautiful new family member (and recovering!). Or they share it with friends who have a serious illness or crisis in their lives that they feel should have less on their plate. Many people also choose to hire professional cleaners for their elderly relatives in order to take the pressure off of them and decrease the risk of injury or strain on them.
For Overnight Guests
If you are getting ready to host guests at your home overnight, it may be a good idea to freshen up the place before they come. Often, we get used to our everyday clutter or dirt so it really can be a good idea to bring in an outside eye, someone who can clean beyond your normal straightening up, to bring the shine back to your home and make your guests more comfortable.
Selling, Buying or Renting a Home
Selling a home is a time when most people who normally would not hire a service tend to resort to calling in the experts. They know that in order to get their home sold, it has to look as unused and new as possible. That's where you call in the real experts who can prepare your home for viewings and walk-throughs in order to help it fly off the market. Buying a home that has been lived in can be another good reason to hire a deep cleaning service. It can be unnerving to not know exactly who lived there or how well they actually cleaned. So, hiring a professional service will surely set your mind at ease in your new place and start you off on the right foot.
Here are 5 tips from Learnvest on how to clean and stage your home right for a fast sale.
Expertise And Professional Equipment
Renting a home, apartment or condo can be stressful since it isn't yours and you have to pay attention to the accumulation of stains and odors in order to not be charged hefty fees for damages, neglect or the owners having to hire a cleaning service after you. If you rent out your space, it is also important to keep it as clean as possible between tenants in order to attract new ones and keep track of damages.
Think you have all the equipment you need to do the job right and fast? Check out this blog post from Molly Maids for a complete list of cleaning equipment.
Leaves More Time For Life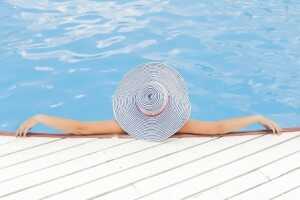 A huge reason to hire a cleaning service is because it leaves more time for you to live your life to the fullest. The experts can often clean more in a couple of hours than you could in a couple of days, and they could probably do it better. How much is your time worth? Would you rather be spending more time with the kids and spouse? Would you like to take up hobbies? Do you have a job that keeps you busy or commitments that demand a lot of time? Leave that time for the things that matter and stop wasting precious hours that you could be spending time on what you really love.
Ultimately, whatever reasons you choose to hire a cleaning service, the idea is to save yourself time and energy that can be better spent somewhere else. Or if you are hiring a service for someone else, it is a truly kind offer of support and love for those you care about. No shame in outsourcing when it improves the quality of life for yourself and those around you. You do what you excel at and let them do what they are good at!